| | |
| --- | --- |
| getting another dog questions | |
11-19-2012, 07:44 AM
chi god/godess

Join Date: Aug 2011

Name: T

Posts: 2,183

Thanks: 69

Thanked 88 Times in 85 Posts
getting another dog questions
---
I've read through the old threads but am still looking for some answers.

Miya is my girl, I am her person. I am so worried about her getting jealous of this new dog. She sleeps with me every night, behind my legs. We haven't spent a night apart in over a year, since we brought her home. She started sleeping with us her first night home. I'm kinda confused about how to act with the new puppy, when we bring him/her home.

When we're not home, the puppy will be in it's crate, but I'm home most of the time so that will be good. I need to make sure that Miya isn't too rough with him/her.

I need to come up with socializing activities. When Miya was a puppy, we were in the states so it was no big deal to go to the pet store and walk around and let her experience new things/people/smells. Now that we're in Japan, I have no idea how to socialize this dog. I just moved here so I don't know anyone with other dogs or children for socializing opportunities. hmmmm?

I will love this new dog the same way I love Miya. I don't want to play favorites, but I'm also not going to make Miya step to the side. For example, as I'm typing this she's laying on my legs. I don't want to have her stop sleeping with us. So...what do I do when there's a new dog introduced? We're already expecting that the new dog will sleep in the bed, but how can I make sure Miya isn't a bully when the new pup comes in? Or have her feel like she's being pushed to the side? I'm clueless when it comes to introducing a new puppy aside from what I'm reading on here.

I'm sure I have lots of other questions coming, but I'm running on empty.
11-19-2012, 09:56 AM
chi god/godess

Join Date: Oct 2011

Name: Sarah

Location: Melbourne, Australia

Posts: 1,533

Thanks: 6

Thanked 40 Times in 31 Posts
---
I know how you feel. I was not worried when we added Chloe because I knew Axle needed a friend but I was really nervous adding Winston into the mix because Ax and Chloe were such a settled little pair who got along so well. Also Ax was bonded to me and Chloe to Craig so I was worried who Winnie would bond with and if that would cause problems.

There was tension at the start between the boys. Chloe took to Winston straight away but Ax didn't come around until Winston was big enough to hold his own when playing, now the boys play flat out all the time. They have also started to snuggle together lately, they are both on my lap now and of course Chloe is on Craig's lap. I would definitely recommend getting a boy, in our case the boy/girl relationships have clicked instantly whereas our boys have taken a while to bond. Chloe is not at all interested in my mum's female jack russel and Maltese x poodle who we see all the time but both the boys love them.

Winston doesn't seem to prefer Craig or I, he is happy with either of us. Maybe the new puppy will bond with your husband more because they will sense that he's not already been claimed? I think it depends on the dog and also their socialization. Neither Chloe or Winston is as clingy as Axle and I think his may stem from his time s an only dog, so you may find that the new puppy isn't as clingy because they have Miya as well as you.

Good luck and keep us posted on the search.
11-19-2012, 12:21 PM
Join Date: Jun 2012

Posts: 5,089

Thanks: 75

Thanked 884 Times in 846 Posts
---
I was afraid of the same thing when we got Prince. Lady was the love of my "dog" life. I wanted a companion for her but I didn't want her to get slighted. It is likely different because both of mine were adults when I got them. Lady and Prince are retired breeding dogs. i got them both from the same breeder. She knew the personality of both dogs and even though Prince is male, Lady has the dominant personality (this has proven true and the transition to two dogs has been smooth, no aggressiveness at all). Both were well socialized and used to being around other dogs. I don't think Lady is jealous at all, in fact I think she is more spirited with another pup around. Prince was used to being in a crate at night. Lady sleeps on the bed. Only recently have we started to let Prince on the bed at night. Some nights he is on the bed some nights he is in his crate. He is very easy going with it. I think since you have a puppy, set the expectation early as far as sleeping. Be persistent with the crate at night and if the new pup gets used to it, that will be their pattern. Good luck!
__________________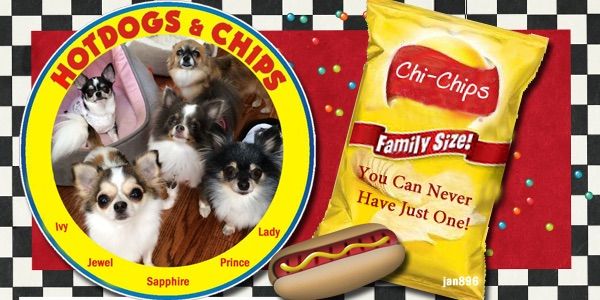 ---
Last edited by Jayda; 11-19-2012 at

12:27 PM

.
11-19-2012, 12:32 PM
chi god/godess

Join Date: Aug 2011

Name: T

Posts: 2,183

Thanks: 69

Thanked 88 Times in 85 Posts
---
Thank you both for the info so far. We haven't gotten the 2nd pup yet, but are planning to soon. I just want to be as prepared as I can for the new addition.
11-19-2012, 02:26 PM
Administrator

Join Date: Mar 2012

Name: Christie

Location: Leesburg VA

Posts: 9,924

Thanks: 910

Thanked 1,650 Times in 1,521 Posts
---
BG took to Sonny like he was always there! She mothered him when he was little and showed him how to do things and then as he got bigger she and him are BFF. They think a like and double team the hounds etc. It is too funny. She is still bossy with him but otherwise they adore each other!
11-19-2012, 03:45 PM
chi god/godess

Join Date: Mar 2011

Posts: 5,272

Thanks: 3

Thanked 854 Times in 803 Posts
---
I have 3 chi's, all female. All get along OK. Bonnie, the baby has taken to Emmie more than Zarita. I assume that is because Zarita is 6 yrs old. Emmie is a short hair, and has the focal seizures. I think it is good for her to be friends with Bonnie. It takes away some of the 'time' to be 'seeing' things!!!
11-20-2012, 03:05 AM
chi god/godess

Join Date: Nov 2008

Location: furrybutt, NY

Posts: 16,946

Thanks: 984

Thanked 751 Times in 706 Posts
---
i keep thinking its a hit or miss when it comes to addin another furball into the fam
i was very worried about how dexter will react if i was to get another pup let alone a diff gender as him! i thought they were never goin to get along as it took a couple months for him to finally accept her! i treat them both equally loving but dexter more in the treats to let him know hes still the "alpha" between him and her. i always give him extra bellyrubs while were in bed and KC doesnt get jeaous one bit...shes actually knocked out by then LOL.
__________________
11-20-2012, 05:21 AM
chi prince/princess

Join Date: Apr 2012

Name: Pat

Location: Fraser Valley BC Canada

Posts: 725

Thanks: 1

Thanked 32 Times in 25 Posts
---
The most important thing is not to make your first dog feel like she/ he isn't being replaced so when you get your new dog always make sure you do everything for your first dog first give them treats first.. put their food bowl down first pet them first. praise them first just. Make sure your first dog knows that she/ he will always be loved and number one no matter whether or not you get another dog. The transition will go allot smoother if your beloved dog feels very much loved by you and nothing has change except for now there is another family member
__________________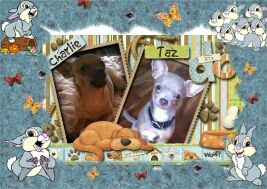 ---
Last edited by momofmany; 11-20-2012 at

05:39 AM

.
Posting Rules

You may not post new threads

You may not post replies

You may not post attachments

You may not edit your posts

---

HTML code is Off

---
All times are GMT. The time now is
05:07 AM
.