Below is a copy of one of the pages I'll be sending out along with Eden's puppies. I thought it might be helpful for anyone who has a young puppy already, or even adult that needs exposure to different things. =)
Puppy Development Center
It is not often that I am able to tell new owners much about the history of the dogs they adopt from me. Because of this, I feel it is crucial to take any opportunity to enhance their development during the first, very impressionable, weeks of their lives. The image below shows the "Puppy Development Center" that each puppy is allowed to explore in order to help encourage confidence in response to various stimuli and simulated environments. Although it is up to each new owner to continue exposing their puppy to new situations, often their experiences in their first few weeks help to define their reactions for life, which is why it is so important for them to learn through positive reinforcement in a variety of circumstances early on. Doing so will help your new puppy develop confidence in new situations, which will carry through to their adulthood.
Each area is numbered, and a description included below of each stimuli. I encourage new owners to have fun creating a "Puppy Development Center" in their new homes as well to help ease the transition between homes. Be sure to choose objects that are non-toxic and cannot be chewed and swallowed, and never leave them unattended.
1. Scale: Helps in teaching puppies to stay still when on elevated surfces, such as vet or grooming tables.
2. Clock: The soothing tick-tock reminds them of mother's heartbeat; a must-have the first few days alone.
3. Pan & Ball: Pan can be misted with water to simulate wet weather, and makes the experience fun.
4. Toys: To be used interactively with people, to develop playtime skills on various surfaces.
5. Plate: Can be chilled in refridgerator to introduce puppy to walking on cold surfaces.
6. Mat: Offers another soft, comfortable substrate for their paws.
7. Fleece: Dotted with drops of Lavender Oil. Puppies will be sent with an identically scented blanket.
8. & 9. Plastic Crate & Soft Carrier: It is crucial that puppies develop a positive association with these early on, to build confidence when traveling or being transported routinely or in case of emergency.
10. The Beatles: Because even puppies should should recognize the Beatles. =)
******
Here's another shot, just a front view. The toys in the pink plastic crate bottom actually vibrate; so I put it under the crate and pull the string to simulate the vibrations of being in a car.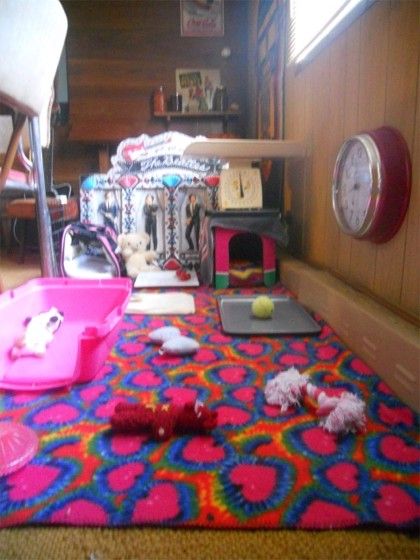 If anyone can think of any other things to add, please let me know! Thanks for reading! =)