| | |
| --- | --- |
| Question for the over 50s chi owners? | |
12-13-2012, 02:30 AM
chi-aholic

Join Date: Apr 2012

Posts: 356

Thanks: 0

Thanked 13 Times in 13 Posts
Question for the over 50s chi owners?
---
Hi everyone, I have a question, for chi owners that are over 50, but please still add your 2cents worth, even if your younger, Ive been getting a little depressed some day,s worrying about my chi, who is only 15mths old ,so still has hopfully a long life ahead of him.I worry about if i happen to die before him what will happen to him.Im 55 yrs old, so i,m hoping i last the distance with him. Do any of you worry about this.-janet.
__________________
12-13-2012, 02:37 AM
chi god/godess

Join Date: Oct 2011

Name: LS

Location: Canada

Posts: 10,706

Thanks: 2,062

Thanked 813 Times in 693 Posts
---
Janet, you are far too young to worry about that my darling. But I understand
having a plan if you are ill, perhaps having an agreement with a friend or relative to
take the dog, or even if you are healthy and just want a peace of mind. No one
knows what the future holds, for young or old, no one can predict how long you
or your dog will live, all we can do is enjoy the ride and hope for the best. Don't
let such worries consume you.
12-13-2012, 02:46 AM
chi-aholic

Join Date: Jan 2010

Name: Regina

Location: Ontario, Canada

Posts: 381

Thanks: 46

Thanked 20 Times in 16 Posts
---
Janet,
Please don't worry about that you are only 55, my mother just got a new puppy because she lost her beloved boy this October. She has a wonderful little 2 pound girl who is the love of her life. And I am so happy she got her. I see the smile on my mothers face everyday . And my mother is 68.

Enjoy your little one.

Love Regina and Timmy.
12-13-2012, 03:04 AM
Join Date: Sep 2008

Name: Teresa, T for short.

Posts: 16,071

Thanks: 2,491

Thanked 800 Times in 740 Posts
---
Hi Janet.
I'm 45. Yes, I do think about that too. I don't dwell on it, but it's definitely a concern. To ease my concern, The Wees have a Godfather. Should something happen to me, they will go to live with "friend" as we call him. He adores The Wees, and they adore him. Hopefully I never have to cross that bridge though. Try not to worry. Just set aside some arrangements, and that should help you relax.
__________________
"If you aren't part of the solution, you're part of the problem."
12-13-2012, 03:17 AM
Join Date: Oct 2012

Name: Evelyn

Location: FLorida : from South Jersey

Posts: 2,899

Thanks: 352

Thanked 603 Times in 585 Posts
---
I am 64 and I have only had Ike for 2 months, he is almost 4 months old. I try not to think about it, but my daughter assured me he would be taken care of ,if something happened to me. She is a dog love like me. So I am not worried. Just enjoy your puppy and life with him.
12-13-2012, 03:25 AM
chi god/godess

Join Date: Aug 2011

Name: Krystal

Location: Canada

Posts: 5,614

Thanks: 851

Thanked 880 Times in 828 Posts
---
I worry about it and I'm in my 20s! I actually plan on writing some care sheets to go with our will just in case anything were to happen to us. It will be like an Odie/cats instruction manual and will just make me feel better about things.
__________________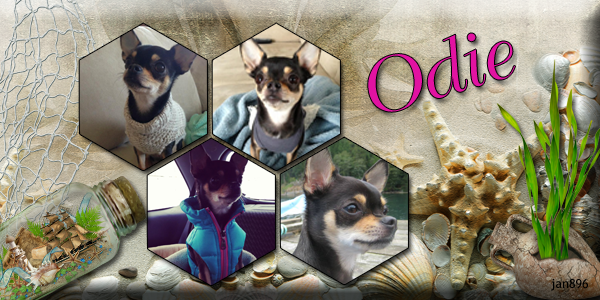 12-13-2012, 03:37 AM
chi-aholic

Join Date: Apr 2012

Posts: 356

Thanks: 0

Thanked 13 Times in 13 Posts
---
Thankyou everyone, i do feel much better now,i do have a husband, so hopefully there will be either him or i to take care of him.I alway,s have been a worry wart though. I was surposed to be getting him a freind around about now actually, but charchi had to have patella knee surgery so i didnt get the other dog yet, but he should be completley healed in say another 2mths and i would love to get him the little friend, but i was worried about my age again. but looks like i shoulen,t thanks everyone- janet.
__________________
12-13-2012, 04:46 AM
chi god/godess

Join Date: Nov 2012

Posts: 1,358

Thanks: 2

Thanked 224 Times in 211 Posts
---
I worry too and I'm 18 in a month! I think everyone does. I have a lot more than just Douglas to worry about though...there would be a custody battle over him between family and close friends. I worry more for my ferrets, chickens, and rodents than anything. I think my dad would care for my birds. But my rodents and love bird...who would want a misfit bunch like them other than me? Some of them are animals who have such trauma they live alone of their own free will, completely rejecting any contact, and are happy that way.

I would keep a living will if I were you, if it really worries you. I plan on doing the same for my pets on my 18th.
Posting Rules

You may not post new threads

You may not post replies

You may not post attachments

You may not edit your posts

---

HTML code is Off

---
All times are GMT. The time now is
08:55 AM
.