Muffin will be 6 months old come saturday and shes been on this sleep schedual, she gets up when i do usualy around 8am sometimes earlier does her morn potty run, comes back in and plays then eats and few more potty runs while up by 1pm then shes passed out in her bed by the couch or in her crate bed her crate door is always open. Then she gets back up between 3 and 3:30pm same rutine potty run, plays, eats, another potty run and stays up till around 6:30pm and once again she passed back out someplace, her last time up of the night is around 9pm and same runtine, potty run, plays, eats, another P run and then by 12:30pm shes out like a light in her crate for the night, she sleeps till i get up again in the morn. We want her to sleep in bed with us but hubby has MS and is always moving around in the bed, i am a night person so i dont go in there till after 2am, our bed sits very high off the floor and i dont need Muffin falling off and getting hurt.
Anyways thats Muffins sleepy schedual.
__________________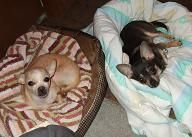 "Deja Voo" & "Muffin" My sweet little girls.
Saving one rescue at a time.