I didn't use to be able to leave mine out either..as they've gotten older they've gotten more trust worthy & don't feel the need to find something to shred. LOL I could even probably leave Matilda out but she panics if she hears say the oil man pulling up into our driveway or something like that & I don't want her hurting herself climbing. Silly girl.
Here are a few pics I snapped for you Codi. LOL It's really nothing special. Our living room walls are nekked atm...need to get some pics up & I also want to get a rug for the floor as well.
Pups fav spot in the living room......
Other side of the living room...it's a bit tidy looking here--usually the pups have the blankets strewn all over the furniture & their toys all over the floor but I'd just picked up. LOL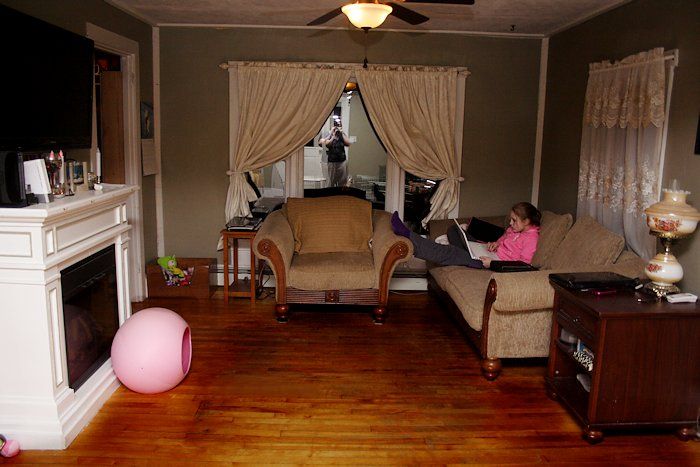 Dog room--hubby & I have talked about taking the big gate down since I don't really need it being as we have the pens & we could always use a gate across the doorway if need be but it's just a pain to walk over every time I need to go in/out. And I'm not getting younger. haha Here there is an extra pen set up too since we had just had my friends Chi here for showing until this past Sunday. Haven't taken it down yet.
And the outside play yard--pic from better weather obviously. LOL Right now it's burried in snow.