| | |
| --- | --- |
| Where does your Chi go... | |
01-16-2013, 04:33 PM
chi lover

Join Date: Jan 2013

Name: Jessica

Location: Northern US

Posts: 114

Thanks: 0

Thanked 19 Times in 19 Posts
Where does your Chi go...
---
When you are not home? Does your baby have run of the house? Is it different if you are at work vs. running to the store?

Just curious what others do.
__________________
Mom to Moose and Murphy
01-16-2013, 04:43 PM
chi god/godess

Join Date: Mar 2012

Name: Ashley

Location: NC, USA

Posts: 5,776

Thanks: 331

Thanked 783 Times in 685 Posts
---
Toby goes in the bathroom with a pee pad, blanket, water and toys. He likes it in there. If I'm just taking the trash out or go to the mail center or running to get fast food or something, I let him run loose. We are working his way up to full freedom when I'm not there, but he isn't ready yet.
Sent from my iPhone using
Petguide.com App
__________________
01-16-2013, 04:44 PM
chi god/godess

Join Date: Aug 2010

Name: Lisa

Location: Tennessee

Posts: 4,436

Thanks: 228

Thanked 451 Times in 420 Posts
---
When I'm not home, Midgie has run of the house. I think she lays on the back of the couch for the most part where she can see out the picture window. She watches for when we come home.
__________________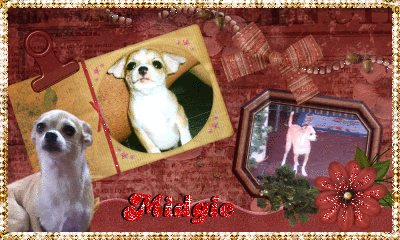 [url=http://www.TickerFactory.com/]
01-16-2013, 04:45 PM
Join Date: Dec 2009

Name: Jan

Location: Maryland, USA

Posts: 5,257

Thanks: 0

Thanked 412 Times in 389 Posts
---
Mine have the run of the house but by watching them on a webcam while at work.... they don't venture far from the couch and window.... they sleep mostly all day
__________________
01-16-2013, 04:46 PM
chi fan

Join Date: Sep 2012

Name: Jaclyn M.

Location: Buffalo, NY

Posts: 78

Thanks: 1

Thanked 5 Times in 5 Posts
---
Ren's area has expanded quite a bit. When I first got him, he only stayed in our kitchen/dinette area (which is pretty large) and he went in a playpen when I left the house or at bedtime.

As he did well with potty training, I stopped using the pen and allowed him to just be in the kitchen at all times. Now it has expanded where, when I am home, most of the time he is allowed in the entire house except for the "cat's room" which is our spare bedroom where we keep her food dish and a litter box, and except the dining room, where we have another litter box. At bedtime or when nobody is home, he is in the kitchen.

*Yes, I know it seems a bit yucky to keep the cat's litter box in our dining room. But the cat was repeatedly peeing on the carpet there (even after carpet shampooing and using enzyme cleaners), so my husband decided, if you can't beat 'em, join 'em. So now she uses the litter box in the dining room instead of the carpet - and we do move the box when we have company over for dinner.
__________________
01-16-2013, 04:58 PM
chi god/godess

Join Date: Mar 2011

Name: Cindy

Location: Massachusetts

Posts: 3,287

Thanks: 330

Thanked 580 Times in 565 Posts
---
Angel comes to work with us and our golden retreiver. I like having them with us, but he barks whenever someone comes in. Sometimes he stops quick and sometimes not.

When we are out shopping or something, he goes in a crate/carrier. He loves his "box!" He gets a treat when he goes in there. I don't give toys or pee pad because it really isnt big enough. It's big enough to hold 3-4 chis, but it is a vari-kennel, meant more for traveling. I can't confine him to a room because if can't see Susie, he would probably bark. He can't have the run of the house because I am a little paranoid to let a chi and a golden run around the house unsupervised! He would probably just sleep, but if were to jump off the couch or the chair, he could get hurt. So, I'd rather have him in his "box!" It's easier on the nerves - hahaha. Besides, we don't go out often at all!
01-16-2013, 05:13 PM
Administrator

Join Date: Mar 2012

Name: Christie

Location: Leesburg VA

Posts: 9,919

Thanks: 908

Thanked 1,650 Times in 1,521 Posts
---
mine stay in my kitchen (large kitchen) when we are away. Otherwise they get into stuff they know they shouldn't like Huly's food and litter box etc
01-16-2013, 05:21 PM
chi god/godess

Join Date: Sep 2009

Name: Kat

Location: Illinois

Posts: 3,126

Thanks: 489

Thanked 181 Times in 146 Posts
---
We have a very open layout in our home, so the dogs have free run of the lower level. It's carpeted and we tried to just make it feel like one huge "den" (basically just like crate training, except on a much larger level) and once that was established, we could trust them not to potty inside. I'm home most of the time; but even if we leave and the house is empty (which is not often, as another engaged couple lives with us and takes care of Leon as well as Miles) the only one I put in a crate is Spike since he's still a pup. =)
__________________
~*~*~*~*~*~*~
facebook.com/rescutopia
Posting Rules

You may not post new threads

You may not post replies

You may not post attachments

You may not edit your posts

---

HTML code is Off

---
All times are GMT. The time now is
03:39 AM
.