| | |
| --- | --- |
| Ziwipeak | |
11-04-2012, 07:13 PM
chi god/godess

Join Date: Mar 2011

Name: Missy

Location: Oregon

Posts: 1,949

Thanks: 4

Thanked 24 Times in 20 Posts
---
Quote:
Originally Posted by
bluebo
I appreciate all of the welcoming/realistic members on this forum.
I can tell that this is a forum more suited to someone who is interested in dog clothing, dog photography and dog accessories.
This is not for me...
I was snubbed because I wanted to discuss a different breed in the "other pets" section. I was snubbed because I demanded factual information to back up statements others have made. God forbid I don't dress my dog up in dresses. It's just not my thing.
I like to own dogs. Not dolls.
Thanks again to the friendly members.
How incredibly rude! My dogs are not dolls, they walk and behave just like any other large dog, and I don't "dress them up". This forum has much more information than "dog accessories" and fashion.
__________________
Thanks LS!
The Following 2 Users Say Thank You to missy_r For This Useful Post:
11-04-2012, 07:16 PM
chi god/godess

Join Date: Oct 2011

Name: LS

Location: Canada

Posts: 10,706

Thanks: 2,062

Thanked 813 Times in 693 Posts
---
It's unfortunate that you generalize like this. It's unfair.
I personally found a few of your posts very interesting,
and agreed on several points...then I read this, and now
I'm lost. It's too bad BlueBo that you see things this way,
you are missing out imo, it's a good forum.
The Following 2 Users Say Thank You to ~LS~ For This Useful Post:
11-04-2012, 07:32 PM
chi god/godess

Join Date: Mar 2012

Name: Ashley

Location: NC, USA

Posts: 5,776

Thanks: 331

Thanked 783 Times in 685 Posts
---
I try to be helpful as possible without judging, sometimes it is hard to judge tone over the internet. However, your posts have just gotten out of line and rude. As others have said, there are people from all countries, walks of life, and lifestyles on this site. People express themselves differently and part of being a productive member of this forum is being able to accept others' opinions, experiences, and beliefs.

I find it extremely rude that you would stereotype us and our dogs. My dog walks 3-5 hours a day. He plays in mud and runs around off leash. He is obedience trained and well behaved. He loves men, women, children, dogs, cats, and other animals. He is not afraid of anything. He is adventurous, spunky and lively.

He is NOT A DOLL. He never has been and never will be. Does he wear clothes? Yes, because he is five pounds and has very little fur. He gets cold. Physiologically, it is a necessity for him. I see absolutely nothing wrong with that.

We are well aware that our chihuahuas are dogs. We are not delusional, we don't think our dogs are humans. I do not appreciate being spoken to like I treat my dog like a doll or a human child. It is truly uncalled for. Do I treat him well? Yes, because he is my dog and I love him. Our dogs are members of our families. There is nothing that most of us wouldn't do for them. I don't think there is anything wrong with that. There are all different chihuahuas here and you have unfairly generalized a diverse and complex breed.

NO ONE has judged you for not "treating your dog like a doll". NO ONE. Only you have judged us for doing that, unfairly.

If I were you, I'd wonder if any of my actions were contributing to the way that people respond? Your subject matter isn't getting attacked, everyone is free to have their opinions, it is the way you express those opinions. You have personally attacked us and our dogs. You have been rude and sarcastic. It is unnecessary and it makes people lose interest in hearing what you have to say.

If you don't like the way we do things, if you feel unwelcome, please leave. Myself and other members will not tolerate being bullied by you or anyone else.
__________________
---
Last edited by pupluv168; 11-04-2012 at

07:39 PM

.
11-04-2012, 07:43 PM
chi god/godess

Join Date: Aug 2010

Name: Lisa

Location: Tennessee

Posts: 4,436

Thanks: 228

Thanked 451 Times in 420 Posts
---
I have a question--Do you scale your own teeth? I can't stand going to the dentist to have it done & I only allow it to be done once a year. If done too much, it can scrape the enamel off the teeth causing the teeth to become weak & suseptible to infection & cracks as well as see-through.
I do agree with you that doctors, dentist & vets are always looking to get our money, but that's how life is. I do try to do what ever I can myself as long as I know it's safe. I know I would never be brave enough to stick that pointy scraper in my dogs mouth, so I do all sorts of alternative things to help with the plaque. Petzlife has an oral gel that really works. Chewing on chicken wings & certain bones helps. Brushing the teeth helps. These methods sounds like much safer methods than a surgical tool that needs to be sterilize properly before & after every use.
Even tho my chi is a "Dog", she is my baby. I rarely dress her up, mostly when she's cold & I value all opinions & experiences including yours. Don't feel like everyone's against you, because they're not. Sometimes words come across rude or hard when they're typed. We all need to take this into consideration when we write something. We should all be here to help, support or just listen. Sometimes, people just want to be heard because they have no one to talk to.
__________________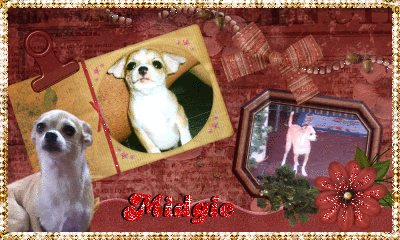 [url=http://www.TickerFactory.com/]
The Following User Says Thank You to woodard2009 For This Useful Post:
11-04-2012, 08:43 PM
chi god/godess

Join Date: Mar 2012

Name: Dee

Posts: 2,480

Thanks: 317

Thanked 254 Times in 172 Posts
---
You WERE NOT snubbed when you wanted to discuss other breeds, you just banged on and on and on about another breed on one post and then started your own thread, ultimately leading the Mods to close down both, particularly the second one when several people simply pointed out the link you put up was already in the first controversial thread.

Scientists vs. Vets - Scientists too have Dr. preceding their names, perhaps that confused you a little? When a vet does their degree it's called Veterinary Science and many of them don't practice as vets, they go into labs and develop cures, research etc, the same as many in other science oriented positions. So, whenever you see a Dr. again, don't just assume, it may well be a real, true blue, honest to god Scientist, not a practising vet.

As for people dressing up their dogs and photographing their dogs, who is anyone to judge what another does with their beloved dog providing it is well fed, cared for, love & receives the vet care it needs - one thing you will find on this forum is that every member present would sacrifice their all if it meant saving their dogs - they would eat beans for a month if it meant giving their dog surgery, and many who can ill afford it buy only the BEST food for their dogs whilst they eat spag bol. You generalise about something of which you know nothing.

Ladies, ladies please don't worry, you are dealing with someone who got themselves banned from one dog food chat forum and one who has this to say on a cat forum ....

"I belong to a couple of dog forums and they were very forceful and even sometimes cruel in their ideals. Basically: if I don't feed my dog raw I should euthanize my dog (yes one member said this). So this is where the initial defensiveness came from when I first joined."

Perhaps if we all ignore she'll eventually learn some manners and how to play nice; I think it's just that Round Peg in a Square Hole syndrome personally.
__________________
---
Last edited by AussieLass; 11-04-2012 at

09:15 PM

.
11-04-2012, 09:28 PM
chi god/godess

Join Date: Mar 2012

Name: Dee

Posts: 2,480

Thanks: 317

Thanked 254 Times in 172 Posts
---
My last words on the original topic, that being ZiwiPeak ....

Dogs fed on a combination of raw & ZiwiPeak, just raw or just ZiwiPeak exhibit the following health benefits (UNLESS underlying problems exist) :

Clean, pure breath

Amazingly shiny, silky coats that literally glisten

Virtually no body odour in between baths

Extremely small, firm, odourless poops (due to lack of filler & dog digests all)

No constantly streaming eyes or tear stains

Boundless energy and vitality

Superb muscle tone as opposed to fat.

Far less constant shedding, in the case of long haired's virtually none at all except seasonally.

I am sure that others can add their own items to that list and if members choose to feed raw meat over Ziwipeak (usually due to cost), or even a combination of the two, they are aware that the dog's saliva and shortness of its digestive system is specifically designed to kill the various bacteria/s that non-raw feeding critics bang on endlessly about - those bacteria are on ALL human grade meat we bring home from the store, it's simply a matter of treating dog's meat in the same manner as you do your own.

Worried about parasites (you should be, even in your own meats) freeze it for 2 weeks and all parasites are eliminated.

I personally would NEVER go back to feeding commercial food ever again, the difference in my dogs has proven that virtually all that is available over here is NOT designed to fill the healthy gut of my dogs, it's designed to fill the healthy coffers of those making it.

ZiwiPeak is the duck's nuts of commercial foods IMO because it has no fillers, additives or any other damn thing not meant to be eaten by dogs.
__________________
---
Last edited by AussieLass; 11-04-2012 at

09:31 PM

.
Posting Rules

You may not post new threads

You may not post replies

You may not post attachments

You may not edit your posts

---

HTML code is Off

---
All times are GMT. The time now is
07:32 AM
.