| | |
| --- | --- |
| Home Remedies | |
02-17-2009, 01:50 AM
Home Remedies
---
Home Remedies

With Vet Prices as High as they are, Not all of us can run to the vet when our Pet is ill. I support Home Remedies because I have proved they work, and they will get your Dog back on Track without you, Emptying your Bank Account. But If it is something Serious and Urgent, Then PLEASE take your dog in right away. You wouldn't like to suffer, so don't let your dog.

What Certain Remedies do for Certain Ailments

Hypoglycemia: (low blood sugar)

Tiny dogs, puppies in particular, do not have an adequate supply of internal fat to maintain a constant blood sugar level. Hypoglycemic episodes can happen in times of stress, illness, or going too long without food. Make sure your new puppy has food available at all times for the first few weeks and never leave the puppy alone for extended periods of time until he has fully adjusted to his new environment and is eating on a regular basis. Always keep honey or Karo syrup on hand in case of an emergency, also giving NurtoCal will do the same at Karo Syrup. The first signs of hypoglycemia are usually staggering, unsteadiness, weakness, lethargy. Can lead to unresponsiveness and seizures. This is an emergency and you must act quickly! Cover a fingertip in honey and get it into the dogs mouth, rub into gums and try to pry mouth open if he will not lap it up on his own. Once he gets the taste of it, he should start to lap on his own and come around fairly quickly. Make sure the pup starts eating adequately, you can offer plain yogurt, meat baby food or boiled chicken bits to induce an appetite. If pup is refusing all food, you must seek veterinary advice.

------------------------------------------------------------------------------------------------------------

Diarrhea

Do not feed your dog for twelve to twenty-four hours following a bout of diarrhea. Then you can offer a very small amount of soft, bland food such as cooked rice and skinless chicken breast, pasta, or potatoes mixed with low-fat cottage cheese (9-to1 ratio). Feed only small meals three or four times a day. Make the return to normal food a normal diet gradually over about a week's time by mixing in small quantities of the normal food with the bland diet.

Withholding food for 24 hours from very small dogs or puppies may lead to hypoglycemia (low blood sugar) and is dangerous. In this instance, withhold food for several hours and administer small amounts of honey, Karo syrup, or sugar water frequently during the period of food withdrawal.

You can give your dog Kaopectate, one teaspoon each ten pounds of weight every four hours.

You can also give these medications-

Pepto-Bismol- 1/4 teaspoonful per ten pounds of body weight every 6-8 hours.

Immodium- 0.5 milligrams per 10 pounds of body weight every six to eight hours.

If the diarrhea has not cleared up in 48 hours you will need to seek treatment for your dog from your veterinarian. Persistent or bloody diarrhea are the signs of serious illnesses and can quickly lead to death.

------------------------------------------------------------------------------------------------------------

Acne and Impetigo

Acne and impetigo are bacterial infections of the skin in which you see red bumps and bumps filled with pus. Acne occurs on the chin and impetigo on the abdomen.

Both infections can usually be controlled by:

Wash the affected areas once ot twice daily with antibacterial shampoo containing 2.5% benzoyl peroxide soap or by the application of 70% isopropyl alcohol. Be sure to follow soap washing with a thorough rinsing.

Both infections do usually clear up, althoug some cases may need a veterianrian's attention and antibiotics.

If you don't see an improvement within about a week or the condition looks to be getting worse, stop the home treatment and seek a veterinarian's care.

------------------------------------------------------------------------------------------

Constipation

If constipation is mild, not associated with other symptoms and doesn't last for 48 hours here are a few things you can do.

1.Feed your dog dry dog food. Dry dog food has more bulk than canned dog foods.

2.Water and bran (up to 5 tablespoons daily) added to the food may help.

3.You can try commercial preparations containing psylluim; (such as Metamucil) they are designed for humans and are sold in drugstores.

Metamucil dosage: 1/2 teaspoon twice a day to small pets and about 2 teaspoons twice a day to large dogs. Try mixing it with a small portion of canned food. Give your pet access to plenty of water.

4.Mix a tablespoon or two of canned pumpkin with your dogs pet food for several days or until the constipation has ended.

5.Milk will sometimes relieve constipation. Give 1/8 cup twice a day to small dogs and 1/2 cup twice a day to larger dogs.

6.Mineral oil (1 tablespoon per 10 pounds) will sometimes relieve more severe constipation. Do not use this all of the time as mineral oil will interfer with the absorption of oil-soluable vitamins.

Mineral oil should only be put in food and not forced orally.

If your dog has reaccuring bouts of constipation take the dog to your veterinarian.

------------------------------------------------------------------------------------------

Coprophagy (Stool Eating)

You should let a young dog know that coprophagy is not acceptable by voicing "no" in a firm and disgusted manner.

While working to change the behaviour, it is critical that the dog not have the opportunity to eat stool when unsupervised and you'll need to clean up the animal's stool immediately after he or she defecates.

1.Dietary changes may help. Allowing free access to food, adding good quality proteins such as eggs and cottage cheese.

2.Your dog could be lacking certain vitamins or minerals in their diet. Try adding a multivitamin to his/her food.

3.Adding the enzyme papain to the food will also sometimes prevent coprophagy. This can be done at home by sprinkling meat tenderizer containing papain on food.

4.Try sprinkling the waste with cayenne pepper. This will take the fun out of eating waste. Or better yet if you are able to clean up after your pet immediately after a bowel movement this will remove the temptation.

5.You can also try a product called FORBID that can be purchased from a pet supply dealer.

------------------------------------------------------------------------------------------------------------
__________________
The Following User Says Thank You to Ciarra For This Useful Post:
02-17-2009, 01:51 AM
---
Kennel Cough

Any dog owner whose pet has become infected with kennel cough (or bordetella bronchiseptica) knows what a struggle it can be to treat the problem once the virus has set in.' It is likely that your pet has contracted kennel cough if he or she was recently boarded in a kennel or has been in contact with another dog harboring the virus.' Kennel cough is an air borne virus, which can be carried in aerosol droplets from the discharge of an infected animals sneeze or cough or via direct contact with another animal.

Kennel cough can produce a number of symptoms including a dry, hacking cough, gagging responses, sneezing, and when the virus progresses can result in fever, nasal discharge and the coughing up of mucus. Without treatment, kennel cough can escalate into a very serious infection or even pneumonia.

Effectively handling kennel cough is much easier when treatment is administered soon after the initial development of symptoms. There are several well-known and very efficient homeopathic treatments for the problem.

In the beginning stages, if your dog is suffering from a dry and retching cough use a treatment of any over the Counter Children's cough suppressants containing dextromethorphan hydrobromide, 1mg/lb body weight every six hours can be administered if the cough is overly frequent and tires your dog. Remember, however that a cough is a protective reflex designed to clear secretions from the larynx and airways and therefore should not be unduly suppressed.

Putting 3 Drops of Hydrogren Peroxide and diluting it with Honey and Mixing it in any Dog water Dish of any size. Do not give them more Peroxide if they drink all the water, Refresh the water Once daily and only add 3 drops of Peroxide a Day. You can Mix Plenty of Honey to Soothe the dogs throat, or they have a coughing fit give them an eye dropper or syring full of Honey. Even if only one of your dogs is cough the other dogs will catch it in a matter of time. Give all Pets in the Home the Peroxide Remedy. Should Clear up in a Week and Some Won't even catch it, if you keep up with this regiment daily.

Cough suppressants mask signs but do not treat any disease.

------------------------------------------------------------------------------------------

Artificial Respiration

To start your dog to breathing again you will need to do mouth-to-nose respiration. The dog's mouth should be sealed tightly closed using two hands, then the person's mouth should be placed firmly around the dog's nose. With gentle blowing into the nose for several seconds eight to ten times per minute, the dog may begin to breathe on it's own.

Once the dog starts breathing you should get the animal to your veterinarian.

------------------------------------------------------------------------------------------------------------

CPR

If your dog's not breathing and it's heart is not beating, you will want to try CPR.

CPR is a combination of heart massage and artificial respiration.

The dog should be put on it's right side on a hard surface. The animal's airway should be cleared by pulling out her tongue and checking inside her mouth and throat before beginning.

First, mouth-to-nose resuscitation should be performed. (see above)

If there is still no heartbeat, heart message can be performed. A dog's heart is located in the chest just behind her front legs.

With pressure appropriate for the dog's size, the heels of both hands should compress the dog's chest and then release it. This should be repeated rapidly, six to ten times, then mouth-to-nose resuscitation repeated.

If no pulse is felt the process may be repeated, but if no positive results are seen after about ten minutes the process is probably not going to work.

If possible while performing the CPR you should have someone trying to obtain veterinary help.

------------------------------------------------------------------------------------------------------------

Allergic Dermatitis

Freguent bathing (every one to two weeks) helps control the signs of Allergic Dermatitis in many dogs and also helps prevent secondary-- bacterial infection. Use a gentle hypoallergenic shampoo (for example, castile shampoo, baby shampoo or a veterinarian prescribed shampoo like "Vet Solutions" Aloe and Oatmeal Shampoo), never use soap or a detergent. If you find that bathing your dog makes it worse, don't continue.

Giving your dog Benedryl may also help. 1 to 2 mg per pound body weight every 8 hours.

------------------------------------------------------------------------------------------------------------

Dry Skin and Dander

1. You can use diluted Murphy's soap to bathe your dog if your dog suffers from dry skin, dander or even some allergies. The Murphy's soap will clean your dog as well as soothe it's skin. Always be sure to rinse the dog well.

2. If you suspect a deficiency of essential fatty acids you can supplement the diet with 1 teaspoon to 1 1/2 teaspoons (no more) per pound of dry food or poulty drippings, lard, bacon fat, or vegetable oil (safflower, corn, soybean, or cottonseed oil are good).

Canned foods containing 2%-3.5% fat can have fat added at about 1 tablespoon per pound can. Soft or moist foods containing more than 6% fat should not have fat added.

Fat should only supply 5%-20% of the diet's calories. Do not increase the fat content so that fat supplies more than 40% of the daily caloric requirment as this may induce other nutritional deficiences by lower total food consumption, so beware.

Skin improvement is usually seen in about 1-2 months.

---------------------------------------------------------------------------------
Primary (idiopathic) Seborrhea (dog's equivalent of dandruff)

This can be controlled (not cured) by frequent, regular bathing every 3 to 7 days with speical medicated shampoos that contain ingredients such as antiseptics, salicylic acid, coal tar and sulfur. In general, dry scales respond best to a mild, hypoallergenic, emollient shampoo followed by an emollient rinse. (example: bath oil, one capful to 1-2 quarts of water. ) Greasy types are best managed with products containing antiseptic degreasers such as benzoyl peroxide and drying agents such as sulfur, salicylic acid, or selenium disulfide. You can use some human antidandruff shampoos, but it is safest to obtain an antiseborrheic shampoo designed for dogs from your veterinarian as some formulations for people can be irritating to some dog's skin.

If regular bathing and good flea control does not help within a month then see your veterinarian.

------------------------------------------------------------------------------------------------------------
Insect Stings

1. If sting is on a flat part of the skin easily seen, apply a freshly sliced onion or a cold compress for a few minutes.

2. Give your dog benydryl.1 to 2 mg per pound body weight.

3. Other ways to help your pet deal with a minor insect sting is to apply a paste of baking soda and water to the bite or sting several times a day. You can also use milk of magnesia and apply it directly to the bite to help reduce the itching and the irritation.

Removing the Stinger

If your pet is stung by a bee, wasp or hornet and you see the stinger, do not use your fingers or tweezers to remove stinger as it will squeeze more poison into the wound.

Holding a dull knife perpendicularly to the skin, scrape across area of sting a few times, this will grab the stinger and release it without pain. Put some calamine on the area once removed.

Severe Reaction

If your pet is stung in the mouth, nose or tongue, remove the stinger if you can and then watch your pet carefully. If your pet is stung at 10:00 and at 10:10 the swelling is big, then they are having a severe reaction to the sting and you should take your pet to see your veterinarian immediately.

A severe reaction to a sting can lead to difficulty in breathing and possibly death.

If your pet is stung at 10:00 and at 10:30 there is mild swelling and irritation, this is not a severe situation, but should still monitored.

------------------------------------------------------------------------------------------------------------

Itching

It is best to find out the source of the itch and treat it.

You can relieve your pet's itch with calomine lotion or an over the counter spray or lotion corticosteroid.

Sometimes adding vitamins such as vitamin C, Vitamin E, selenium and zinc will help (ask your veterinarian for the correct dose for your dog) or adding one teaspoon of safflower oil to your dog's food daily.

Don't rule out the possibility of allergies or the mange as a cause of your pet's itch or some underlying health problem.

------------------------------------------------------------------------------------------------------------

Coccida: (opportunistic protozoa)

Coccidia lives in the bowels of all dogs. Something has to weaken the immune system for the protozoa to have the opportunity to multiply and cause problems. Usually this is brought on by stress of some sort. The first signs are usually decreased appetite and loose, foul smelling stool that may contain bloody mucous. This can escalate into a bout of hypoglycemia. If your puppy shows signs of this, immediately seek veterinary advice. A daily supply of plain yogurt containg acidophilus can prevent coccidia from multiplying by keeping a balance of good bacteria in the GI tract.
__________________
---
Last edited by Ciarra; 02-17-2009 at

04:23 PM

.
02-17-2009, 02:03 AM
chi god/godess

Join Date: Nov 2008

Location: In Chihuahua Bliss!!!

Posts: 3,132

Thanks: 0

Thanked 6 Times in 1 Post
---
That all sounds good, but my vet warned about using honey in puppies. He said to use Karo Syrup instead, because honey can cause botulism and other problems.
Thanks for posting!
02-17-2009, 02:05 AM
---
__________________
02-17-2009, 02:20 AM
Administrator

chi god/godess
---
I would like to add to this.
I use plane yogurt for upset tummies. I also will sometimes use canned pumpkin for Diarrhea and also with constipation. I no the amounts vary and can in certain amounts can help with both.
Also I use Pineapple juice on food to help stop poo eating
Good thread
__________________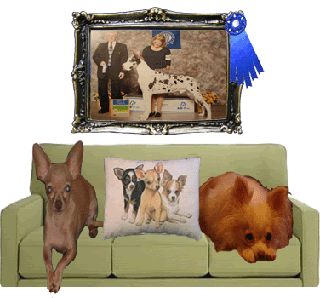 RIP Yoshi...You will be forever in my heart as you took most of it with you...
The bitterness of poor quality lingers long after the sweetness of a low price is forgotten....
02-17-2009, 02:22 AM
Administrator

chi god/godess
---
I am sticking this thread. I think it is a good idea for our economical times.
Members...please feel free to add to this with helpful cures and remedies that you use
__________________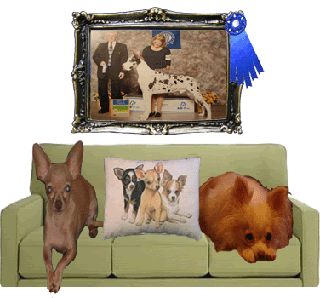 RIP Yoshi...You will be forever in my heart as you took most of it with you...
The bitterness of poor quality lingers long after the sweetness of a low price is forgotten....
02-17-2009, 02:34 AM
Administrator

chi god/godess
---
This is a great thread. Thanks so much, Kay
__________________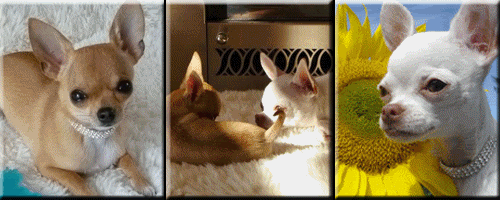 Dogs are not our whole life, but they make our lifes whole
02-17-2009, 03:45 PM
---
Yea Stickiness!
__________________
Posting Rules

You may not post new threads

You may not post replies

You may not post attachments

You may not edit your posts

---

HTML code is Off

---
All times are GMT. The time now is
10:19 AM
.