sorry its been so long
,I'm trying to buy a home with more property for us with cash out right and finding out I might still have to take a small loan out for what I want.So I can have enough to build the doggie door and run with a roof and other goodies (I want the whole thing with rabbit pen wire the small holes/squares not even a snake or large grass hopper can get in! and huge! also underground as well!No one digs but you can never be to careful with your fur babies <3 and I want a camera on it at all times or two for when I'm not home and property with a nice little block home is not cheep anymore :P.I'm even thinking about after I get it up Privacy fencing it(around the pen/run).6 foot Privacy fence is a must for me board on board but making another privacy fenced area inside of my already privacy fenced yard on the property around their pen as well, which I want to be huge minimum of 18-24 feet by 13-24 feet, 6 feet high or higher big enough to walk inside it.Seems probably obsessive too cautious...but We just have our fur babies no children so they are our babies.I so think the market is going up yet no more work than before?
Lil Cupcake and babies are doing so Great! <3
lil Tot's foot is completely healed.He has all his lil toe nails everything!He has a side ways looking one,but he scoots and crawls around all over the place.I had to clip their little nails the other night they were getting so long and their eyes have now opened!!<3
They are just adorable little butter balls.Like mini little pandas with brown eye browls <3 They are even starting to try and bark <3 They still are eating Cupcakes milk and she has plenty now a whole bunch!
I know I've read that they cant really see even after their little eyes open, but I swear they can see me they both look up at me for cuddles.I don't know if its they can smell me or what but they are so darn cute<3 I'm keeping it low lighted for them for the next week or so till they adjust to their new sight<3
Cupcake has now become a klepto! every time I have to leave to go somewhere She pulls my small bed pillows a mini pillow pet and all kindsa goodies for the babies.She has even collected two toys for them already all on her own a mini sock monkey and one of her candy canes toys,which the babies love to cuddle with <3 I still have them on my bed as they are just to adorable to not be hehe
The pups are doing so great they even more now are licking us and holding their little heads up high and are starting to show their little personalities.The little girl Taters is such a doll when on her back she enjoys it and loves being held little Tot is like his papa a bit whinny,but more active he is always on the go dose not wanna be held too long heheh he he gives and gets a lil loven and wants to explore! Cupcake dose not even mind the other dogs around them.I figured she would try to attack or protect, but she knows their in good hands.I was at all cost keeping everyone away,but she does not mind a peek in now and then from the other fur babies.So everyone's got to smell the babes even little 2 1/2 pound 7 month old pippin our yorkie and see the lil ones.Romeo papa gave Tot a little lick even <3.Her ben is pretty high,but some how she manages to jump out when I'm gone and collect things even one of my sweaters I took off before bed.I woke up the next morning all where did it go, and she and the babies were all snuggled in it <3 I also still keep the heating pad on low,but I don't think they really need it now?No one cries so all must be well in the whelping box.I'll hear them cry and right away she moves to them and they eat and get cleaned and are happy lil white butter balls.The little girl has started to show some small little spots on her like Cupcakes little tiny poke dots <3 They are now 18 Days /2 Weeks and 4 days old <3 more pictures here I have about 33 new ones
Cupcake Photos by Kittah_Kat | Photobucket
little Taters <3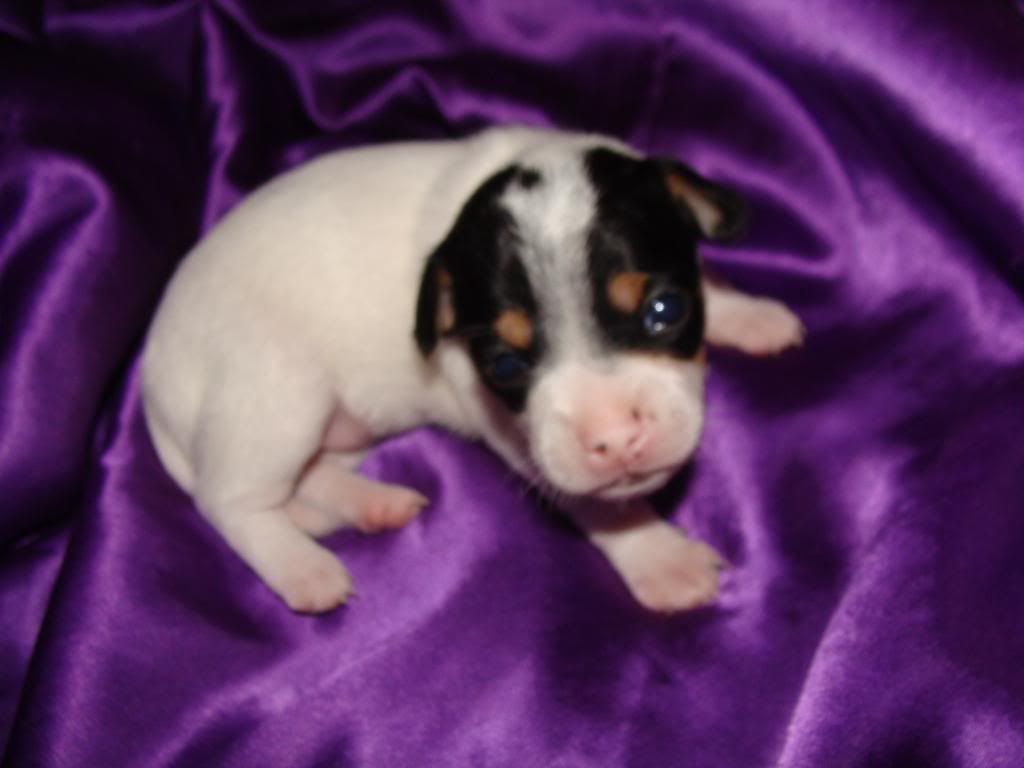 Little Taters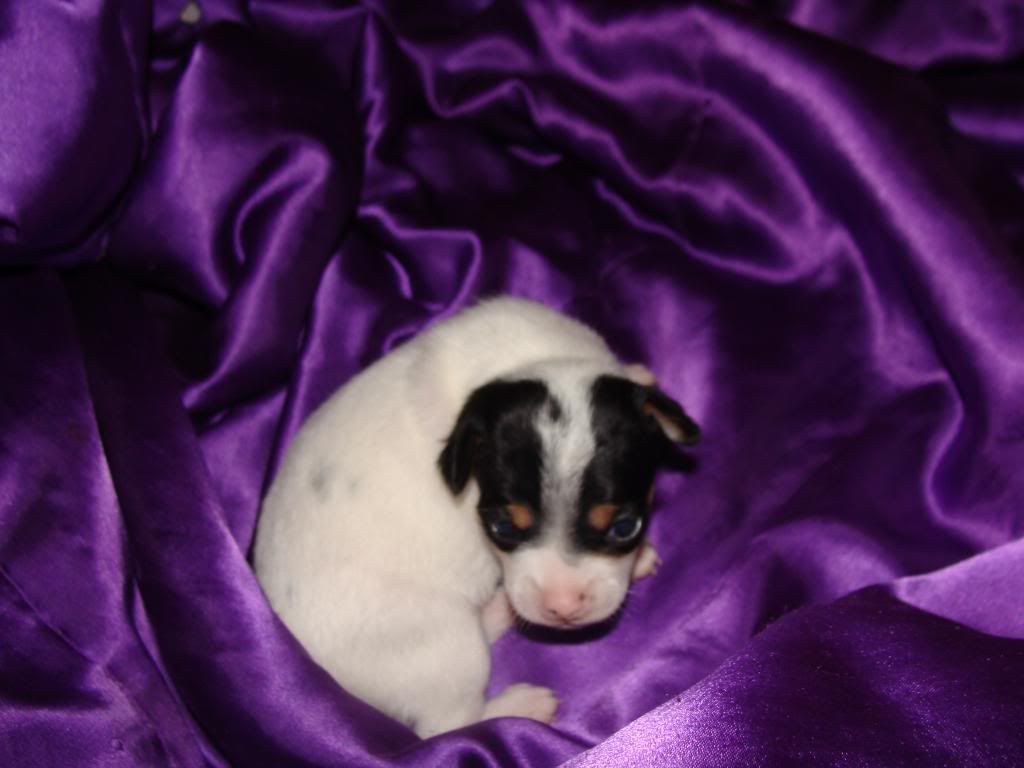 Little Tot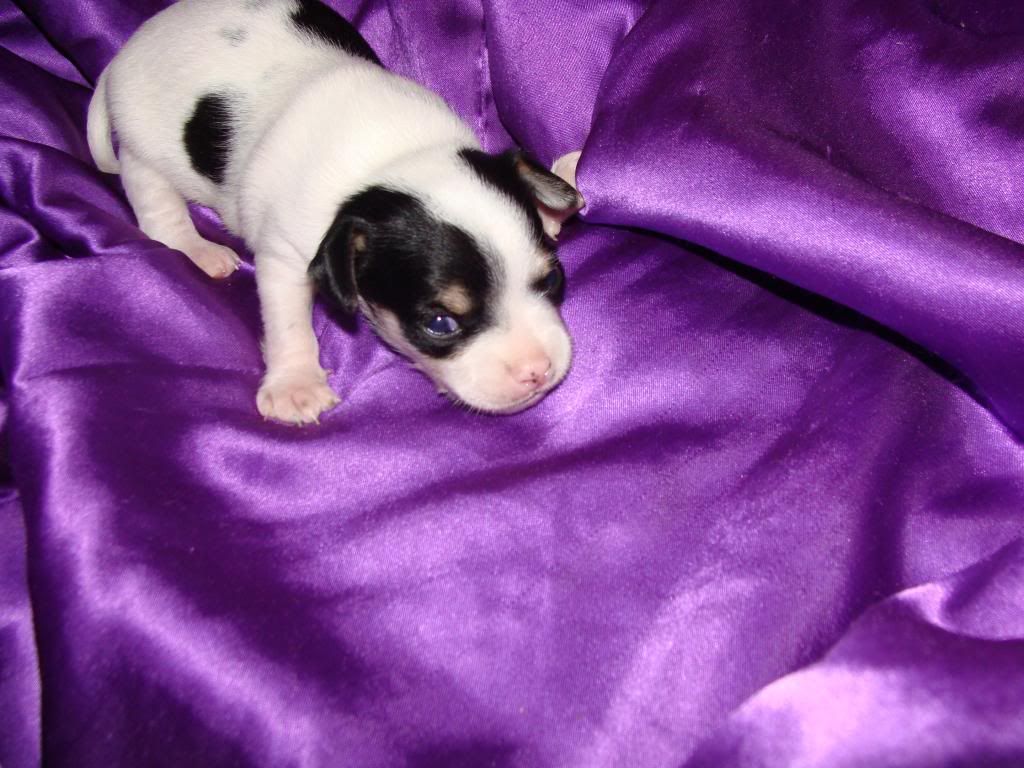 Little Tot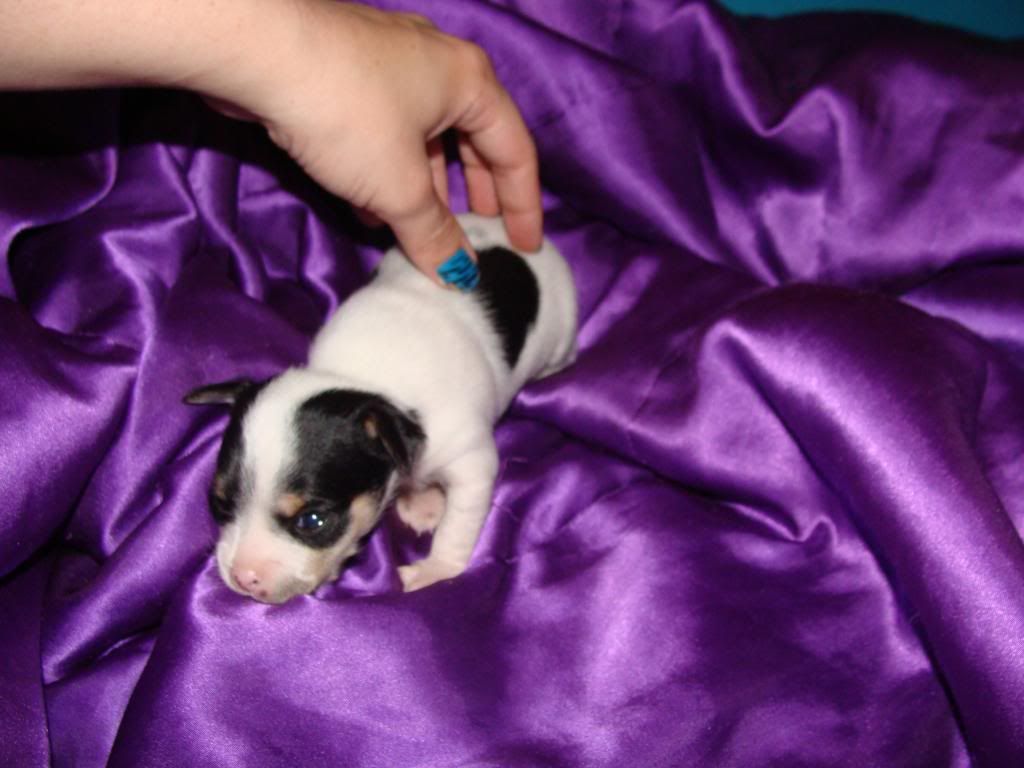 Cupcake and Tot playig on the bed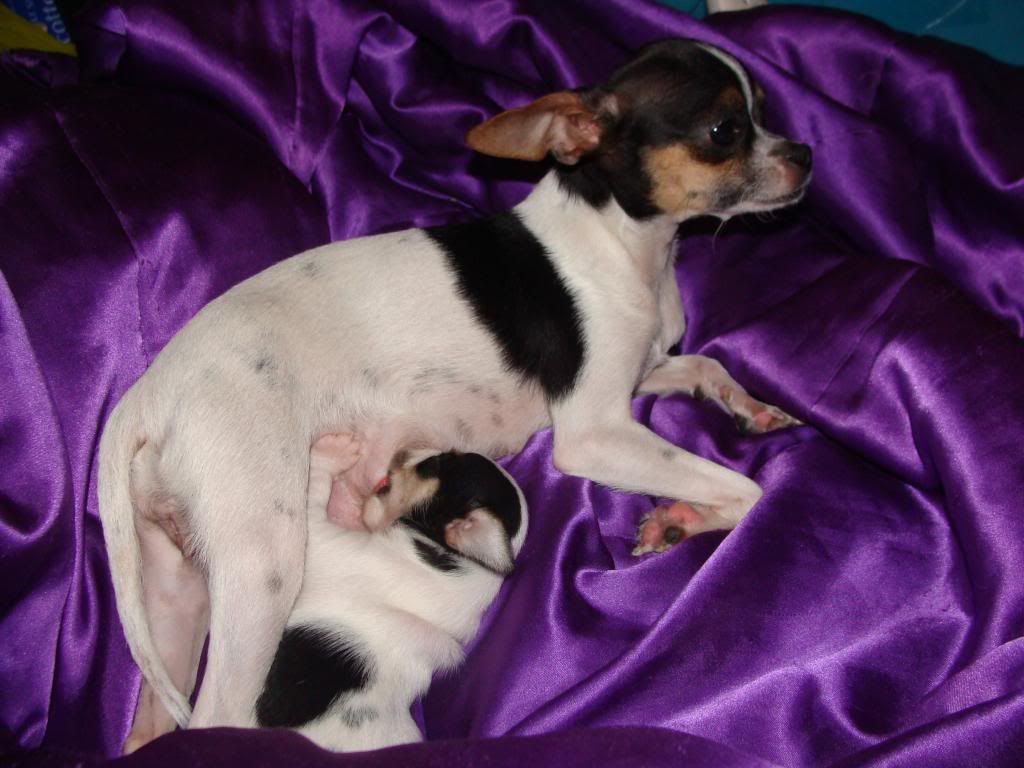 Cupcake and Tot on the bed playing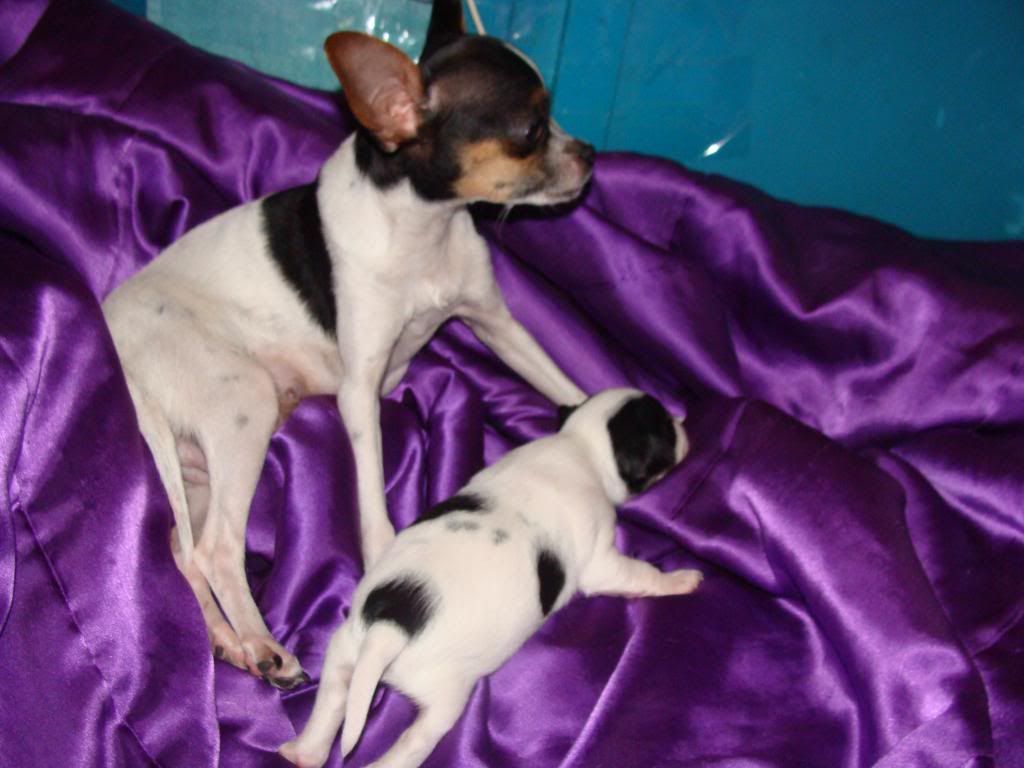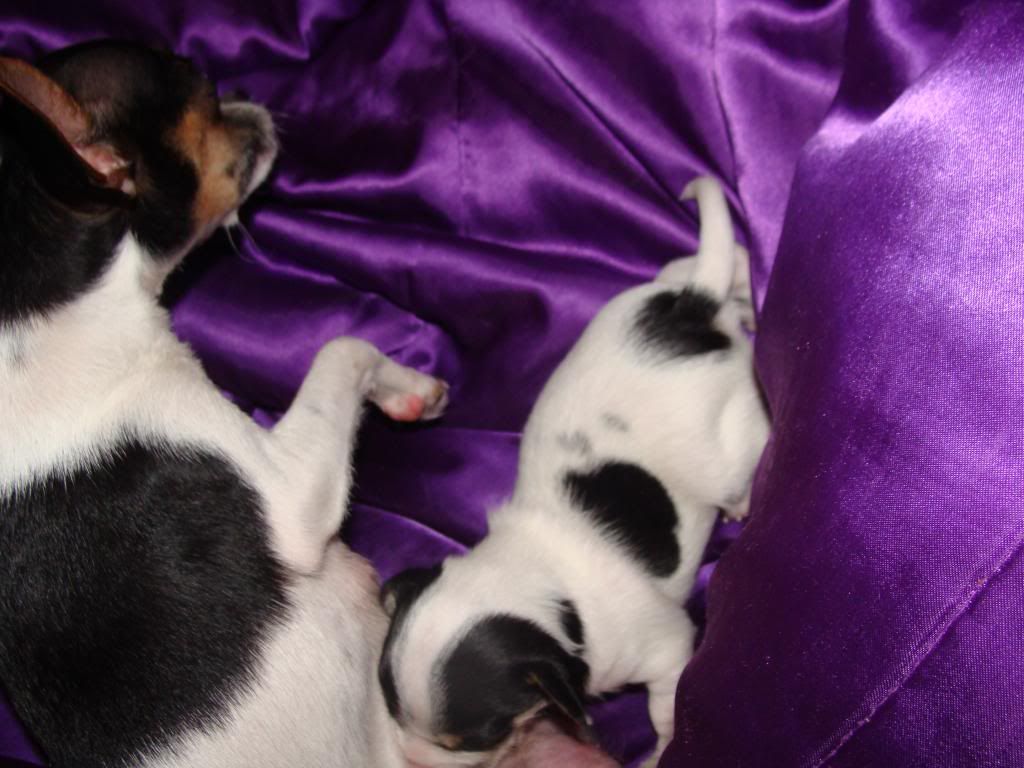 lil Taters