| | |
| --- | --- |
| ~Pretty Little Lady...and her man~ | |
11-17-2012, 07:02 AM
chi-aholic

Join Date: Jan 2010

Name: Regina

Location: Ontario, Canada

Posts: 381

Thanks: 46

Thanked 20 Times in 16 Posts
---
Those are beautiful pictures. A thought ran through my head when I was looking at them, it is really hard and next to impossible to take good pictures of our little loved ones. Have you ever thought of doing this with other people's pets? You have a great gift and I'm sure people would be lined up at your door.
11-17-2012, 07:08 AM
chi god/godess

Join Date: Oct 2011

Name: LS

Location: Canada

Posts: 10,706

Thanks: 2,062

Thanked 813 Times in 693 Posts
---
Quote:
Originally Posted by
Timmysmom
Those are beautiful pictures. A thought ran through my head when I was looking at them, it is really hard and next to impossible to take good pictures of our little loved ones. Have you ever thought of doing this with other people's pets? You have a great gift and I'm sure people would be lined up at your door.
Regina, you are too kind. I don't know anything about Photography, I simply
improvise and have fun with it. I sure do love capturing precious moments
though.
Dogs and nature are my favorite subjects.
11-17-2012, 07:26 AM
chi-aholic

Join Date: Jan 2010

Name: Regina

Location: Ontario, Canada

Posts: 381

Thanks: 46

Thanked 20 Times in 16 Posts
---
You really should give it some thought. Advertise on Kijijji free of charge and see what happens. If I lived closer, I would love for you to take some pictures of Timmy. You can have the people come to your house, with your hubby there of course. I think it woould be a win win situation.
11-17-2012, 08:13 AM
chi god/godess

Join Date: Jun 2012

Name: Melissa

Location: Liverpool, England

Posts: 3,471

Thanks: 189

Thanked 289 Times in 271 Posts
---
Aw, they look so cute together! I always love to see pics of beautiful Bella and Rocky looks so content next to her!
__________________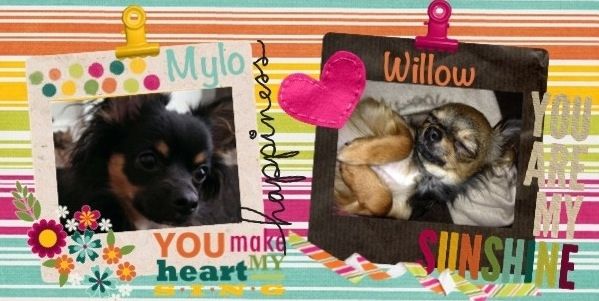 11-17-2012, 05:24 PM
chi prince/princess

Join Date: Apr 2012

Name: Pat

Location: Fraser Valley BC Canada

Posts: 725

Thanks: 1

Thanked 32 Times in 25 Posts
---
Quote:
Originally Posted by
~LS~
Bella was not at all socialized, she feared everything from different surfaces, to sounds, sights, people, dogs, etc. She did not have the confidence needed in order to get through simple daily tasks and activities. She was very nervous, and would simply hide and tremble. Pat, what worked for me is building up Bella's confidence in herself, through training exercises. The second thing was lots and lots of exposure and socialization, but this was done slowly, little by little. And all this with a lot of positive reinforcement. These things take a lot of time and dedication, we are still daily working on certain aspects. For example one of the ways I handled Bella's fear of people was to first simply let her be exposed to them in non threatening situations, where she could observe, but not be touched by them or talked to. Once she started to feel a little more comfortable just seeing people while out on walks, I started letting children sit quietly not too far from her and let her come to them on her own terms, I would not let the kids touch her or speak to her, just sit there. She sometimes was afraid, other times she would be curious and sniff their shoe, etc. Eventually I allowed people, children to speak to her but softly, if she panicked I did not give into her fits by comforting her, I would simply redirect her attention, and when she did not mind or ignored the person I would gently praise. I acted with a lot of self control, and in a calm manner, on walks this was especially helpful because Bella felt through the leash that I'm calm even though there are people, dogs, cars, etc, and eventually that put her mind at ease as well, and she stopped focusing on the "scary" things and slowly became interested in exploring grass, scents, ect, which I also encouraged. If you give into their anxiety and fear by picking them up or cuddling them, then you are simply reinforcing the unwanted behavior. In the beginning stages I used a lot of treats, calm non threatening voice and even singing to win her over. I did not fuss over her however and let her come to me when she was ready, my apartment is very small, but I still let her get used to one area at a time, I did not expose her to the entire place all at once. I never forced her to do things, but instead tried my best to motivate her, or even trick her into doing things by making her believe they were her idea. Basic obedience helped raise her self esteem and the frequent daily walks helped her release her anxieties and stress and helped her adjust to the daily things we come across both indoors and outside. It's important to not get frustrated, and remain focused, rehabilitating a fearful dog can take a very long time, every dog is different, some were abused, others were never socialized, some were poorly bred, etc, it all plays a role. So just be patient, calm and positive, provide training, affection, mental stimulation, exercise and balanced nutrition, and do not give Taz any special treatment out of pity, make sure your pup has little tasks to do before meals, playtime, etc. such as sitting before getting his food. If he does not perform the asked tasks, never penalize or punish, simply try again later, perhaps after a good walk once the dog is in a relaxed state of mind. In Bella's case I put the time into her, but I never spoiled her, she had to earn things just like my other dogs, she had boundaries just like the rest, and that gave her a sense of security. She now knows what is allowed and what is off limits, she enjoys working, it's fun for her, because every task is followed by a reward, be it a treat, some praise or a little scratch/massage, etc. Training provides a clear communication line between you and the dog, which is tremendously helpful, because even though dogs are experts at reading us, we are not always very good at reading them. It's all about communication, exposure and confidence building. I think Taz is lucky to be a part of your family, and I wish you guys lots of happy & healthy years together.
Thank you so much for this I think this is Taz's problem as well he has had no socialization at all and I think his fear of things have been allowed to contimue by him being picked up and cuddled everytime he showed a little bit of fear. yesterday I took him out for his first walk but just to put the leash on him was our first thing to overcome he ran from it and me. I put Charlies harness and leash on first with Taz watching Charlie loves his walks. but when it came to Taz he wasn't going for it. I finally went out on our sundeck and Taz came out there its not very big ang he had been out there before so he knows its not scarry. once he was out there I closed the glass sliding door and put the baby gate across the stairs that lead to the yard. so basically he had no where to run. I put his leash on and said now see that wasn't so bad was it and gave him a pet and told him he was a good boy. We went down the stairs through the yard and out the gate he pulled a bit but not too bad. on our walk we ran into a man talking with another man who had a Golden retriever of course Charlie ran right over to make friends with the dog and Taz ran over also but in attack mode. I pulled Taz back and picked him up and let Charlie socialize for a minute and put Taz back on the Ground and continued our walk We walked past allot of houses with dogs in the yards Taz barked and tried to attack every one of course he was on the leash so I just said no Taz its ok its just a dog. then we came across a couple working in their yard well the lady was raking the leaves and the man was standing on the porch watching her work. LOL Typical. any way they said hello and he saw the Tiny's first and said oh look dear those ones would be lunch for our 110 lb boy. So we stopped for a moment and of course she said oh my they are so cute how much do they weigh. blablabla Taz was fine though this she was still in her yard and about 10 ft away from us. we walk on a bit longer and then start heading back home. on the way back we passed one dog that was just going crazy barking and growling at us as we walked by his yard Taz was pulling and barking and growling back this truck drove by and a lady rolled down her window and said boy they are mean little things aren't they I laughed and said oh yea he thinks he's a pitbull or something. talking to her stopped Taz in his tracks and looked to see who I was talking too. We carry on with our walk and all the barking dogs and I think all in all Taz really enjoyed his walk although he was happy when we reached home. Like I said I really think that Taz has the same problem as Bella no socialization at all and then being babied when he acted in the slightest bit nervous he was picked up and cuddled. I can see he is going to need allot of work and we will have to go slow. I think our walks is a good way to start. I really want to thank you for all the advise It was the best advise because it really helped me to see what Taz has been missing in his life and a starting point thank you so much.
__________________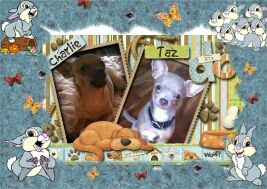 ---
Last edited by momofmany; 11-17-2012 at

05:30 PM

.
11-17-2012, 05:53 PM
chi god/godess

Join Date: Nov 2004

Name: Kathleen

Location: Salinas, Ecuador South America

Posts: 6,015

Thanks: 666

Thanked 468 Times in 441 Posts
---
I just showed my husband the pics of Bella and Rocky...like the rest of us, he thought they were over the top cuteness together...Bella looks so regal...she was born to have her pic taken and Rocky is such a handsome fellow...love how their colors compliment each other as do Chanel and Benji....lovely fur family
Posting Rules

You may not post new threads

You may not post replies

You may not post attachments

You may not edit your posts

---

HTML code is Off

---
All times are GMT. The time now is
10:28 AM
.