Hi Theresa, dont mean to hijack the thread so please forgive me for that, i to live right off M37 just down the road from 55, 2 miles down from the corner gas station. We shall have to get together sometime after the holidays.
Nice to meet you and Amberleah lou lou. HAPPY HOLIDAYS and hope you have a wonderful new year..
__________________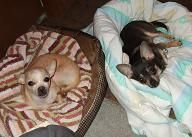 "Deja Voo" & "Muffin" My sweet little girls.
Saving one rescue at a time.