Awwww they look so adorable in there coats. It was cold for sure here this morn, Muffin dont care even though she was shivering she just wants to play in the snow
i was out there in PJ's and slippers trying to get her to come back in and stop trying to eat snowflakes. LOL!!
__________________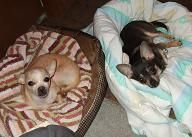 "Deja Voo" & "Muffin" My sweet little girls.
Saving one rescue at a time.