| | |
| --- | --- |
| Barking at EVERYTHING... | |
04-18-2006, 06:57 PM
Barking at EVERYTHING...
---
My dog seriously barks at EVERY LITTLE NOISE. Is there any way to desensitize my little pup? She is 8.5 months old, but she's been very sheltered. I just recently moved to a new home, so I'm thinking that's why she's on edge, but seriously, I don't think an ant could even crawl by without her noticing, and it's driving me insane becaues I can't sleep at night. Anyone have any suggestions? I love her soooo much, but this really had to stop. I would love to help her somehow. Also, she HATES the vaccum cleaner. What to I do? I can't just not use it.
04-18-2006, 10:26 PM
chi prince/princess

Join Date: Apr 2006

Location: indiana

Posts: 789

Thanks: 0

Thanked 0 Times in 0 Posts
---
you are going to have to get her used to it. my pup is 12 weeks and when we got him he whined and whined and whined ALL night long. i had to put him in apet taxi (it was all i had at the time) and put him in the bathroom til he realize we dont' bark at night. about a week later he doesn't start in until about 8 am- when he hears us waking up. i have small kids who really need thier sleep so i had to make him stop. hope that helps
04-18-2006, 11:31 PM
Re: Barking at EVERYTHING...
---
Quote:
Originally Posted by kimmiek915
My dog seriously barks at EVERY LITTLE NOISE.... I don't think an ant could even crawl by without her noticing
are you sure your not talking about my Jemini?!
she does the same thing i will be wacthing this post!
__________________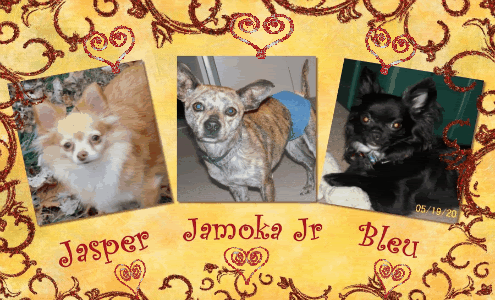 04-19-2006, 01:08 AM
chi lover

Join Date: Mar 2006

Location: Boston, MA

Posts: 119

Thanks: 0

Thanked 0 Times in 0 Posts
---
I dont know if this will help but, i say QUIET firmly, or, as firmly as i can lol. i sound like a little kid, so my voice isnt taken very seriously UNTIL i get REALLY mad, like when he runs into the street, i get FURIOUS, ( oviously cause he can get hit by a car and killed ) so i am training him NOT to even GO NEAR the edge of the sidewalk, but anyways, back to the subkject, ( see how easily i get sidetracked ) lol.. anyways, i tell him QUIET firmly and it works, cause he knows im upset by the tone in my voice. OR i squirt him with water in a waterbottle, NOT IN THE FACE. that ALWAYS works. u can also use this method when ur chi is doing ANYTHING u dont want him/her doing, it works WONDERS, let me tell u. the vet actually told me to do this and i didnt believe it would work, and to my amazment, it DID, PERFECTLY. NOW, happi LISTENS to me, all i have to do is bring out the water bottle, which is bright purple/pink and he knows, STOP doing what hes doing. i never ever ever sprayed him with the water, i spray NEAR him, so its enough to show him what it is, and what will happen if he dont stop, and it works. BUT, dont get me wrong, i will spray him if i absalutely HAVE to, but until he does something drastically bad, i spray NEAR him, but not ON him.. and it works, hope this helps.. let me know how u make out
__________________
<3 Happi <3
i <3 yOu
04-19-2006, 02:07 PM
---
So she didn't really bark at all last night while I was sleeping :P But in the morning, as soon as she heard my roommates walking around upstairs, she was barking again like a mad dog. I guess she's getting better. She didn't bark at a motorcycle going by last night and that thing was LOUD. Also, I'm slowly desensitizing her by exposing her to various noises, eg. dishwasher, plates clanking together, car horns, etc. Thanks so much for all of your suggestions. I will definitely try the water bottle thing. And it's funny because I actually have a purple and pink squirt bottle too. Thanks so much. Please keep the suggestions coming. LOL
04-19-2006, 03:44 PM
chi god/godess

Join Date: Aug 2005

Location: California

Posts: 1,659

Thanks: 0

Thanked 0 Times in 0 Posts
---
She's probably nervous about her new surroundings and not sure what all the noises are mean. I'm sure she'll settle back in. Especially if this barking has increased since the move. Help her get to know her surroundings in the day time.. when she makes a fuss, let her know what it is.. "Thats Suzy upstairs, its ok. NO Barking". Be calm, yet firm. Repeat no Barking if she continues. Try just petting her calm. If she is running around unconsolable try the water bottle. I just squirt Tucker on the back and say NO Barking when he just wont' stop. Sometimes you can tell their truly upset and sometimes they're just being bothersome.. If they're truly upset its better IMO to sooth them. If they're bothersome then bring out the bottle or whatever method you want. I only have to lift the bottle up when Tucker is bothersome because he knows he's being a pill and he knows what I want.. most times I just have to say No Barking now.
__________________
Tucker N Jasper (& Brenda)
Tucker's Dogster:
www.dogster.com/?197852
Jasper's Dogster:
http://www.dogster.com/?265025
04-19-2006, 03:49 PM
---
Oh, that's such wonderful advice. I never even thought of explaining to my dog what the noises are. I just always said, STOP, NO BARKING. I do know that she understand alot of what I'm saying, so I will try explaining to her and calming her down by petting her. It's funny because my roommates dog, she said that one time, her b/f made a comment about her dog saying, "wow, she's getting fat." And that dog didn't eat for 3 days straight! Can you believe that? Dogs do understand what you say and they can be really sensitive and emotional. Anyways, I will definitely try the squirt bottle thing too. Thanks again you all. You guys are the best!! :P
04-19-2006, 09:16 PM
chi-aholic

Join Date: Oct 2005

Location: DC

Posts: 306

Thanks: 0

Thanked 0 Times in 0 Posts
---
Leya barks at every little noise and totally hates the vacuum cleaner as well. Its not that she has been sheltered either, we have been to chihuahua meetups and I try to take her out alot to socialize her. Everyone tells me she is the most friendly chihuahua they have ever come across. The worse thing is when I walk her, she hates bicylcles, she barks and tries to chase them. I am not really sure... what advice to give, I keep telling her No....
I guess it depends what mood she is in at the time because sometimes she'll hear people going in and out of our building and bark and sometimes just sleeps....
__________________
Leya\'s Mom
http://www.dogster.com/?258915
Posting Rules

You may not post new threads

You may not post replies

You may not post attachments

You may not edit your posts

---

HTML code is Off

---
All times are GMT. The time now is
04:31 PM
.