Bella hasn't had her ultrasound yet to confirm pregnancy but she has all the signs, several great ties during estrus, her vulva is slightly enlarged still, nipples markedly enlarged over the past 2 days so I am pretty sure she is pregnant.
I guess I have two questions, first off, over the past few days she has become a lot less active and only walks on her walks when usually she is trying to run the whole way, she is laying in a strange new position, instead of curling up in a ball, she prefers to lay stretched out on her side with her legs sticking strait out and believe it or not, even though she is just 2 weeks 3 days pregnant (hopefully), her tummy has a rounder, fuller look already! My kids even noticed as well as my neighbor who didn't know I had bred her asked if she had gained weight! Bella is a 5lber so she is by no means a "teacup" size and has a nice long torso and wide pelvis and hips for birthing according to my vet but yet she already is looking pregnant! No weight gain but her tummy just below her last rib is 1/4" bigger (in the morning after a pee but before breakfast, same tape measure) then before her heat! No signs or symptoms of infection at all, just seems pregnant looking already! Is it possible that because she is a Chi she is starting to show a bit early?
Also, over the past couple of days she has become more protective and wary of anyone but our immediate family. This morning she barked at and ran away from the 5 year old boy I babysit before school and made him cry because he loves Bella and she is usually so loving to him but she seems to want to be left alone and has developed a sort of antisocial to "strangers" attitude. She is every bit as loving as ever to us, but still... Is this normal behavior for a pregnant dog?
I'll be calling my mentor today too but thought I'd ask here and see if anyone experienced this. Bella is the least aggressive, most outgoing little girl you can imagine except for all of a sudden! She isn't aggressive and let Dominique pick her up but she was quite obviously distraught by the idea and as soon as he sat down with her she jumped down and got in her bed and gave him the evil eye, which made him cry!
Any experienced Chi grandmas or grandpas out there that have observed this behavior?
Sorry for the book and thanks in advance!
Heather
Here is a picture of Bella from the side today... notice the nipples and slight belly? She was always a slim/trim dog...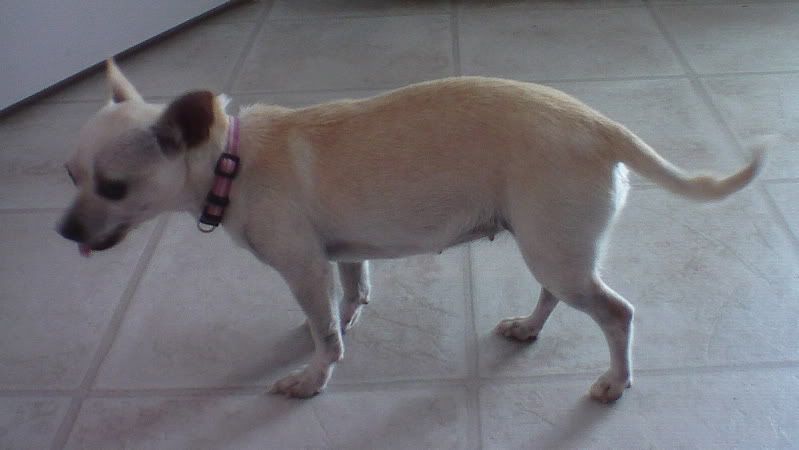 I couldn't find a good side view picture of her before physique but I found this picture of some cute Chi and Bella has always maintained a similar figure to this dog... what do you think?