| | |
| --- | --- |
| My puppy is starting to snap at me | |
11-06-2012, 03:45 AM
Just arrived!

Join Date: Nov 2012

Posts: 1

Thanks: 0

Thanked 0 Times in 0 Posts
My puppy is starting to snap at me
---
My chihuahua is 8 months old and I've had him since he was 6weeks old. He is definitely more attached to me in our family but shows affection with everyone. We have 3 kids. Today he ran out the front door and I chased him for 20mins. My first issue is he doesn't listen to me. I try calling him, I've tried saying stay or sit, which he knows how to do, but he doesn't listen. The few times I got close to catching him he growled & snapped at me. There was a couple walking their dog and he took after their dog like he was 10 times bigger than it. He was growling & snapping at it too. My neighbor ended up grabbing him and he was definitely unhappy with her but since she has a dog she wasn't afraid of him growling & trying to rip her apart. He stopped as soon as she held him tight.

To back up a bit I knew my chi wasn't too happy with me because a couple days ago I tried clipping his nails & he lost it...growling, showing his teeth & snapping. I eventually gave up & let him go.

How do I get him to stop this behavior when I try clipping his nails? Or running away from me if he gets a chance to escape outside? His aggression has gotten worse. The only time he has growled & snapped at me before is if I try taking his collar off for a bath. My husband usually helps me with that. Other than these problems he is so attached to me on a regular basis.

Thanks.
11-06-2012, 06:24 AM
chi prince/princess

Join Date: Nov 2011

Name: Christina

Location: Merced, California

Posts: 719

Thanks: 140

Thanked 54 Times in 40 Posts
---
Wow, he is one fiesty pup! It sounds like he's going through adolsence and is challenging you. I have never been in this situation but im sure others who has experience are sure to help!
Sent from my iPhone using
Petguide.com Free App
__________________
11-06-2012, 11:17 AM
chi god/godess

Join Date: Jun 2012

Name: Melissa

Location: Liverpool, England

Posts: 3,471

Thanks: 189

Thanked 289 Times in 271 Posts
---
Yep. As Christina says it sounds like he is challenging you. The worst thing you can do is back down because then he knows that growling or snapping at you works. It's difficult with his nail clipping because it's something you don't want to be too rough with because he needs to associate it with good things.
First things first, with the clipping. With Willow I do it when she's half asleep then she's not bothered. With Mylo he hates his claws being clipped. I get someone else to hold him for me so that he's still and secure. No rough handling though like they do in my vet
You need to be calm and persistent but in a gentle way. They pick up on your emotions so if you're calm and keep going they know there's no point putting up a fight. I get a favourite treat, usually a meat based on and get the person to hold it in their fingers. If they keep it there so the dog can lick, sniff and maybe nibble it a bit it will keep their attention. While they're distracted with that hold their paw firmly but gently and cut each nail. Once you're done with that paw, give them the treat. That way they know that a treat is coming and the more still they are the quicker it comes. It worked for me anyway. I've only tried it once and it was still a bit of a struggle but definitely better than before and I'm sure it will improve.
As for the snapping at you. Mylo has just started to challenge me in this way. I put him in our porch for a short time out and he hasn't growled again since. If your guy has been doing it for a while then it will need repeat time outs and persistence. Just don't give in on anything because then he'll know that his misbehaving and perseverance will pay off. He stopped struggling for your neighbour because he knew she wasn't scared and wasn't going to give in so he knew that there was no point. Hope this helps and good luck. I'm sure it's just a phase
__________________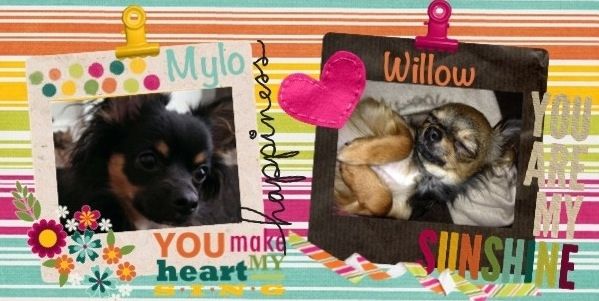 11-06-2012, 11:36 AM
chi god/godess

Join Date: Apr 2012

Name: Caitlin

Location: Falun, Sweden

Posts: 3,206

Thanks: 49

Thanked 107 Times in 98 Posts
---
Yikes, what a feisty little guy. I haven't had to deal with that sort of behavior, but Melissa has given some good advice with the time-outs. Hopefully some others have more suggestions.

When I first clipped Gemma's nails, she screamed and struggled until I just couldn't do it anymore. I got three paws done but by the fourth she was going so insane that I thought she was going to have a heart attack. After that, we took her to the pet store to have her nails trimmed, and she was perfectly behaved, just nervous. So after two times of having them done at the pet store, I decided to give it a go at home again and her attitude was completely different for me this time. My boyfriend just put her on the kitchen table and held her in place, and I clipped her nails in a breeze. What I learned to do is not to baby her. I don't even talk to her when I'm clipping her nails. If I baby her, then I make her think that what is happening is a big deal and that she should be stressed about it. I just stay silent until the whole thing is over, then I reward her with a treat.
__________________
11-06-2012, 11:53 AM
chi god/godess

Join Date: Jun 2012

Name: Melissa

Location: Liverpool, England

Posts: 3,471

Thanks: 189

Thanked 289 Times in 271 Posts
---
I should point out that Mylo is an angel if I get his claws clipped at the groomers. He obviously knows I'm a novice and am nervous about it!
__________________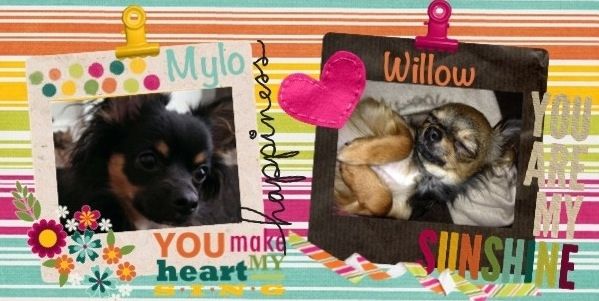 11-06-2012, 12:26 PM
chi god/godess

Join Date: Oct 2009

Name: Ronni

Location: Nashville Tennessee

Posts: 2,205

Thanks: 51

Thanked 133 Times in 103 Posts
---
He needs some serious, dedicated training. This sort of behavior is not OK and if you want a social dog who will not be a threat to your kids or your friends, get him to a trainer pronto.

Contrary to popular belief, a lot of dogs don't have good recall. Even though they know their name, they won't come when called unless it suits them, or unless that behavior has been trained into them. So don't expect that your dog will, just because you've taught him to sit, or because he's attached to you. If he doesn't have a trained recall, then he's not gonna come just because you want him to.

Seriously, this aggression is going to cause you heartache if it's not gotten under control. You wouldn't tolerate this behavior for a second if it was a Pit Bull or a German Shepherd doing it...you'd be scared for yourself and your kids. So don't tolerate it just because it's from a tiny dog.
11-06-2012, 02:25 PM
chi god/godess

Join Date: Mar 2011

Name: Cindy

Location: Massachusetts

Posts: 3,287

Thanks: 330

Thanked 580 Times in 565 Posts
---
Well, unfortunately I can relate to your situation! lol What I can tell you, at least in my case, it gets better!!

With regards to nail clipping, another thing you can try is whenever he is in your lap, play with his paws. Most dogs don't like their paws played with. If you touch them he should get desensitized. I use a dremel for mine. I have quicked my golden a few times, so now I use a dremel. But that too, needs getting used to because of the vibration.

He must learn that you are top dog!! I am still working on that with Angel, although, he has made tremendous progress. Or rather, I have! hahaha.
He knows stay and basic commands. He is not allowed to go through a doorway first, he has to sit when I put a lead on him, he has wait for a few seconds after his food is put in front of him to eat until I give him the okay. It's not easy, it's very tedious and time consuming. He is also not allowed to move from his spot until Susie (our golden) has finished her food because he will steal it. One suggestion for him running out of the house when the door is open, is to put him in his crate or confine him somehow, while someone is going in or out. The recall is, in my opinion, the hardest!! Angel will come if I am in another room, because he doesn't know if he will get a treat or not. But if he can see me and doesn't see a treat, he won't come. (I need to work on that.)

I used to pull back when he growled and snapped. Now, I get hold of him, put him on his side and hold him in position until he relaxes. Even if he managed to bite me first. I've done this a few times and he is learning that he really doesn't like that! He also responds to a water bottle. I squirt him if he is misbehaving, but not excessively, mostly when he barks too much. He can let out an alert bark, but that's it.

But, yes, I do know what you are going through, but it is so important for him to know who the leader of the pack is.
11-06-2012, 03:30 PM
chi god/godess

Join Date: Mar 2011

Posts: 5,274

Thanks: 3

Thanked 854 Times in 803 Posts
---
I would advise a puppy kindergarten class pronto. Even if he is not a real young pup it will help YOU get control over this pup. I only let my pups off leash, unless I KNOW that they can't get away.

Several months ago, I had them out, and they neighbors accross the fence were out and THEIR dogs came under it!! Mine were petrified, but no harm came, and the guy was really upset ubout it!
Posting Rules

You may not post new threads

You may not post replies

You may not post attachments

You may not edit your posts

---

HTML code is Off

---
All times are GMT. The time now is
01:54 AM
.