| | |
| --- | --- |
| Just a few questions. | |
11-06-2012, 07:54 PM
Just arrived!

Join Date: Nov 2012

Posts: 7

Thanks: 0

Thanked 0 Times in 0 Posts
Just a few questions.
---
Hi there, new member here, 1st post. Be gentle.

My girlfriend and I are thinking about getting a chihuahua. Our friends have two and we've looked after them for the weekend a few times. However, we both work full time. My girlfriend is a primary teacher and doesn't get home until 6, I'm usually about 5.30

Would it be ok to leave the dog for that length of time? The last thing I want to do is mistreat him or her. It's the only thing holding us back, as we both really love chihuahuas. It's a bit of a pain because we're from Scotland but we live in London and we don't have anyone that could stick their heads in during the day as its just us.

Any feedback is appreciated, don't be afraid to be brutally honest. At the end of the day I wouldn't want to bring a dog into a environment that's not suitable.

Thanks in advance
11-06-2012, 09:39 PM
Administrator

chi god/godess

Join Date: Oct 2011

Name: Stella

Location: Frome, Somerset, UK

Posts: 5,713

Thanks: 230

Thanked 1,602 Times in 1,259 Posts
---
Welcome to the forum.
Personally I try and not leave any dog alone for more than 4 hours at a time. Lots of people do keep small dogs and work full-time though, the main advantage of smaller breeds is that they can be trained to toilet inside, on pads or a litter tray.
You could look into professional dog walkers or sitters, who will walk or just feed/play with your dog. In London there is also doggy daycare available.
Your issues will be giving the dog enough exercise and stimulation. You could do a long walk/play session before you leave, and consider two dogs to keep each other company. They would have to be older dogs, there is no way a puppy, especially a toy breed puppy, can be left alone for an length of time.
So it is possible in your situation, but will not be easy.
__________________
11-06-2012, 10:02 PM
chi god/godess

Join Date: Jun 2012

Name: Melissa

Location: Liverpool, England

Posts: 3,471

Thanks: 189

Thanked 289 Times in 271 Posts
---
Hi and welcome.
Stella said pretty much what I was going to say so I'll keep it brief. I wouldn't get a puppy and keep it alone that long. Perhaps you could wait until the summer holidays and make sure you get a breeder that keeps hold of them until at least 12 weeks, that way they'd be 18 weeks before you had to leave them alone. That's still pushing it though. I definitely wouldn't get one and leave it alone all that time. I used to feel really guilty leaving Mylo alone for 5 hours every now and then.

Like Stella said...are you willing to get a dog walker/sitter or take them to puppy day care? If you did get two that don't know each other you may want to take a week or two off work because they may not get on or be trusted together right away. Though if you got them both at the same time it might be easier as one wouldn't have claimed the place/ you as their own.

You might also want to consider sleepless nights if you get a puppy or while an older dog is settling in. Also you will need to devote a lot of time to training and socialising at first and then keep up the rules, expectations and socialising experiences.

I hope you can work something out. Good luck xox
__________________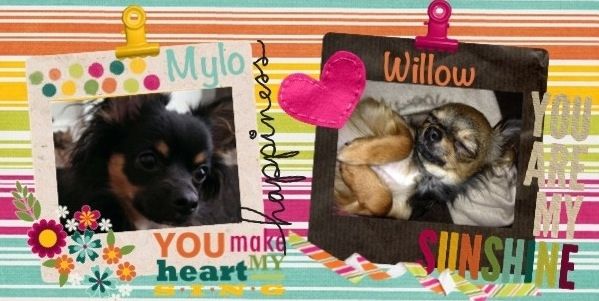 11-06-2012, 10:21 PM
chi god/godess

Join Date: Oct 2011

Name: Sarah

Location: Melbourne, Australia

Posts: 1,533

Thanks: 6

Thanked 40 Times in 31 Posts
---
Hi,

Mine are alone from 8.30 am to about 4.30 pm (sometimes 6.30pm if my husband takes another job on his way home) and they are fine. There are plenty of people who have healthy happy dogs and work full time, it's about maximizing the time you do have with them.

The secret is to have more than one dog so they don't get bored and destroy your house. I walk them in the a.m, leave them with a chewy and plenty of toys and then walk them as soon as I get home. I do make sure that I spend a lot of time with them on the weekends though. We do long walks and excursions to the beach or the country for hikes and we are now members of a Chihuahua meet up that we go to once a month.

For the first 4 weeks with the dogs I got as puppies I did go home at lunch time to check on them and feed them but if you can't do this you could look for mature dogs or an older puppy. I got Winston at 16 weeks and I only ended up comming home at lunch for a week with him because he wasn't eating his midday meal by that age so he didn't really need me.

Good luck and let us know what you end up doing.
11-06-2012, 10:24 PM
chi god/godess

Join Date: Dec 2010

Name: Karen

Location: Kansas City, MO

Posts: 4,172

Thanks: 0

Thanked 318 Times in 214 Posts
---
Certainly you will have to decide for yourself what is best for you.

I often feel like odd man out on the board here as my husband and I both work outside the home full time. My comments on this topic will likely be very different from others. We cannot simply quit our jobs if we want to have dogs. We do not just have jobs. I have a 26 year long career and my husband a 28 year long career so if we wish to remain living in our house (and having funds for the best nutrition, veterinarian care, training and such for our dogs) then we work.

We have brought 3 dogs into our life and home in the last 2 years. I took off work a few days with each girl we acquired.

We are registered with services who will come in and check on the girls if we choose and because we work, we are able to engage said companies to come and stay a night with them if we must attend an out of town wedding or such.

Everyone looks at things differently. I am frustrated by those who will stop by here and post about an obviously ill dog in distress but will inform quickly that they cannot manage a Vet visit. I think it is great if someone can be home with their dogs all day and still provide exceptional medical care, nutrition and training. That would be ideal. On the other hand, I'd rather see someone who works outside the home but can provide those things than someone who is home but their pets are denied care.

My dogs have a wonderful life and our lives are richer because of them. They deserve us and we deserve them.

I have said this before but I will say it again. I do not love the idea of child daycare but I would never tell a person that if they have to or choose to work that they should not have the privilege of having children. I feel the same about dogs.
__________________
11-06-2012, 10:42 PM
chi god/godess

Join Date: Mar 2011

Posts: 5,233

Thanks: 3

Thanked 837 Times in 788 Posts
---
I have had many dogs in my life. I have worked up to age 73. I usually have/had 2 so they wouldn't be alone all that time. They all adjusted well. With the tiny ones, I did buy puppy playpens so that I could have them in one, with food, water toys and pee pads. Can't get into trouble there. I had one for each dog, until I am perfectly sure they can manage 'being out' without problems. You have to make your own mind up, but I'm voting YES.!
11-07-2012, 12:46 AM
chi god/godess

Join Date: Jan 2012

Name: Tina

Location: Alabama

Posts: 5,128

Thanks: 637

Thanked 924 Times in 862 Posts
---
Karen, you have such a wonderful way of wording things.
11-07-2012, 01:24 AM
chi god/godess

Join Date: Nov 2008

Location: furrybutt, NY

Posts: 16,946

Thanks: 984

Thanked 751 Times in 706 Posts
---
what i did when i got kc was to put her in a puppy playpen and have acam to watch her while i was at work...but when i saw was so silly....she jumped out of her playpen -_-; at this time dex wanted nothin to do with her...but as time grew he started acceptin her. perhaps 2 is better than 1 in ur situation? o.o;
__________________
Posting Rules

You may not post new threads

You may not post replies

You may not post attachments

You may not edit your posts

---

HTML code is Off

---
All times are GMT. The time now is
05:29 AM
.