| | |
| --- | --- |
| New puppy, but rfeeling regret from my past chi? | |
11-11-2012, 09:47 PM
chi prince/princess

Join Date: Oct 2011

Name: Hayley

Location: Northern Ireland

Posts: 659

Thanks: 13

Thanked 11 Times in 11 Posts
---
I think it can be a bit daunting getting a young puppy for some people at first, I kno I felt it just after getting all 3 of my pups, I had a couple of times of thinking "what have I got myself into!". But they grow up real quick, you will prob only have a few weeks that you will need to carry the puppy around and the same with syringe feeding. I had to do that with Boo for the first few days I had him as he wouldn't eat on his own, but that literally only lasted a few days before he settled in enough to eat by himself. Just remember puppyhood doesn't last forever!

Having said that, only keep her if you genuinely want another dog, and know it will all be worth it, but it's not fair on her if you don't truly want a new dog.
__________________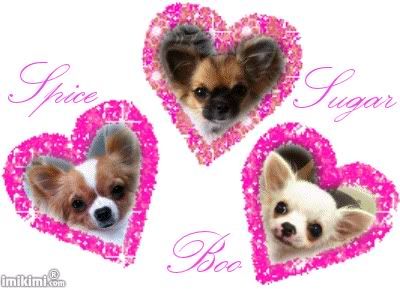 11-11-2012, 10:30 PM
chi god/godess

Join Date: Apr 2012

Name: Caitlin

Location: Falun, Sweden

Posts: 3,206

Thanks: 49

Thanked 107 Times in 98 Posts
---
I have not ever shared this story here on Chi People because I'm not proud of it, but I really feel for you so I am going to talk about it.

I've been in your exact situation before. When I moved from my home in the US to Sweden, I immediately tried to "replace" the family Chi I grew up with at home with an 8 week old puppy. After 5 days, I was hysterical in tears every day, waking up in severe panic attacks, feeling unbearable anxiety, and regretting my decision because I wasn't ready for a brand new Chi puppy yet. I hadn't researched, I was completely unprepared, and I had not found this forum. I was also still missing my old Chi and all the stress of the new puppy was making it even harder on me thinking about how much I just wanted my old Chi back. My boyfriend was really worried for my emotional state, so we agreed upon reselling her to a very nice family in our town that actually wanted her from the breeder she came from, but we were the first to go see her so that's why we got her. After we sold her to them, I felt even worse because then I missed her as well. Several months later, I got Gemma when I knew I was truly ready to tackle having a new puppy. I had none of the regret or anxiety I felt with that first puppy, but up until I got Gemma, I felt so awful and regretful for rehoming that puppy before her. I was missing both her and my old Chi every day until the day we brought Gemma home.

If I were you, I would not rehome this puppy. I guarantee you are going to feel even more regret. I know it's so difficult to fight the stress and anxiety, but believe me, there will be more if you rehome her. Don't make the mistake I did. Don't try to "replace" your old Chi, Chanel, like I tried to do. This puppy is going to be completely different and you are going to grow to love her for who she is individually. Gemma is nothing like my old Chi and she is nothing like the puppy we had for a few days, but I love her more than anything.

If you ever need to talk or would like advice or help with anything, my inbox is open here. Hang in there. It will get better. Trust me.
__________________
11-11-2012, 10:35 PM
chi god/godess

Join Date: Apr 2012

Name: Caitlin

Location: Falun, Sweden

Posts: 3,206

Thanks: 49

Thanked 107 Times in 98 Posts
---
Oh, and by the way, this forum has helped me with EVERY obstacle I've faced raising Gemma. There is no better support than this forum, I promise you. You are in the right place. I probably wouldn't have gotten Gemma if I had not stumbled upon this forum after I gave up the other puppy. After I did my research here and saw how supportive everyone was and how much they loved their Chis, I decided I was ready for my puppy and I made an account here and started chatting. They even helped me pick my little perfect Gemma while I was searching for a month before finding her. These girls are the BEST!
__________________
11-11-2012, 11:14 PM
Just arrived!

Join Date: Nov 2012

Posts: 5

Thanks: 1

Thanked 0 Times in 0 Posts
---
Thanks everyone, you made me feel a lot better
I decided i'm going to keep her. I just need to get through this puppy stage, because I think full grown chihuahuas are absolutely amazing.
11-12-2012, 01:37 AM
chi god/godess

Join Date: Mar 2011

Name: Cindy

Location: Massachusetts

Posts: 3,287

Thanks: 330

Thanked 580 Times in 565 Posts
---
I had thought about what chidad said, but if there are chi,dren involved, it would be awkward, and feelings would likely get hurt.

I also thought about what Caitlin said. I think the big thing is whether or not you are ready for any dog right now. Really think about it. And talk about it with your family and friends, and on here. Sometimes it can help you make a decision - you get more viewpoints.

I wish you well in whatever your decision is.
11-12-2012, 02:09 AM
chi god/godess

Join Date: Dec 2011

Name: Jenn

Location: Georgia

Posts: 1,191

Thanks: 2

Thanked 10 Times in 10 Posts
---
Hang in there it gets easier. We had not had a puppy ever when we got Holly she was only 8oz not eating ,tiny but they learn to get out of the way. I did not tote her around. I did have to feed her puppy milk as well. I hope you keep you new puppy as each day it gets easier.
__________________
~Jenn~
~Siggy compliments of Caitlin aka LittleGemma~
Posting Rules

You may not post new threads

You may not post replies

You may not post attachments

You may not edit your posts

---

HTML code is Off

---
All times are GMT. The time now is
03:36 PM
.