| | |
| --- | --- |
| New puppy, but rfeeling regret from my past chi? | |
11-10-2012, 09:00 PM
Just arrived!

Join Date: Nov 2012

Posts: 5

Thanks: 1

Thanked 0 Times in 0 Posts
New puppy, but rfeeling regret from my past chi?
---
Hi, I just adopted a 10 week old chihuahua, & she is very sweet & adorable.

I got her a few nights ago, & right now I am regretting my decision. I feel like if anything, I should have gotten an older dog. I have to constantly be carrying her, or keeping her in her crate when I am doing stuff around the house, so none of my family members accidently step on her or something. She also hasn't been eating, & I have been having to feed her through a syringe, which is a task.

Also, my mom rehomed my 3 year old chihuahua Chanel (who I have had since she was 8 weeks), about a year ago, because we we're moving & we thought it would be too stressful or something, i'm not quite sure of her reason. But the move was calmer & went smoother than we thought, & we instantly regretted the decision of rehoming her. I still miss her & I cry all the time thinking about her. I thought getting a new puppy would fill the hole I have in my heart, but in fact it's making it worse. I don't know what to do, i'm so conflicted. I'm miserable taking care of this new puppy because of my personal problems dealing with the rehoming of my past chihuahua.

What should I do? I'm lost.
11-10-2012, 09:31 PM
Join Date: Jan 2009

Posts: 12,272

Thanks: 355

Thanked 844 Times in 730 Posts
---
Puppies need a lot of love,care and attention,of course it will follow you it's just left it's siblings and is in a strange place.If you feel you can't give this puppy what it needs maybe ask the breeder to take it back,before it gets too attached to you
11-10-2012, 09:54 PM
Join Date: Oct 2012

Name: Evelyn

Location: FLorida : from South Jersey

Posts: 2,899

Thanks: 352

Thanked 603 Times in 585 Posts
---
I say take the puppy back to the breeder, she most likely has not been eating , because she feels your stress..She will get another home of someone who loves her, better now to find her a home then wait till she has problems from not being love.
11-10-2012, 11:09 PM
chi person

Join Date: Nov 2012

Posts: 30

Thanks: 0

Thanked 0 Times in 0 Posts
---
That is very sad that your previous dog had to be re-homed when you didn't agree with the decision. Sadly, if you plan to keep this little one you have to move past that. I doubt if you will go the rest of your life without another dog so now may be the time to forgive your mom for re-homing your dog. It sounds like this baby is a sweetheart, try to enjoy her. If you just can't you may need to return her. It won't be the same as what happened last time. You just might not be ready yet.
11-11-2012, 12:14 AM
chi lover

Join Date: Nov 2012

Name: Yessica

Location: Midwest

Posts: 142

Thanks: 59

Thanked 9 Times in 9 Posts
---
Sorry to hear that.But I agree the puppy should be taken back to the breeder because she's prolly not feeling the love and perhaps feel distant and you truly don't want her due to fact that you're still emotionally attached to your previous chi and is not fair to you or the new puppy hope all works out.
Sent from my iPhone using
Petguide.com Free App
11-11-2012, 12:20 AM
chi god/godess

Join Date: Aug 2010

Name: Lisa

Location: Tennessee

Posts: 4,436

Thanks: 228

Thanked 451 Times in 420 Posts
---
I think you need to hold off on getting rid of the puppy. Can you ask someone to help you for a while? I think you're still grieving over the loss of your other dogs. If you get rid of this pup, it may be another regret & it sounds like you don't need any more regrets. You probably should have waited before getting him so soon after your losses, but what's done is done now. Try to find someone to help you while you grieve & clear your head. You could still call the breeder & let her know what's going on just in case your sure that this pup's not for you.
__________________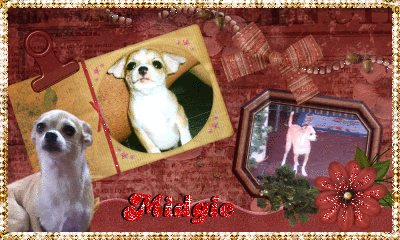 [url=http://www.TickerFactory.com/]
11-11-2012, 12:58 AM
chi god/godess

Join Date: Mar 2011

Name: Cindy

Location: Massachusetts

Posts: 3,287

Thanks: 330

Thanked 580 Times in 565 Posts
---
In my opinion, a new dog should never "replace" a previous one. The one before can never be replaced! You must approach this puppy with the attitude of giving it a loving, caring home. If you keep comparing her to Chanel, it won't work. I think you are probably not ready for another dog yet.

It hurts when a dog you love goes away. But each time I lost a dog, I never looked for another to fill the void. As you stated, it hurts too much! I believe you just aren't ready yet.
11-11-2012, 01:07 PM
chi lover

Join Date: Oct 2012

Location: Georgia

Posts: 163

Thanks: 14

Thanked 22 Times in 21 Posts
---
Some years ago, my parents got a Cairn terrier puppy. They'd had other dogs before, but he was definitely the doggie love of their lives. They grew very attached to him over the few years of his life. Unfortunately, they lost him to cancer (of the colon or intestine--I can't recall exactly). A few years later, they got another Cairn from a rescue service. I don't think they meant to "replace" their beloved Duncan as consciously or explicitly as you describe above, but it still didn't go very well. The foster family from whom they got the rescue dog had become very attached to him, almost didn't give him to them in the first place, and always acted interested in getting him back, so after a while of things not working out, my parents just let them have him back.

I hesitate to bring this up, and know it will probably be controversial, but is there any possibility of you maybe recovering Chanel? Maybe she's not working out so well in her new home? Is there a way for you to inquire about that? Definitely don't get your hopes up, but if you could put out feelers in that direction, perhaps you could be reunited with the chi you truly love and miss, and the breeder can place the puppy who isn't working out for you in another home where she'll get the love and care she needs and deserves.
---
Last edited by NewChiDad; 11-11-2012 at

01:12 PM

.
The Following User Says Thank You to NewChiDad For This Useful Post:
Posting Rules

You may not post new threads

You may not post replies

You may not post attachments

You may not edit your posts

---

HTML code is Off

---
All times are GMT. The time now is
10:20 AM
.