| | |
| --- | --- |
| Breed discrimination | |
11-14-2012, 01:10 PM
chi lover

Join Date: Oct 2012

Location: Georgia

Posts: 163

Thanks: 14

Thanked 22 Times in 21 Posts
---
I have to admit, I was not a chi person and in fact believed most of the stereotypes before I met my Butterbean. This was far less from actual experience with the breed, than with media depictions of them. Any time a movie or tv show wants to depict a spoiled rich girl, they'll stick a chihuahua in her purse and make sure it displays all the most annoying stereotypical behaviors at least once over the course of the story.

But then she came right up to me and climbed into my lap, and I looked down into her sweet little face with its big vulnerable eyes and baby-seal whiskers. As I petted her, she didn't shake at all or make any noise or act hyper-alert. She just seemed very calm and happy to be there with me.

I had to make some arrangements before bringing her home, so couldn't do it that day, but as I was telling people about her, I was dismayed by the reactions I got. Everyone's minds immediately went to the stereotypes, and it really hit me how far the discrepancy was between that and the reality of this little dog I fell in love with.

Another stereotype I have to deal with is that chi's aren't a "guy's" dog. It doesn't help that the weather is cooler now, and she needs a coat or sweater to go out. When I put something on to keep her warm, for me it's being a responsible parent, like making sure a child is dressed appropriately for the temperature, but I'm afraid some people get more of an impression like I'm playing dress-up as if with a Barbie doll or something.
11-14-2012, 02:04 PM
chi lover

Join Date: Sep 2012

Location: Texas

Posts: 123

Thanks: 15

Thanked 11 Times in 11 Posts
---
Ok, in the OP it was mentioned that you wanted to 'train Jenna not to growl at people.' Please don't train the growl out of a dog. It's a warning sign. The dogs that attack 'without warning' are usually the ones corrected for growling.

If Jenna (or any dog) growls, remove the dog from the situation and figure out what caused the dog to feel uncomfortable enough to give a warning, then work on that issue.

As an example, my toy poodle was uncomfortable when strangers reached over to pet her head, but eveyone seemed to want to do that. If I had corrected her for growling, she would have no choice but to bite - in her thinking, in self defense. What I did instead is tell people she was uncomfortable with that and show them a more appropriate way to greet her. Now every one is safer and she didn't feel overwhelmed, stressed or scared. The more you socialize, the more confident she will become, and the more you prove that you will keep her safe, the less reason for growled warnings.

Please, never correct a dog from giving a nice, clear 'I'm uncomfortable with this' warning.

Best wishes with you foster baby and thank you for taking care of her!
11-14-2012, 02:34 PM
chi person

Join Date: Nov 2012

Posts: 30

Thanks: 0

Thanked 0 Times in 0 Posts
---
Thanks so much for all the input. The vet I asked about my Chi was not Jenna's vet but the vet I have to bring my foster kittens to. She is a new vet and I don't have any choice but to go to that office for the kittens. Jenna sees her vet tomorrow and if there are any stereotypes brought up I will be prepared this time
That is a great point about the growling, I hadn't thought of that. When I bring her out and she meets new people she growls when they try to pet her. The rescue lady told me to have people give her a treat so she feels more comfortable meeting new people. I'm guess that the people should give her the treat BEFORE she growls so as to not reinforce the growling? I'm not sure how she can get more exposure to other people when she growls at them. I would not be willing to give food to a dog if the owner told me she might growl at me
. Jenna HAS TO BE NICE TO STRANGERS because one of those strangers will be her new owner. I'll just bring her everywhere I go that allows dogs. Maybe I'll carry her in my purse
It is odd how there are definite "man" dogs in our society but a woman can have any dog.
__________________
11-14-2012, 03:01 PM
chi lover

Join Date: Sep 2012

Location: Texas

Posts: 123

Thanks: 15

Thanked 11 Times in 11 Posts
---
Not everyone has to pet her. What I do with nervous fosters or puppies is I take them to Home Depot. We play in the parking lot and just let them see people. When they can engage in playing with me while ignoring strangers and able to take treats because they are no longer scared, we move up a little closer where it gets more 'busy.' They learn to be comfortable and look to me when they get nervous. Eventually, I will allow friendly strangers to offer treats but not touch. If the dog approaches them, that's fine, let them pet them gently. Slowly work up that way. It takes time, but a good solid foundation is so worth the extra effort.

Good luck.
The Following User Says Thank You to BorderKelpie For This Useful Post:
11-14-2012, 04:39 PM
chi fan

Join Date: Sep 2012

Posts: 53

Thanks: 0

Thanked 6 Times in 5 Posts
---
So much bad behavior is totally excused by people for the breed! Our vet treated it as a matter of course that she would bark excessively. And people act ASTOUNDED when they see us training her in public to sit at corners and redirecting her from barking at other dogs. Frida is also fantastic with children- she actually seems to prefer strange children to strange adults. Perhaps because they are smaller?
We take her to a great positive training class- the first time I said to the trainer "I heard Chihuahua's are hard to train unless you start young, so I'm worried." she said "Frida is a dog before she is anything else- she is capable of learning and you are capable of teaching her." And she is learning- she's two years old, we've had her for two months, and been training for a month and she knows many commands and we are really successful with redirecting her barking indoors these days. Still working on it with other dogs!
I have noticed that both she and the Doxie/Chi mix in the class seem to have similar obstacles- needing a lot of praise and a really worthwhile training treat seem to be the main ones!
11-15-2012, 12:48 AM
chi prince/princess

Join Date: Nov 2011

Name: Christina

Location: Merced, California

Posts: 719

Thanks: 140

Thanked 54 Times in 40 Posts
---
I think its just a stereotype of a chi. Although i do think its like 25% true only to uneducated chi owners who does not discipline thier chi and reinforces that behavior by babying it. But as for my girls and all the other cp's here im sure that our chi's are well disciplined and far from the constantly growling, yapping, chi.
Sent from my iPhone using
Petguide.com Free App
__________________
11-15-2012, 01:52 AM
chi-aholic

Join Date: Mar 2012

Name: Nicole

Location: Texas

Posts: 382

Thanks: 11

Thanked 30 Times in 30 Posts
---
Growling/aggression is not a breed specific trait. It comes from people that spoil their dogs and let them get away with things because they are small. If you are consistent with training and socialize her, you'll have a wonderful little dog.

Unfortunately, breed discrimination is something you see a lot of with Chihuahuas.
__________________
11-15-2012, 11:05 AM
chi god/godess

Join Date: Jun 2012

Name: Melissa

Location: Liverpool, England

Posts: 3,471

Thanks: 189

Thanked 289 Times in 271 Posts
---
I was going to say the same thing as Nicole. Some chihuahuas you come across will be like the stereo type because of owners who let them get away with things because they are small. I remember someone on here saying a while ago that their chi growled at a small child. They were mortified by the behaviour and sought advice straight away on how to make sure this didn't happen again, like a good owner should but the child's father laughed it off. My point is that that would never have happened if it was a big dog. It's like 'aw, look at the little dog thinking it's a tough guy' or similar. I've also had comments about not walking my dog because he obviously can't get far with his little legs, or I should pick him up and put him in my bag. A lot of behaviour problem start when dogs aren't walked because of pent up energy and a lack of mental stimulation. Dogs need to walk, to sniff, to see new places. They also need to meet different people on the street and see the sights and sounds.

Mylo adores children, loves people and will often try to follow them on walks just in case they will pet him. He gets excited when new people come around. The only time he barks is if someone knocks on the door but as soon as the person comes in he's quiet and excitedly greeting them. He has never growled at anyone. He growled at me once, got a time out and hasn't done it since. He growls at Willow but that's doggy communication so I let it slide. He never shakes unless he's cold, but so do I!

Willow is friendly with everyone she meets but not as excited about it as Mylo. She is happy to sit on or be held by anyone and often gives kisses. She shakes if she's cold or scared. She is definitely more vocal and will bark if she's playing but doesn't if there's a knock or anyone comes in. She growls at Mylo but never growls at me unless we're playing.

Mylo was quick to toilet train. Willow is proving a bit harder. For the first week or so she was going on the puppy pad most of the time but it's like she's completely forgotten now. Chis are very clever and quick to train but I think toilet training may be a bit hard because they're so small that by the time I have picked Willow up to pee or poo on the mat she's already done. We'll get there though.
__________________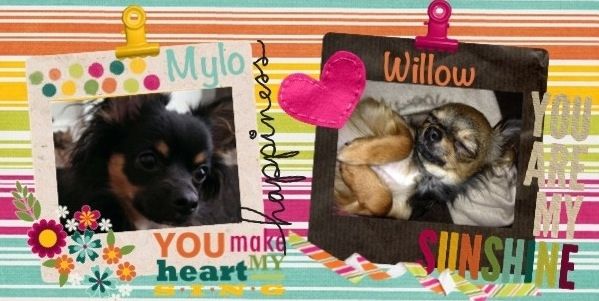 Posting Rules

You may not post new threads

You may not post replies

You may not post attachments

You may not edit your posts

---

HTML code is Off

---
All times are GMT. The time now is
04:57 PM
.