| | |
| --- | --- |
| Ava prefers Boss's food? | |
11-21-2012, 05:29 AM
chi lover

Join Date: Nov 2012

Name: Tiffani

Location: South Carolina, US

Posts: 155

Thanks: 15

Thanked 10 Times in 9 Posts
Ava prefers Boss's food?
---
I'm puzzled, I keep my larger dogs food at one end of the kitchen, and Ava's at the other, she eats fromm puppy and Boss gets fromm adult. They are both on the same feeding schedule and whenever I put their food down she takes one or two bites of her food and then runs over to Boss's! I try to move her back to her food and the same process is repeated. I would put them on different feeding schedules but I work and go to school so it would be a little diffocilt, and I have also tried picking up Boss's food while she eats and when she finishes putting his down, but she still goes to his food! They're foods are the same quality and flavor and I feed her an ample ammount. Should I supervise her the entire time and make her stay by her food? Any advice is appreciated!
11-21-2012, 12:24 PM
chi god/godess

Join Date: Oct 2009

Name: Ronni

Location: Nashville Tennessee

Posts: 2,204

Thanks: 51

Thanked 132 Times in 103 Posts
---
Each of mine prefers the other's food. It's the same food, the same amount, just fed in different bowls, slightly separated from each other. Idiot dogs! So I have to be the food Nazi, making sure they only eat from correct bowl. Because it's the same food they could eat each other's, but Jazz eats way faster than Tango, so she'd end up eating more and Tango less. They're both at ideal weights right now, and I don't want to mess with that.

I think really it's just the appeal of the forbidden, y'know?
11-21-2012, 12:34 PM
chi god/godess

Join Date: Mar 2012

Name: Ashley

Location: NC, USA

Posts: 5,776

Thanks: 331

Thanked 783 Times in 685 Posts
---
Yeah, usually they only want it because it is the allure of the what belongs to the other dog. If you don't want to supervise, try feeding them in separate rooms.
Sent from my iPhone using
Petguide.com App
__________________
11-21-2012, 02:11 PM
chi god/godess

Join Date: Jun 2012

Name: Melissa

Location: Liverpool, England

Posts: 3,471

Thanks: 189

Thanked 289 Times in 271 Posts
---
Yep, my two prefer each other's even though its the same. At the moment I put Mylo's on the couch because Willow can't jump up on it. She's the piggy, Mylo only eats when hungry so he generally leaves hers alone. Plus she'll tell him off but he doesn't often tell her off. If they're both on the floor then often they'll just swap bowls. Funny dogs! Once she can get on the couch I'm actually going to have to train them to stay away from each other's bowls.
__________________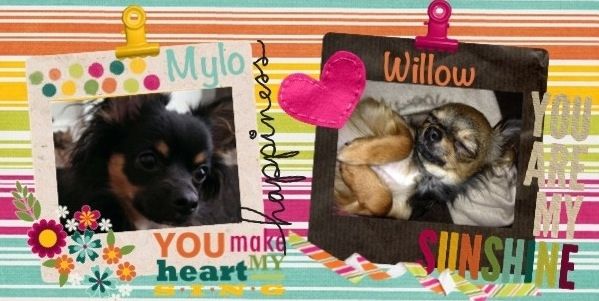 11-21-2012, 03:16 PM
chi god/godess

Join Date: Dec 2010

Name: Karen

Location: Kansas City, MO

Posts: 4,172

Thanks: 0

Thanked 318 Times in 214 Posts
---
Mine all eat the same food but are allowed only their dish. The dishes get put down in order (I say their name) and in exactly the same place every feeding.

Since he is a big dog, try putting his up on a low step stool (I am not certain how big he is but I thought a pittie mix) where she cannot reach. Unless he is not that tall.

Otherwise, I would become the dish police and stand there and keep moving her until she gets that is not her dish.
__________________
11-21-2012, 03:32 PM
chi god/godess

Join Date: Aug 2010

Name: Lisa

Location: Tennessee

Posts: 4,436

Thanks: 228

Thanked 451 Times in 420 Posts
---
Doggy instinct is to eat the other food so the other's don't get it first, then go back to their own. Lol
__________________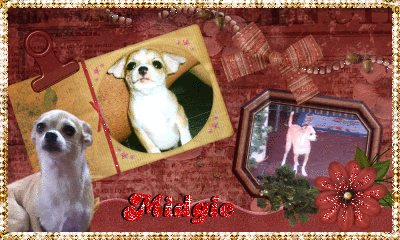 [url=http://www.TickerFactory.com/]
11-21-2012, 05:42 PM
chi lover

Join Date: Nov 2012

Name: Tiffani

Location: South Carolina, US

Posts: 155

Thanks: 15

Thanked 10 Times in 9 Posts
---
She does tend to want anything that Boss has that she can't have, she tries to pick up his gigantic toys and run off with them! LOL. I like the idea of having my bigger one's food on an elevated surface that ava can't get to it, I currently have Boss's food in a stainless steel bowl set with only slight elevation. May have to invest in a high elevated bowl set. I worry about her choking on his food because his kibble pieces are much larger than hers. I will definetaly supervise her at least until I can trust that she won't try to sneak off onto his food. Thanks for the advice everyone
11-22-2012, 12:28 PM
chi person

Join Date: Nov 2012

Location: Ayrshire Scotland

Posts: 24

Thanks: 1

Thanked 0 Times in 0 Posts
---
Peanut does that too, hes munched large breed enkuba and ladys greyhound biccies, the enkuba stuff looks bigger than his mouth but he'll still steal it, and he gets natures diet meat so hes on the smelly nice stuff, its just wanting what the other has kinda like when your eating and they sit waiting for a bit to fall. We elevate our bowls with an old box or a low stool thing just what ever is near free and works :L
Posting Rules

You may not post new threads

You may not post replies

You may not post attachments

You may not edit your posts

---

HTML code is Off

---
All times are GMT. The time now is
02:32 AM
.