| | |
| --- | --- |
| I need your help or suggestions. | |
12-11-2012, 02:32 AM
chi-aholic

Join Date: Jan 2010

Name: Regina

Location: Ontario, Canada

Posts: 381

Thanks: 46

Thanked 20 Times in 16 Posts
I need your help or suggestions.
---
I have been living with Timmy and huge allergies forabout three months now...but when it comes to allergies it is very hard to pin point when it really started. I need some help here.

It started with his eye, the white one, getting very pink so the vet prescribed some antibacterial drops. Did it two times a day. Let me tell you putting drops in his eyes was very hard to do.

That did not help.

Now he has a red watery eye with black discharge..I clean his eyesthree times a day but he is also scratching all the time all over. Biting his paws. Every allergy thing he has.

Last night I took away his Royal Canine Chihuahua 28 dry kibble. His other food is Merrick Duck canned.

Today I came home very enthusiastic, thinking I took away the garbage food. I bought him dry kibble that is called Go, all natural ingredients, he looked at it and wants nothing to do with it.

He is still scratching and still has watery eyes.

I am at a lose here. I do not know what else to do.

I know allergies are one of the hardest to figure out.
Does anyone have any suggestions where to go from here.

Thank you,
Regina and a very uncomfortable Timmy.
12-11-2012, 03:07 AM
chi god/godess

Join Date: Jan 2012

Name: Tina

Location: Alabama

Posts: 5,128

Thanks: 637

Thanked 924 Times in 862 Posts
---
Oh, Regina, I'm so sorry Timmy is going through this. First of all, from my very limited knowledge, I think you are supposed to rule out food allergies before attempting to rule out environmental allergies. For me personally, Lulu is allergic to chicken, and I went through much to settle the food question. I would encourage Ziwi Peak Venison. It is not as rich as Lamb and as far as cost, yes, the bag is roughly $32.00, but will last about 6 weeks if you feed what the average person is feeding which is approx. 1/8 cup. If you do not want to do this I would encourage Acana's limited diet food. I fed Duck and Bartlet Pear, but there is also Lamb and Okangana Apple. The reason I don't encourage Lamb is because I think it is relatively easy to be allergic to lamb. They also will not get over the allergy quickly. It may take a couple of weeks or more before you atart to see an improvement--that's why you need to choose a 5-star limited ingredient diet food--(no grain, limited ingred. etc) and stick with it--I know Timmy did not like the Go, so unless it is limited ingredient I would probably take it back if you can & go for a LI food. In the mean time, maybe an antihistime can help with symptoms. Some use Benadyrl and there is a sticky for amount to give, but my vet suggest Claratin or Zyrtec. This is just what I would do if Timmy were mine, but there are others far more knowledgeable than I that I hope will answer. Good luck!
The Following User Says Thank You to lulu'smom For This Useful Post:
12-11-2012, 04:58 AM
Administrator

chi god/godess
---
Awwww poor Timmy. When I switched Zoey over to Orijen 6 fish her eyes started running terrible and they had never ran like that before. The vet told me it was probably to much fish and it would take 6-8 weeks for them to clear up, and that is what it took. I agree with the switch to ZP. I hope you find something that works for poor Timmy.
__________________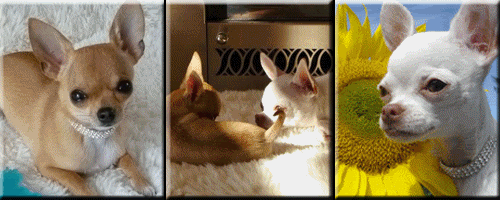 Dogs are not our whole life, but they make our lifes whole
The Following User Says Thank You to KayC For This Useful Post:
12-11-2012, 11:18 AM
chi god/godess

Join Date: Aug 2010

Name: Lisa

Location: Tennessee

Posts: 4,436

Thanks: 228

Thanked 451 Times in 420 Posts
---
I would try a good quality limited ingrediant do food or ZP or raw. I would start with one meat protein like beef since so many dogs seem to have allergies to chicken. I would stick with that for a while and see how he does. I wouldn't give any treats. I would keep it simple. We sometimes try to do to much for our little ones because we love them by giving them table scraps, store bought treats, scented shampoos, etc. You can take coconut oil & rub his skin & fur to soothe the itching. If the itching is really bad, you could give Benedryl.
__________________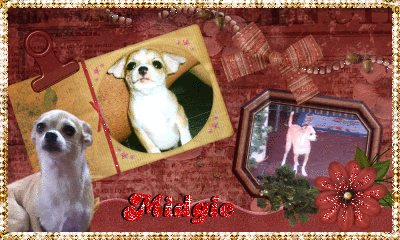 [url=http://www.TickerFactory.com/]
The Following 2 Users Say Thank You to woodard2009 For This Useful Post:
12-11-2012, 12:46 PM
Administrator

Join Date: Mar 2012

Name: Christie

Location: Leesburg VA

Posts: 9,919

Thanks: 908

Thanked 1,650 Times in 1,521 Posts
---
If you can remember what foods have made his allergies worse compare the ingredients in each and see if there is one that sticks out.
If not start a journal and write down what he eats (treats included) and how he reacts then start comparing and try to narrow it down. You would be surprised what they can be allergic to. Also write down anly cleaners or new house stuff you have added and changed and reactions. My cat Huly can not handle Windex. Here is the thread I posted of Huly's allergy report to give people an idea of what these look at and it explains a lot. It was a blood test allergy report and cost $300 at my Holistic Vet. Not sure how much yours would be and if they do it but Huly's is accurate.
Allergy Info
The Following 2 Users Say Thank You to Huly For This Useful Post:
12-11-2012, 01:21 PM
chi god/godess

Join Date: Sep 2009

Name: Kat

Location: Illinois

Posts: 3,126

Thanks: 489

Thanked 181 Times in 146 Posts
---
You've got some great advice, Regina! I have to agree I would probably switch to a very limited ingredient diet. And definitely do that journal, it'll help you notice patterns that aren't obvious day-to-day. My Eleanor had awful allergies when we got her, hot spots, the whole 9 yards. I used Benadryl but felt bad that she was either itchy or dopey! A good oatmeal and Aloe conditioner helped with the topical patches, and we used this (she only got a half a tablet a day) which seemed to help.
Feel better, Timmy!! <3
__________________
~*~*~*~*~*~*~
facebook.com/rescutopia
The Following User Says Thank You to LostLakeLua For This Useful Post:
12-11-2012, 02:26 PM
chi-aholic

Join Date: Aug 2012

Location: Hilton Head Island, SC

Posts: 382

Thanks: 6

Thanked 69 Times in 59 Posts
---
Quote:
Originally Posted by
lulu'smom
In the mean time, maybe an antihistime can help with symptoms. Some use Benadyrl and there is a sticky for amount to give, but my vet suggest Claratin or Zyrtec.
..
I have had good luck with chlorpheneramine maleate, which is the generic name for Chlor Trimeton [Wal Finate at Walgreen, 3 hour Allergy or something like that at CVS] . It costs just a few pennies per 4mg pill. I use a pill splitter to cut the pills in half, and Simcha gets 2mg after breakfast and 2 mg after dinner. The half pill is set into a tiny wad of low fat cream cheese, and he begs for it after meals like it is a dessert. This has worked for his allergies, but I might caution that since he weighs 13 lbs, you might want to check with a vet before giving the same dosage to a much smaller chi.
The Following User Says Thank You to joeandruth For This Useful Post:
12-11-2012, 03:57 PM
---
Amberleah Lou lou was so allergic to her food, not sure what. But she is on ZP and canned Weruva and supplements ALL her problems are gone.
She was so bad, vet wanted me to put her down. Lost so much fur, her body very red, even affected her vulva. She is all better now.
The Following User Says Thank You to CHITheresa For This Useful Post:
Posting Rules

You may not post new threads

You may not post replies

You may not post attachments

You may not edit your posts

---

HTML code is Off

---
All times are GMT. The time now is
06:11 PM
.