| | |
| --- | --- |
| Am I measuring his size correctly? | |
12-30-2012, 07:22 PM
chi fan

Join Date: Sep 2012

Name: Jaclyn M.

Location: Buffalo, NY

Posts: 78

Thanks: 1

Thanked 5 Times in 5 Posts
Am I measuring his size correctly?
---
I am ordering Ren a custom coat from Etsy and the seller asked for some measurements. I used a piece of string (making it snug but not tight around him) which I then held up to a ruler. The thing is, the measurements seem off to me somehow. If I post them here, can anyone comment on whether these sound right?

He weighs 5 1/2 pounds and these are the measurements I got:

Base of neck to base of tail: 11 inches
Circumference of lower neck: 8 1/2 inches (which sounds right based on his collar size)
Circumference of chest behind front legs: 13 inches

Does that chest circumference seem way off? Granted, I am trying to get him to lose a few ounces, which is my fault from too many bully sticks, but he's not especially overweight. I did have some difficulty getting the string around him - he's normally good with sit/down and stay, but he thought the string was a great toy and kept trying to chew it. I measured each of these several times to ensure that these were all correct, and I kept getting about the same numbers.

If it helps, he currently wears an XS in the Susan Lanci step-through harness, which is labeled for 10.5-12 inch chest. Although it has been a bit snug lately, and if I wasn't trying to get him to lose some ounces he'd probably be going up to the next size soon. So maybe my measurements are accurate after all? Somehow 13 just sounds big to me.

Any thoughts?
__________________
12-30-2012, 07:25 PM
chi god/godess

Join Date: Mar 2012

Name: Ashley

Location: NC, USA

Posts: 5,776

Thanks: 331

Thanked 783 Times in 685 Posts
---
Toby is 5.4 lbs and nearly the exact same measurements. 8 in neck, 10 in length, 12.5 in girth (chest). Sounds right to me.
Sent from my iPhone using
Petguide.com App
__________________
12-30-2012, 10:26 PM
chi fan

Join Date: Sep 2012

Name: Jaclyn M.

Location: Buffalo, NY

Posts: 78

Thanks: 1

Thanked 5 Times in 5 Posts
---
Thanks! For some reason, 13 inches seemed huge when I looked at the ruler - I couldn't imagine this little guy's chest being that size.
__________________
12-31-2012, 02:28 AM
chi god/godess

Join Date: Oct 2011

Name: LS

Location: Canada

Posts: 10,706

Thanks: 2,062

Thanked 813 Times in 693 Posts
---
Jaclyn, my Chanel is a very big(not fat, but tall and long) Chihuahua, she is
8.5lbs, and her chest is 13.5 inches. So based on that I agree with you that
13 inches sounds a bit big for your boy. Maybe measure once more, just to be
100% sure? But who knows, maybe you are right, Chihuahuas come in so many
shapes and sizes, it's hard to tell.
12-31-2012, 10:58 AM
chi-aholic

Join Date: Apr 2012

Posts: 356

Thanks: 0

Thanked 13 Times in 13 Posts
---
It always does look to big when u look at the ruler like that, imagine if the ruler could bend it would wrap all the way around him, then it would fit him if u know what i mean? when i measure Charchie i always measure a couple of times because i look at him and think, he cant possibly be that big, but he is,even if i use a tape measure and that bends all the way round, when i straighten it up to read it, samr thing looks huge, he he.
__________________
12-31-2012, 12:53 PM
| | | | |
| --- | --- | --- | --- |
| | chi addict | | |
---
Some chihuahuas i have noticed are more deep chested than others. And yes they look tiny but when that goes all the way around thats what gives you size.
__________________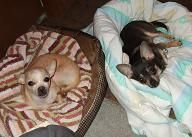 "Deja Voo" & "Muffin" My sweet little girls.
Saving one rescue at a time.

12-31-2012, 12:56 PM
Join Date: Sep 2008

Name: Teresa, T for short.

Posts: 16,071

Thanks: 2,491

Thanked 800 Times in 740 Posts
---
13" chest sounds right on for his weight.
__________________
"If you aren't part of the solution, you're part of the problem."
Posting Rules

You may not post new threads

You may not post replies

You may not post attachments

You may not edit your posts

---

HTML code is Off

---
All times are GMT. The time now is
11:56 PM
.