Try making outdoor time fun time and keep saying go potty or your choice of words for potty. Once he pees or poo's give lots and lots of praise. Training a pup his age or even younger to potty outside is very easy to do, you need to stick with it and take him outside alot of times right after waking up, right after drinking, right after eating and mainly alot durring play time you need to break the habit of the kitchen potty as thats all hes getting to know, being alone for 8hrs is alittle stressful on a pup at that age and should have someone around for quality time, at that age puppies want to explore, check out new things sights sounds objects, they need to socialize even if its just with you and family they want to be close to you, just because the pup sleeps dont mean thats what it wants to do, yes little puppies sleep alot but those little brains are constantly on the go.
As for long night hrs i would deffinately get it out to potty someplace inbetween all those hrs that is alittle young to be trying to hold the potty for that long.
__________________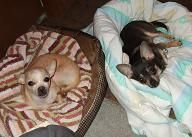 "Deja Voo" & "Muffin" My sweet little girls.
Saving one rescue at a time.