Quote:
Originally Posted by
doginthedesert
A lot of people I know with bigger dogs feed taste of the wild. It is a good food (as far as kibble goes) that is not too expensive and a lot of dogs do well on it.
Ditto,
when it first came out we used it alot on rescues we took in to get them on better quality food it worked great and the dogs did very well on it, most of the diffrent varietys have high protine, so if its a dog that cant handle such high protine dont use it but for those whom cant afford a top quality food thats more expensive "Taste Of The Wild" will work as its not to costly. My daughters pug was on garbage food when she got it as a pup and she was sick also we switched her to TOTW and she did real well on it after the adjustment period and her health and coat imporved greatly. No matter what food you feed theres always gona be recalls someplace down the line, even with human food they get recalls as well, just keep a eye on whats going on and your lot bag numbers, dates and such.
__________________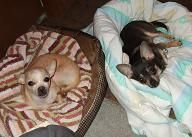 "Deja Voo" & "Muffin" My sweet little girls.
Saving one rescue at a time.