---
I have Blaze my chi of course, Blitz is a pom I love him to pieces but the breed can be a challenge some times. He is usually very well behaved but like most poms he does have his moment. We also have a pit his name is Diesel he was a rescue, found him on the side of the freeway starved and sickly. He is now living the spoiled life now just like the other 2.
__________________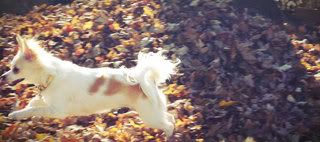 All in the town were still asleep,
When the sun came up with a shout
and a leap. In the lonely streets unseen
by man, A little Dog danced. And the day began.