| | |
| --- | --- |
| Other breeds?? | |
01-03-2013, 01:54 AM
chi god/godess

Join Date: Oct 2011

Name: LS

Location: Canada

Posts: 10,706

Thanks: 2,062

Thanked 813 Times in 693 Posts
---
Quote:
Originally Posted by
Blazer
I have Blaze my chi of course, Blitz is a pom I love him to pieces but the breed can be a challenge some times. He is usually very well behaved but like most poms he does have his moment. We also have a pit his name is Diesel he was a rescue, found him on the side of the freeway starved and sickly. He is now living the spoiled life now just like the other 2.
So nice to see you around!!!
YES Poms are quite the challenge compared to other toy breeds.
Once you had a Pom you are ready for almost any breed, lol.(my vet's words!)
My Kissa sure kept me on my toes. Brilliant little dog, but quite the character.
I can't believe you have a new addition! How wonderful of you to not only
rescue, but rescue a Pit. You are my hero. I hope you can post pictures soon.
01-03-2013, 02:40 AM
chi-aholic

Join Date: Mar 2012

Name: Nicole

Location: Texas

Posts: 382

Thanks: 11

Thanked 30 Times in 30 Posts
---
Stella is currently living with a lab mix (I think she might be lab x pit bull, but who knows?) and 3 kitties.
I would love to get a Doberman in the future, but that won't be for a while. I also like Poms, so I may consider one... but from reading here, are they difficult to manage??
I've also tossed around the idea of rescuing a Greyhound, but I hear a lot of them have a wicked chase drive.
__________________
01-04-2013, 09:26 PM
Just arrived!

Join Date: Jan 2013

Posts: 1

Thanks: 0

Thanked 0 Times in 0 Posts
---
I have a Pom and I'd say he is much harder to manage than my chihuahua. Then again he is a pup but none of my other pups have been as dominant as he is at such a young age and he hasn't even reached sexual maturity yet. I feel that most poms I see live up to the stereotype- they are loud, everywhere! whereas I feel the rep of a chi is completely unjustified and they are normally sweet and quiet (the ones near me anyhow). The grooming too and the fact that everything gets stuck to their fur is another annoyance but saying all this he is so sweet and has the funniest character and I wouldn't swap him for the world
01-11-2013, 04:54 AM
chi god/godess

Join Date: Jan 2010

Name: Sherri

Location: Ontario, Canada

Posts: 3,889

Thanks: 278

Thanked 169 Times in 160 Posts
---
We've had a rotti, English mastiff and French mastiff

I love love love the mastiffs I'd get another one in a second!

We just have the chis right now but when we find a house I'm working on getting a doberman after researching the brewed extensively I want one!! Already have everything picked out the breeder the name etc lol!
__________________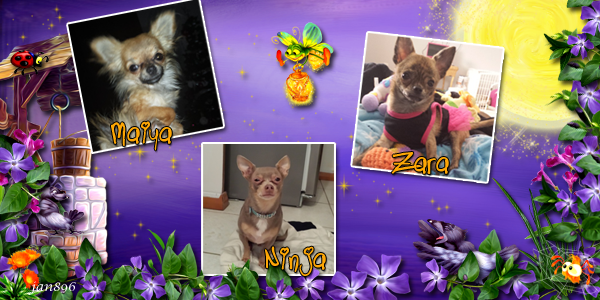 01-11-2013, 05:30 AM
chi lover

Join Date: Jan 2013

Name: Loni

Location: El Mirage, California

Posts: 180

Thanks: 7

Thanked 22 Times in 21 Posts
---
Out of the 8 dogs at my house only the 2 Chihuahuas are mine and the rest are my mom's rescues that never found homes. My mom's dogs are a German Shepard mix, a Siberian Husky mix, a Shar-Pei mix, a Shih Tzu mix, a American Pit Bull Terrier & a Doberman Pinscher/Beagle mix. My mom also has 5 dogs that my grandpa left to her when he died last week that she is going to be re-homing but they are staying at his house until they find homes. Those dogs are a German Shepard/Akita mix, a Shar-Pei mix, a Poodle/Schnauzer mix, and 2 Chihuahua/Jack Russel Terrier/German Pincher mixes. Because my mom and me did a some dog rescue we have had a lot of breeds come through our house. Breeds that I would like to have some day are the Saarloos Wolfdog, Czechoslovakian Wolfdog, Tamaskan, West Siberian Laika, East Siberian Laika and Chinese Crested but I will probably wind up with just American Pit Bull Terriers & Chihuahuas or maybe just Chihuahuas.
01-11-2013, 06:00 AM
honorary chi

Join Date: Jul 2012

Name: Deana

Location: Nebraska

Posts: 514

Thanks: 378

Thanked 66 Times in 61 Posts
---
We just completed our pack, earlier this week, with the adoption of little Ella from a local shelter. My siggy below pictures them, from left to right, in the order of who most recently joined the family. From left: Ella, our 3 year old rescued chi, Chica, our 2 year old rescued chi, Rascal, our 2 year old rescued yorkie-poo, and Squirt, our 9 year old toy poodle, who was a gift from some generous family friends during a particularly difficult time in our lives.
__________________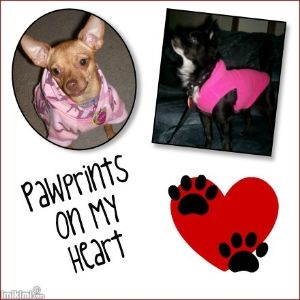 01-11-2013, 09:16 AM
chi lover

Join Date: May 2012

Name: Evelyn

Location: Greater Manchester, England

Posts: 101

Thanks: 17

Thanked 15 Times in 15 Posts
---
I have my adopted 2 year old Chi Romeo. I've always loved Border Terriers, Alsations, Chorkies, miniature labradoodles XD but I'm not active enough for the bigger dogs
plus I still live with my mum. :P
__________________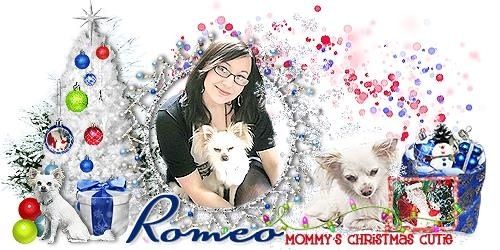 http://www.facebook.com/EvelynxRomeo
http://everrome.blogspot.co.uk
01-11-2013, 01:10 PM
chi god/godess

Join Date: Oct 2009

Name: Ronni

Location: Nashville Tennessee

Posts: 2,204

Thanks: 51

Thanked 132 Times in 103 Posts
---
I have two chihuahuas, pictured in my siggy. I intend to adopt a greyhound, hopefully in the next year. And I also really want a sphynx cat, but that may have to wait a bit longer.
Posting Rules

You may not post new threads

You may not post replies

You may not post attachments

You may not edit your posts

---

HTML code is Off

---
All times are GMT. The time now is
11:51 AM
.