| | |
| --- | --- |
| Amount of Shedding? | |
01-06-2013, 03:22 AM
chi-aholic

Join Date: Mar 2012

Name: Nicole

Location: Texas

Posts: 382

Thanks: 11

Thanked 30 Times in 30 Posts
---
Welcome to the forum! Good on you for doing your homework and thank you for considering adoption.
My Chi is short haired and I'd say she sheds a light to moderate amount, but the hair is pretty short so I usually don't notice. Definitely not to the point where I need a lint roller after playing with her.
__________________
01-06-2013, 04:31 AM
chi fan

Join Date: Jul 2012

Name: NaeNae (Renee)

Location: North Carolina, USA

Posts: 78

Thanks: 23

Thanked 11 Times in 11 Posts
---
My Chi's both have short hair. They are in my lap all the time. I notice "some" shedding, but not enough to pull a lint brush out for.
01-06-2013, 04:53 AM
chi addict

Join Date: Nov 2012

Location: New York

Posts: 278

Thanks: 56

Thanked 55 Times in 53 Posts
---
Get a breed that has hair, not fur. My chihuahua SHEDS. All my friends and family's chihuahua's shed. I mean they are in your lap, and you will have prickly hairs all over you. I did not grow up with furry pets, and we lived in an immaculate home. Hair was something I had to adjust to. Fur everywhere. I vacuum daily and wash my dog once a week, still hair in my bed(My dog isn't even allowed in my room.), hair on my clothes out of the dryer, hair on the couch, hair on the floor. My 2 best friends both have a long hair and a short hair, all of them shed all over me when I go to visit. The long hair is more noticeable, like big puffs of cotton. I wear a lot of black, it's a bother. I have lint rollers in multiple rooms of the house. There is hair ingrained in my wool mid cent lounge chairs(Which I also vacuum daily), on the bottoms of my curtains, in the corners of the house, on the walls. I invested in a couch cover, if you sit on that you will be covered in hair. I wash it weekly(I have serious allergies so I clean constantly.). I have a corgi(28 lbs) too who sheds insanely, and yes I feed top of the line organic food. Don't get a chihuahua if you don't want to be covered in hair. No, not as much as a large dog, but also yes more than a large dog because my larger dogs were not allowed on any of the furniture, or bedrooms, or in my lap on my clothes. One of my friends has a mini poodle, she is sweet, smart, lovely and doesn't shed on me. I maul her too, she is adorable. Get a poodle or something.
---
Last edited by Ay Chi-mama; 01-06-2013 at

04:57 AM

.
01-06-2013, 06:40 AM
chi god/godess

Join Date: Dec 2011

Name: Amy Jo

Location: Texas

Posts: 3,561

Thanks: 435

Thanked 698 Times in 648 Posts
---
Jaxx used to shed loads. It got to the point I was brushing him three times a day just to keep it under control.
We switched Jaxx to ZP a while back and the shedding has stopped. He still gets brushed once a day but I no longer even have a shirt filled with dog hair after brushing or any other time.
I have quickly become a believer that food matters on a lot of things with dogs that I didn't even imagine
Sent from my iPhone using
Petguide.com Free App
__________________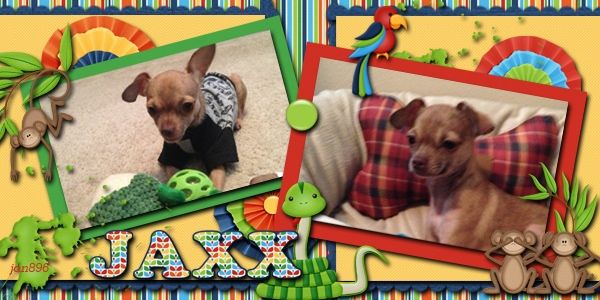 01-06-2013, 06:48 AM
honorary chi

Join Date: Apr 2012

Name: Lianne

Location: Preston, Lancs, UK

Posts: 591

Thanks: 54

Thanked 44 Times in 43 Posts
---
I would also say it may be best not to get a chi if you don't want a dog that sheds. My chi, Max, is a long coat and on a good diet but still sheds quite a lot depending on the time of year. His hairs get EVERYWHERE. When we got him I was hoping this wouldn't be the case but it's just something we have had to get used to, and he is worth it! It doesn't help that our main carpet is black and he is red so his hair shows up really badly, just can't justify spending money on a replacement at the moment..
__________________
01-06-2013, 08:25 AM
---
my long coats only shed seasonally or if the girls are dropping coat after a season, generally not much fur comes off them at all even when they are brushed
__________________
www.teclo.co.uk
The Following User Says Thank You to *Chloe* For This Useful Post:
01-06-2013, 03:00 PM
chi god/godess

Join Date: Oct 2009

Name: Ronni

Location: Nashville Tennessee

Posts: 2,205

Thanks: 51

Thanked 133 Times in 103 Posts
---
Quote:
Originally Posted by
megsauce
Thank you, that's a good point. Maybe a chi just isn't the right dog for me and I'd be better off with a breed with hair, not fur, like a poodle.
Just so we're clear, poodles shed just as much as any other dog. But because of their coat styles, the hair that they lose gets caught by the existing coat so they don't tend to leave hair residue on furniture or people. But the downside of that is that unless they're groomed meticulously their coats will matt. Matting can be a health hazard, and even before it gets to that point, it can be painful to the dog if allowed to become excessive.
So take your pick.......either deal with a little shedding, or be prepared to spend a good deal of time~~or money~~keeping up with a "non-shedding" breed's coat.
And fyi, Tango and Jazz shed differently. They're both SC's but Tango sheds more than Jazz. They both eat the exact same food, are groomed the same amount, fed the same treats etc., but because Tango's coat is thicker than Jazz's, he leaves more hair behind. Also, because he's a cream color, his hair tends to be more noticeable on most fabrics, whereas whatever Jazz loses tends to blend in more. Regardless, they're both under 4 pounds, so the degree of hair I have to deal with is minimal compared to the 50 pound family mutt we had for 20 years who routinely clogged up the vacuum with his hair!
01-06-2013, 03:47 PM
chi god/godess

Join Date: Apr 2010

Posts: 3,356

Thanks: 156

Thanked 181 Times in 159 Posts
---
Poodles were always my breed before I had Chihuahua's they actually have wool, not hair.. it's a common misunderstanding.
They actually don't shed, but the wool grows and grows and necessitates timely grooming. I always did my own grooming (as I had good oster clippers from when I owned my horses) the upkeep can get expensive depending on your area and how much groomers charge, where I live it was always a minimum of 60.00 for a toy sized Poodle.
From time to time you will see a dropped ball of wool or fluff stuck to something in your house, that is the extent of shedding, it can turn up felted onto objects from the laundry as well when you take them out of the dryer
I used to love those little random apricot fur balls.
I miss my Poodle sometimes, he passed away at 19 years of age.
Posting Rules

You may not post new threads

You may not post replies

You may not post attachments

You may not edit your posts

---

HTML code is Off

---
All times are GMT. The time now is
03:40 AM
.