| | |
| --- | --- |
| Chi puppy weight versus parents, diet; other dogs in house! | |
01-18-2013, 09:32 AM
chi person

Join Date: Jan 2013

Posts: 14

Thanks: 1

Thanked 0 Times in 0 Posts
Chi puppy weight versus parents, diet; other dogs in house!
---
Hi, my husband and I have been throwing around the idea of getting a chihuahua for some time now. His aunt had one growing up, and a friend of mine has one, and we really like their personalities!
However, we do have two other dogs. We have a small basset hound (35 lb, not underweight, just very small and acts more like a cat than a dog) and a monsterous pomeranian (a whopping 17 lbs) that was supposed to stay at around 7lbs
. We don't mind, as he's certainly much less fragile and my husband likes to horse around with him.
My question is in multiple parts!
1) One of the puppies we were looking at has very small parents! Supposedly, the father is under 3lb and the mother is just over 4lb. However, we've seen pics of his litter and he is probably the largest. Is it likely that, like our pom, if we transition him to a healthier diet (unfortunately most people around here feed cheap stuff) he will have a chance of reaching
at least
4lb like his mother? Due to the popularity of the 'teacup' BS, it seems most chihuahuas around here max out at 4-5 lb. I asked the breeder and she was very polite and sad that she DID have a (recently, maybe?) boy that from one of her litters that came out to be 6 or 7lb but it was given to her brother and did not become part of her breeding program, I believe?
Now, we did want a small dog, but most especially the chihuahua personality, and the reason I'm concerned is...
2) Will he be safe around our dogs eventually? How did those of you with 'bigger' dogs in the house handle this? I trust our other two dogs but accidents happen.
How fragile are chihuahuas? My friend has a very handsome but small fellow who is utterly fearless. This little guy's former roomate was a great dane, and he now is 'sibling' to a 100lb + rottie mix. However, I've also read a few very sad stories on this forum about how fragile these guys can be.
Now, our dogs aren't THAT big, and we live in a single-story home. Even our sofas are fairly low. I just worry that something might happen to the little guy, and I don't want to set ourselves up for heartbreak!
Oh, and I guess I should add a #3 - hypoglycemia? The breeder we have been talking to doesn't have any major 'warnings' about it in her info besides advising to feed often, but many do that make it sound like it is a given or something, or maybe that's just my paranoia talking.
I know in HUMANS it's usually linked to diabetes. I was already aware that puppies needed more frequent feedings than adult dogs from when our pom was a baby (I swear, he really was normal little toy size when he was a pup, he just GREW like a weed!) and he seemed to do fine without any problems eating/etc.
01-18-2013, 12:44 PM
Join Date: Sep 2008

Name: Teresa, T for short.

Posts: 16,071

Thanks: 2,491

Thanked 800 Times in 740 Posts
---
Hi and welcome.
You will love having a Chi. They are such an awesome breed.
I'll give you answers to your questions by my experience, and what I've learned about the breed having 4 of my own. Oldest being almost 6 years old, youngest 4 years old. And some information that I was given by an excellent show breeder of Chi's. Everyone will have their own experience and info.
The answer to your first question, to my knowledge, is yes, your Chi can top out (full grown) to the size of his/her parents. They can also top out smaller, or larger. That wasn't much help, was it?
Genetics will decide your pups adult size. Which can come from anywhere in his/her lines. Just like humans. If you are using a reputable breeder, one who knows their lines, they can usually estimate by 14 weeks their adult size. Before that age, it's a crap shoot. Large puppies can be the smallest adult, smallest puppy can be the largest adult. Going with a reputable breeder, expect your pup to top out around 4/6 lbs. Under 4 lbs. grown is uncommon, although happens here and there, and even reputable breeders will have adults over 6 lbs. They do strive for the breed standard though. If you go with a "BYB" be prepared to just wait 18 months to see how your pup matures. I would suggest waiting at least 12 weeks to bring your new baby home. But a good breeder won't release them any sooner. If they feel the pup is maturing slower, under 4 lb. adult, most likely they will keep them past 12 weeks, up to 6 months.
Will your Chi be safe around larger dogs. That depends on the larger dog. If they are well behaved, then yes, it can be a success. You wouldn't want to leave a young Chi pup unattended with a larger dog at anytime, though. Once they are older and you are comfortable with how they interact together, it isn't as risky. As you mentioned, accidents do happen. There are many here who have Chi's and larger dogs that don't seem to have any problems at all.
Are Chi's fragile. Of course they are. Even a 6 lb. Chi is tiny, fragile can vary to the individual Chi. There are 6 lb. Chi's who jump off of a couch and break their leg. Imagine a 4 lb. Chi falling off the couch. At 4 lbs. they normally aren't big enough to jump up on a couch, though. You can use ramps or stairs. You'll have the tiny 5 lber. that is a jumper, and that's something you have to work around by "puppy proofing." The answer to this question will depend on the Chi. But as I mentioned, even a larger Chi is going to be fragile to some degree. That doesn't mean they can't be dogs. Just differently.
Hypoglycemia is more prevalent in the smaller Chi. It decreases with age and weight. You can easily lose a young Chi puppy to hypoglycemia. There are a few of us here that have gone through the scares. Playing, anything that uses energy can send a young Chi puppy into a hypo attack. Even stress. You have to make sure they eat frequently. If you have a 2 lb., 12 week old Chi, hypo worries aren't as big of an issue. If you have a 1 lb., 12 week old Chi puppy, you can pretty much count on some hypo issues. Even if they are mild. As puppies they want to play, play, play. They are burning fuel while doing it. It takes regularly scheduled nutrition for a tiny puppy to avoid hypo. I've never seen a breeder not send hypo instructions home with a Chi pup.
Visual difference in size. My cat was 15 lbs., Gia weighs 3 lbs. Lexie weighs 3 1/2 lbs.
Major difference. Even if they were standing side by side, still a major difference.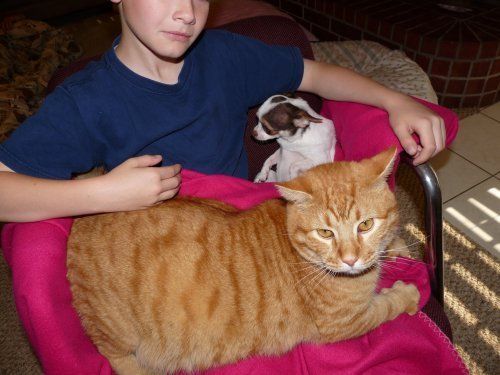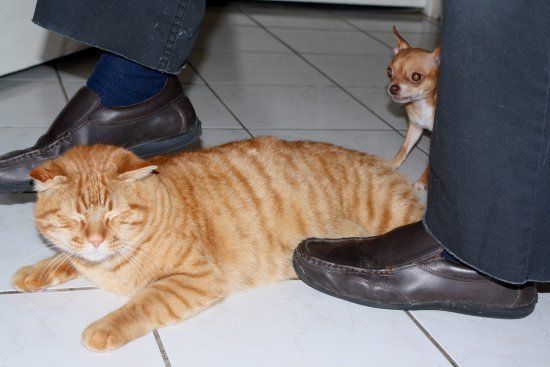 It's awesome that you are asking questions and becoming informed before making a decision. From your concerns and questions, you might be much happier with a 5/6 lb. Chi. Best wishes in your search.
__________________
"If you aren't part of the solution, you're part of the problem."
01-18-2013, 12:54 PM
Join Date: Oct 2012

Name: Evelyn

Location: FLorida : from South Jersey

Posts: 2,899

Thanks: 352

Thanked 603 Times in 585 Posts
---
When these little ones are so little they are very fragile, my Ike now weight a little over 3 lbs. Breeders are not suppose to breed themt to be so small, but they do. I just make sure Ike has 3 feedings a day and 2 healthy snacks, I feed him 5 star food. I have a pug who is 17 pounds and she is not rough with him. We had to watch him like a hawk, till he got to this weight. He has gotten hurt 4 times since we have had him, but not bad, he is now 5 months, but it wasn't my other dog , it was us, he tends to leap off our laps, so now we are careful to always have one hand on him when he is up in the couch or chair with us. He has had a foot stepped on twice as he is everywhere I am. So until he is older, we are just so careful of everything. I would get another if my husband would give in, they are so loving, and special.
I have a friend that got one last year and he was so tiny and now weighs 9 lbs, both of his parents were tiny, so a grandmom must have been bigger. lol
01-18-2013, 01:44 PM
chi person

Join Date: Jan 2013

Posts: 14

Thanks: 1

Thanked 0 Times in 0 Posts
---
Oh my! Thanks so much for all the info. Yes, ultimately it might be better for us to get a 'bigger' (5lb is still 2lb smaller than our munchkin cat!!) chihuahua. We are going to visit the breeder I was talking about this weekend to see her dogs & get an idea of their size and temperament. That was kind of a big deal for us, that she'd let us come by- the last breeder we'd asked simply stopped emailing us when we inquired about seeing the parent dogs before making a decision.

We used to keep some Nutri-Cal on hand, we'll have to go get some more, I think I read somewhere that it works as a good pick me up? Is Wellness Core a good food for them? I believe it's grain free so it should provide alot of energy, and we wanted to offer wet and leave dry out for him/her at all times. We're switching our other two dogs right now to Wellness Super5 after having such a good experience with Wellness canned & our cats.

She has another female puppy whose parents were bigger and should get a little bigger than the boy we were looking at, we might inquire about that one instead. Ahhh, this little boy was just so cute, but I know I should be picking based on my head and not my eyeballs, haha, and besides, ALL dogs are cute, right?
01-18-2013, 02:34 PM
Join Date: Sep 2008

Name: Teresa, T for short.

Posts: 16,071

Thanks: 2,491

Thanked 800 Times in 740 Posts
---
You are definitely on the right track. Breeder doesn't want you to see the parents. Or where and how any of their pups are cared for. Major red flag. Anything they "avoid" means they are hiding something. A good breeder will answer any and all questions, and be thrilled you care enough to ask. That shows your concern for the pup you are interested in.
Nutri-Cal can be a life saver. Always needs to be on hand. As for dog food. I haven't looked at the reviews lately, my guys are on limited ingredient diets made by Wellness. We have great success with it. Wellness Core, from what I remember is an awesome food. There are websites that keep current, up to date info on most dog foods.
If your heart is set on the little boy. Then I'd say go for him. If you have the time, you'll do fine. They grow quickly, and soon will be past the age of most of the worries. As I mentioned, chances are he will mature to at least 4 lbs., if not more.
And you are very right. All Chi's, dogs in general, are adorable! You'll find that a "sturdier" Chi is less stress, and less worry. Not removing all worry, just less.
But I still say go with what you want. If smaller is what you are aiming for, their care becomes routine, even though requiring a little more time.
I can look for pics of my pups having a play date with a "weenie dog." That only happened once. He was a puppy, and wanted to pounce on them and chase them. They weren't amused, and I was a nervous wreck.
__________________
"If you aren't part of the solution, you're part of the problem."
---
Last edited by TLI; 01-18-2013 at

02:36 PM

.
01-18-2013, 03:39 PM
Join Date: Sep 2008

Name: Teresa, T for short.

Posts: 16,071

Thanks: 2,491

Thanked 800 Times in 740 Posts
---
This will be one concern with a tiny adult. You have to puppy proof your yard too.
This is regular chain link fence which I had put up for my pups. I quickly found out that I had to put chicken wire all the way around the chain link to keep them from being able to get out.
They've taught me a lot.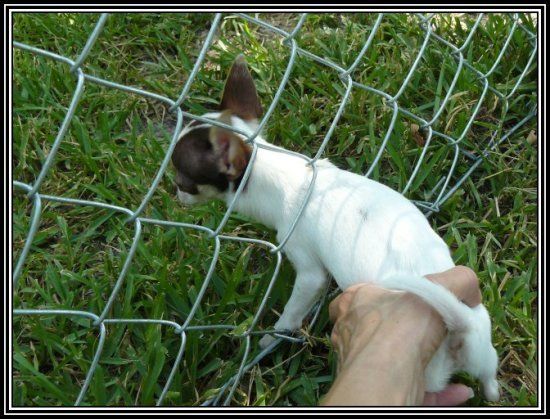 __________________
"If you aren't part of the solution, you're part of the problem."
01-18-2013, 03:48 PM
Join Date: Sep 2008

Name: Teresa, T for short.

Posts: 16,071

Thanks: 2,491

Thanked 800 Times in 740 Posts
---
Here are pics of them "playing" with a weenie dog. It was not a success.
But it totally depends on the "larger" dogs temperament, activity level, behavior, etc.
Hope some of this helps with your decision. The bitty ones are super cute, just more work, care and supervision.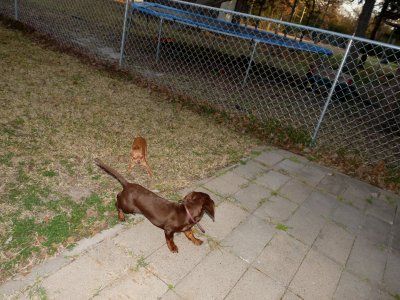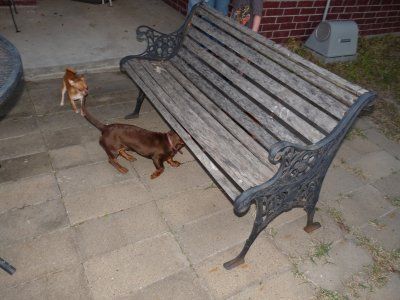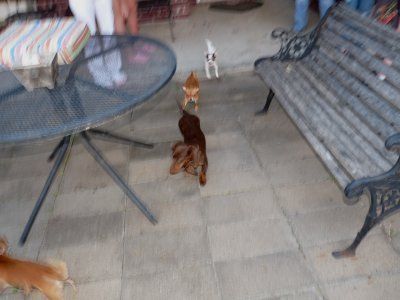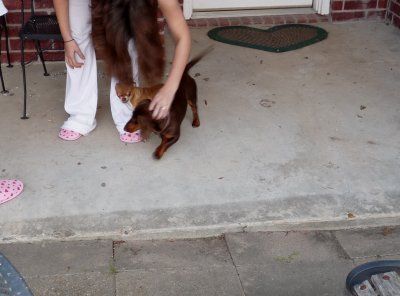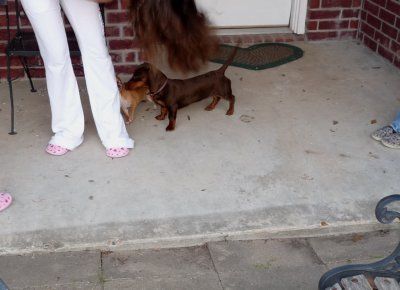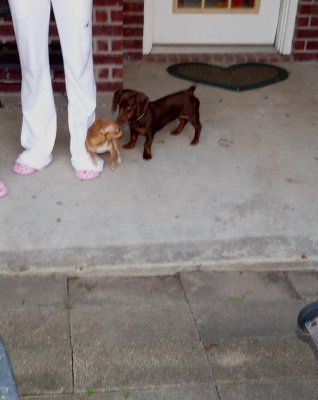 __________________
"If you aren't part of the solution, you're part of the problem."
01-18-2013, 04:27 PM
chi god/godess

Join Date: Mar 2012

Name: Ashley

Location: NC, USA

Posts: 5,776

Thanks: 331

Thanked 783 Times in 685 Posts
Chi puppy weight versus parents, diet; other dogs in house!
---
T, the pics of your guys chasing a bigger dog like that is hysterical. Poor thing probably didn't know what hit it with the Wees chasing it.
Sent from my iPhone using
Petguide.com App
__________________
Posting Rules

You may not post new threads

You may not post replies

You may not post attachments

You may not edit your posts

---

HTML code is Off

---
All times are GMT. The time now is
05:35 AM
.