| | |
| --- | --- |
| Please help me | |
01-23-2013, 12:25 AM
Please help me
---
We have two male Chihuahua's. We fostered a deer-headed Chihuahua from my mom's ex-best-friend who didn't know that her Chi was pregnant and the Chi had four puppies, we got two, gave one to my mom's other friend, and then my mom's ex-friend got the mother and the other puppy...

Anyway onto the problem:

I think Bryan is bullying George, that and George is a nervous wreck. George is afraid to eat when Bryan is around. George is also kinda sorta growled at by Bryan when he's near his food.

Bryan doesn't have a food guarding problem but he does when our dog Copper and George are near them.

They're like, (George & Bryan) one minute, the best of friends, irrepressible and then the next minute, they hate each other!

Then, there's their pooping on the floor and peeing problem.

They aren't 100% housebroken. I know it's shameful right? Even after five dang years.

So, I don't know if it's even possible to housebreak a five year old Chihuahua or not.

But I just picked up George's poop today. I'm sick of picking up dog crap >_<

It stinks and I have a weak stomach.

Also, there's Bryan's licking problem. He licks and licks and licks and licks and licks the sofa and my hand and his brother's penis and their ears and their butts and everything.

When we leave the house, we have to lock George and Bryan up. Let's say there's a rawhide (they love those) in their cage, Bryan and George will fight to the death.

Let's say there isn't and we try to get George to get to Bryan's cage, and George want's to go in this little crate, but Bryan isn't budging, its all hard to get them to move because one wants to be in the little crate but the other wants to be with the other.

So we have to DRAG the other one out of the crate and back into the bigger cage.

I want to take Bryan with me to college, I also might take him with me to Japan when I live there for a few years but this I'm not sure (I'm still figuring out what I'm going to do in Japan.) I'm fifteen... I still have a ways to go.

George I want to boost his confidence and because he's an extremely nervous little dog- I want him to learn agility. I think he'd be amazing at shows.

Bryan actually needs to lose weight.

George needs to gain weight.

George threw up three times when my mom was on a trip the other day, he was so nervous without her.

Sometimes though, a good thing, is that George will go to me when my mom isn't there, he used to go to my sister but she's away at college now.

Sometimes I let him in my room but I don't want him to pee on my floor or ruin my room. >_<

So can you guys please help me?

I want to:

Build George's self-confidence.
Train both of them, teach them obedience.
Potty train them.
Enter George in agility.
Put Bryan on a diet.
Stop Bryan's licking problem.
Try to get them to stop fighting/stop Bryan from being a bully- the obedience thing?


So yeah. I have plans, I just need some extra advice. Can you help?





These dogs... have so much potential, they are beautiful dogs, I don't want them to be wasting their lives like this. I also don't want to be a bad owner, I want to be a good owner and give them the best lives they can possibly have- and hey- this is a start right? Asking for help?

>_<....

Please help me.
---
Last edited by michele; 01-23-2013 at

08:32 AM

.
01-23-2013, 12:16 PM
Administrator

Join Date: Mar 2012

Name: Christie

Location: Leesburg VA

Posts: 9,919

Thanks: 908

Thanked 1,650 Times in 1,521 Posts
---
In the Bully situation the one thing I did with my Sonny, was a look at me and sit command. BG would stand on my leg to get attention and Sonny would push her away. He is a lot bigger than her and I wanted to stop it before it got to anything major so if they both jump on my leg and if he tries to push her away I make him sit and look at me. Once he does that I give him attention.
01-23-2013, 03:18 PM
chi god/godess

Join Date: Nov 2008

Location: furrybutt, NY

Posts: 16,946

Thanks: 984

Thanked 751 Times in 706 Posts
---
I'm sorry to say ur ALWAYS gonna be pickin up dog poop...thats what part of bein a dog owner is. Its as normal as u picking up a spoon to eat cereal. Potty training is never 100% just like humans making mistakes in life...nothing is ever perfect for us so how can you expect a dog to be? In terms of licking that's how dogs sense and feel things...like us using our hands but in a stronger way since their abilities are way more advanced than us. Just like when they go out for walks and start licking fire hydrants and other various spots that's been peed on...theyre finding out more info from licking and if the dog isn't fixed they leave their scent as well. I'm confused on who is who when you mentioned names all of a sudden ~.~
__________________
01-23-2013, 04:24 PM
chi god/godess

Join Date: Mar 2011

Posts: 5,233

Thanks: 3

Thanked 837 Times in 788 Posts
---
I think I would try and potty train these dogs first. There are many posts about this, and generally you feed, take the dog out a few minutes later and WAIT until they pee/poop. If you use pads in the house, take them there. I used a puppy playpen to train mine to pads (I use washable human bed pads). I had one in each of their pens, and a few down in the house. They caught on quickly. The puppy still has occasional pee accidents, but they are becoming less and less. This procedure may take you several months as they are 5 years old. The best thing is not to LET them have a chance to 'go' where it is unappropiate. Use a special shampoo for neutralizing the scents. Some people on this forum use the tether method. They leash a dog to themselves. I prefer the puppy play pen.
01-23-2013, 04:25 PM
chi god/godess

Join Date: Mar 2011

Posts: 5,233

Thanks: 3

Thanked 837 Times in 788 Posts
---
I should have mentioned these pads are waterproof with a plastic back.
01-23-2013, 04:31 PM
chi god/godess

Join Date: Mar 2011

Name: Cindy

Location: Massachusetts

Posts: 3,287

Thanks: 330

Thanked 580 Times in 565 Posts
---
Susan has a very good point. You are dealing with so many issues, you need to pick one and fix it, then go on to the next. And potty training should be first, I really think it won't be that hard
If you have crates for them, then use them. Trust me, the commotion and upset you will have to deal with for a short time is worth a lifetime of comfort and not having to deal with potty issues!
01-23-2013, 09:03 PM
chi god/godess

Join Date: Apr 2010

Posts: 3,356

Thanks: 156

Thanked 181 Times in 159 Posts
---
I agree potty training is your number one priority here.
I don't buy into the whole "dogs are dogs and will have mistakes" sure once in a blue moon, but if your dog is A) peeing on your bed B) marking things in your home C) pooping where ever and whenever they feel like it, NONE of that is normal acceptable behavior! it's a training issue and you have to be committed to fixing it. (which it seems you are or you would not have posted)
I would start with the crate training method now, & I would keep the dogs in seperate crates.
Nothing in Life is Free
01-23-2013, 09:39 PM
chi god/godess

Join Date: Jun 2012

Name: Melissa

Location: Liverpool, England

Posts: 3,471

Thanks: 189

Thanked 289 Times in 271 Posts
---
Hi,

I think it's very admirable that you want to sort out the problems your dogs have since most of them were created when you were too young to have an input. I really see that you want to be a good owner and you're right, asking for help is the first step. The second one is being committed to it and sticking with it. Since there are a lot of issues you want to address and they are older it may take a little time but if you stick with it you definitely can do it.

First thing I would do is make sure you have anyone who is in your house on your side. If you're training then everyone has to do the same thing. Consistency is key. As others have said I would start off with the housebreaking issue otherwise you will confuse them and yourself with too much change. The link KittyD posted will be helpful. Nothing in life is free - this a concept the dogs need to learn to know who is boss and where their things come from. They learn that what you say goes and they have to earn their privileges. If they don't know the sit command I would start with that also because it will help with a lot of things, including knowing who is boss. Mine sit before any treats or food is given.

As they are already used to crates I would make sure they are crated when you go out and when you go to bed. Mine get crated every night and they never have an accident. Keep them in seperate crates and make sure they know which is theirs. Eventually you can train them to go into their crates on command. Victoria Stillwell has a video for this and I love her positive approach. It doesn't work with all dogs but that's the path I would start out on. You can YouTube her clips. Make their crates inviting. Give them a treat once they're in there and settled every now and then. This will take care of them not having the opportunity to pee in the wrong place when you're not around. When you are around you want to take them out every couple of hours at first and particularly after eating, drinking, sleeping and playing. If you catch them in the middle of going in the house (taking them out frequently is to avoid this as it's very important not to give them the opportunity to get it wrong) say a firm No but nothing else. If you do not catch them clean it up well and do not punish in any way. When you take them out and they go outside praise like crazy! Give them a favourite treat. When Mylo was almost 100% but was having a problem with pooping on the mat (they're puppy pad trained) I found what worked best was getting down on his level and praising like crazy because he loved the close contact. With Willow I found what really encouraged her was getting her extra special treats that she only gets for potty training. They're both more or less 100% now and Willow is only 5 months today. I want to train them to go outside when the weather brightens though.

As for the weight thing, do they get given their food separately? I would calculate their foods to make sure they're getting the right amount. Reduce the amount of the one that is overweight slightly and increase the amount of the others. Remember to take treats not account. Try to step up the exercise if possible - fit in an extra walk or a vigorous game of tug or fetch.

Once the potty troubles are sorted you will be able to allow the dogs in your room which will make it easier for you to train them one on one. I'm sure you will be offered lots of help for the rest of the problems once you're making progress on one. With regards to licking don't allow them to lick you if that is not what you want. Say a firm no and remove your hand. If they're licking something you don't want again say No and distract them onto a desired behaviour. Focusing on one thing at a time probably is your best bet though. Good luck!
__________________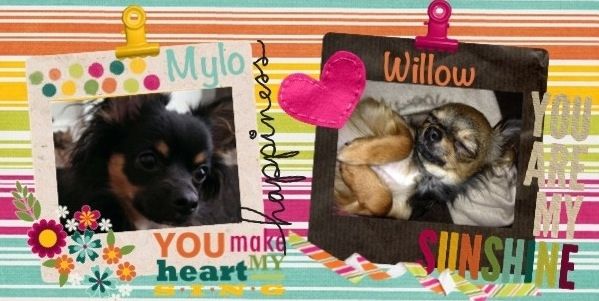 Posting Rules

You may not post new threads

You may not post replies

You may not post attachments

You may not edit your posts

---

HTML code is Off

---
All times are GMT. The time now is
01:33 AM
.