| | |
| --- | --- |
| Advice needed | |
01-23-2013, 04:21 PM
Just arrived!

Join Date: Jan 2013

Location: Massachussetts

Posts: 7

Thanks: 0

Thanked 0 Times in 0 Posts
Advice needed
---
Hi, new here and new to these dogs and I'm looking for some advice from those more knowledgeable about them.
I apologize ahead of time for a long post.

I'm fostering a rescued male 14lb Chihuahua mix (Chi-pin) and I'm trying to evaluate him and see how he adapts (and how he does relocating from Miami to New England where its currently in the single digits outside).
So far he has been excellent here with my 2 teen boys, my F golden, and 2 cats. The only real concern is house training and I'd like it if I can get some advice on what to do to help him.
Here is what I've seen so far.
He walks well on a leash and seems to be fine walking out to a particular area, peeing and moving on. We did have one accident in the house the first evening 2 hrs after peeing outside. Since, I've been taking him out every 2 hrs he seems to be ok. How often should these dogs have to go?
I've crated him at night and both nights he wet. 2nd night I had stopped water access early evening. I also had to crate him for 3.5-4hrs and he wet then. All times I took him out and he went outside right before going in. Although today I crated him for 2hrs and he was fine. Its a large crate with divider to make a small section.
So how often should these dogs go outside? Someone who said they knew the breed suggested the dog wear a diaper but I can't see offering this excellent dog to a new family in a diaper. (unless people are into that sort of thing) She also said that the males are very hard to train. I don't see him marking at all.
So any tips, advice, or even realities of the breed would be most helpful.
Thanks
01-23-2013, 09:52 PM
chi god/godess

Join Date: Jun 2012

Name: Melissa

Location: Liverpool, England

Posts: 3,471

Thanks: 189

Thanked 289 Times in 271 Posts
---
He's a cutie. There is absolutely no reason why he should need to do anything differently to any other type of dog. They do have a smaller blader so may need to go out more frequently than larger breeds but my pups are 8 months and 5 months and both hold their bladder in their crates over night. Mylo hasn't had one accident in there since he was 8 weeks old (for a while I took him out once in the middle of the night). He was also fully trained by 15 weeks so I wouldn't say males of the breed are particularly hard to train. It does depend on the dog and some people find chihuahuas harder to train than other dogs, but I've never had another dog of my own to train so I can't comment on that. I found them hard at first because they peed such a small amount that they were done before I could catch them but since he's bigger and not a pup that shouldn't be a problem for you. Chis are very much people dogs so enthusiastic praise goes a long way with them!

Since he seems to be going every two hours I'd take him out that often and then try to leave it a little longer each time, eventually he'll start letting you know when he has to go. Perhaps he is not completely voiding his bladder as he is not used to the temperature and wants to go back in. Chis are not fond of the cold one little bit! Do you know if he is used to a crate? That would be my first thought as to why he is wetting it or perhaps it is an anxiety issue? Does he cry when you leave or show any separation anxiety symptoms? Neither of mine have ever wet where they sleep. Willow has had once accident but the crate is a little bigger than her bed so she went on the plastic. Make sure his bed is covering the entire area. I make sure they always have something to do in there - a soft toy for comfort, something they can chew on. They're only in there at night these days though. Good luck!
01-23-2013, 10:25 PM
chi god/godess

Join Date: Mar 2011

Posts: 5,269

Thanks: 3

Thanked 853 Times in 802 Posts
---
If this dog is new, I'm wondering if he has some sort of urinary tract problem? Is he neutered? I am in favor of puppy playpens myself so the poor dog has a place he CAN go if he needs to. If he is wetting his crate, and not crying to get out, he problably was in a crate before and not let out often enough. Good luck with him.
01-23-2013, 10:44 PM
chi god/godess

Join Date: Jun 2012

Name: Melissa

Location: Liverpool, England

Posts: 3,471

Thanks: 189

Thanked 289 Times in 271 Posts
---
That's a good point. Maybe that's what he's had to get used to. So you know much about his previous home? Mine are in the bedroom with me so I let them out if they need to go. I never withhold water and they only ever ask to go if they're not well. During the day they have the run of a puppy proof room with food, water, toys, beds and a puppy pad.
__________________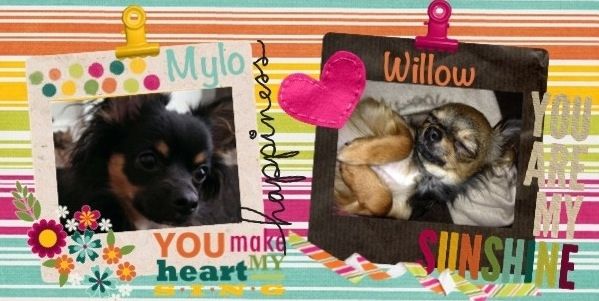 01-24-2013, 12:09 AM
chi god/godess

Join Date: Mar 2011

Name: Cindy

Location: Massachusetts

Posts: 3,287

Thanks: 330

Thanked 580 Times in 565 Posts
---
A urinary tract problem was my first thought also, Susan. And the fact that he might be accustomed to peeing in his crate.

Where do you live? Do you work or are you home? If you are home with them, you can try tethering him to you. Or a smaller crate. If the crate is small, he won't pee in it because they won't pee where they sleep.

Is this your first small dog? What about pee pads? I feel so bad taking Angel out in this freezing cold! I know a lot of people live where it's really a lot colder and take them out, but today, I saw Angel act very strangely outside, so I may set up his pee pad again for him!

BTW he's cute!! I have a golden also, and one cat!
The Following User Says Thank You to Angel1210 For This Useful Post:
01-24-2013, 12:44 AM
chi god/godess

Join Date: Aug 2010

Name: Lisa

Location: Tennessee

Posts: 4,436

Thanks: 228

Thanked 451 Times in 420 Posts
---
Since everything is new to him, it may be nerves. Give him some time to adjust. They can go up to 8 hours without peeing once you get him on a schedule, but if he has to go every 2 hours, you might want to give him time to adjust & getting his urine checked for a UTI wouldn't be a bad idea either. Is he fixed? Sounds like he might be scared being in the crate. I agree with Susan & Melissa that it's possible he was in a crate before & sees it as a place to do his business. Make sure to praise him when he goes where you want him to go (outside). Most people don't use diapers; they use pee pads if they can't take their chis outside for one reason or other. My chi goes outside & rarely has accidents in the house. She also asks to go out by standing at the dog & looking back at me.
__________________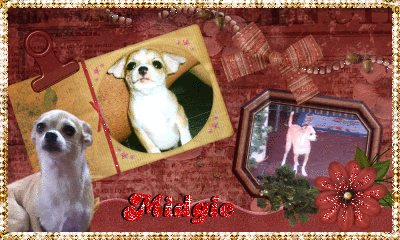 [url=http://www.TickerFactory.com/]
01-24-2013, 01:27 AM
Just arrived!

Join Date: Jan 2013

Location: Massachussetts

Posts: 7

Thanks: 0

Thanked 0 Times in 0 Posts
---
Angel, I'm in MA as well and I'm home all day.
I've been lengthening the time between trips out by 15min each time and he seems to be doing well. Wondering if it was just the new environment. I have no history about him. All we got is that he was a surrender because he had kennel cough (Really?!?) That seems silly to me and with the wetting, I was concerned that he was not trained but today he did excellent.
I don't know if he was ever crate trained or how he did at the kennel but the first night I had his crate in the bathroom and he kept barking. Moved it to the living room and he calmed down.
He is neutered and he pees a good amount. Seems to empty himself out. He doesn't pee when excited so I'm hoping the accident was just confusion. So tonight I'm waiting 2-1/2 hours ( or when he wakes up) , then outside and then in the crate. See how tonight goes.
He is quite an adorable dog.
01-24-2013, 02:11 AM
chi fan

Join Date: Jan 2013

Name: sherri

Location: stratford, ontario

Posts: 88

Thanks: 4

Thanked 7 Times in 7 Posts
---
I rescued two chi's and I had a crate wetting problem with them I went through the list fear, anxiety and finally figured out they had urinary tract infections.
Posting Rules

You may not post new threads

You may not post replies

You may not post attachments

You may not edit your posts

---

HTML code is Off

---
All times are GMT. The time now is
08:33 PM
.