HAPPY THANKSGIVING EVERYONE!!
Our plans got messed up for this T day
but we will be having ALOT of left overs from the 23 pound turkey and loads of fixings. The fur kids get there own goodies for T day.
__________________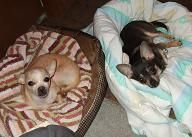 "Deja Voo" & "Muffin" My sweet little girls.
Saving one rescue at a time.