Quote:
Originally Posted by
lynx8456
I have one and love it. It is the only purse I use any more. Mine is a big one with a matching wallet and change purse (I use that for make-up).
Oh thats a nice one.
Thank you for posting a pic.
I saw a few simular to that one that i liked but wanted to get one thats the shape of a dog, even though you cant carry much in the dog shaped purses and some of them are real tiny there still cute and easy to carry. My daughter gets tons complaments on hers and sometimes people think shes carrying a real dog and ask her to pet it. LOL!!
OH WOW Pidge, those are awsome. They have such cool stuff..
Thanks for sharring everyone..
Thanks LS, will get pics posted as soon as it gets here. Should have it around the 5th or the 7th. There is a smaller wristlet one that i would love to get also thats a Yorkie.
Fuzzy Nation Wristlet Coin Purse B Yorkie | eBay
There just so darn cute, this one is alittle smaller than the Chihuahua one im getting. They also had this Chi one to, mine is diffrent than this one.
Fuzzy Nation New Tan Chihuahua Novelity Wristlet Handbag Small BHFO | eBay
Im gona get some pics of my daughters pug and boston terrier purses and will post those up in few days.
__________________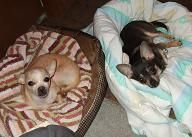 "Deja Voo" & "Muffin" My sweet little girls.
Saving one rescue at a time.