| | |
| --- | --- |
| Pooping indoors | |
01-07-2013, 12:49 AM
chi god/godess

Join Date: Mar 2011

Name: Cindy

Location: Massachusetts

Posts: 3,287

Thanks: 330

Thanked 580 Times in 565 Posts
---
If you can't keep Jim tethered to you, then put him in a crate. That's how I trained mine. of course mine was a pup, I understand that a two year old might be different. But he has to be treated like a pup. He should stay in the crate unless he is being played with or taken out to potty. He can have toys and chew toys in his crate, but until he learns he can't potty anywhere he wants, he has to stay in a crate.

Have you tried to use pee pads. That way he will have a specific place where he can go potty!
01-07-2013, 12:53 AM
chi god/godess

Join Date: Nov 2012

Posts: 1,358

Thanks: 2

Thanked 224 Times in 211 Posts
---
There will be no pee pad use here, I do not think it is at all necessary this dog CAN potty outdoors.

I really don't think it is a matter of not knowing it is a matter of he wants to. There has got to be a way to stop it.
01-07-2013, 01:29 AM
chi god/godess

Join Date: Aug 2011

Name: Krystal

Location: Canada

Posts: 5,614

Thanks: 851

Thanked 880 Times in 828 Posts
---
He needs to be corrected either while he's in the act or immediately afterward and put outside right away. If he's pooping in secret and "getting away with it", he won't stop. Unfortunately this means he can't be left alone, not even for a second. If you're opposed to crating him when you can't watch him, could you use a playpen? If he does have an accident, make sure that you clean the area thoroughly with an enzyme cleaner. Is he free fed or fed on a schedule? If he's free fed, scheduling his feeding times might create more of a consistent routine for him. If you don't already, I would also take him for long walks each day so he's tired out during the day and sleeps.
Sent from my iPhone using
Petguide.com Free App
__________________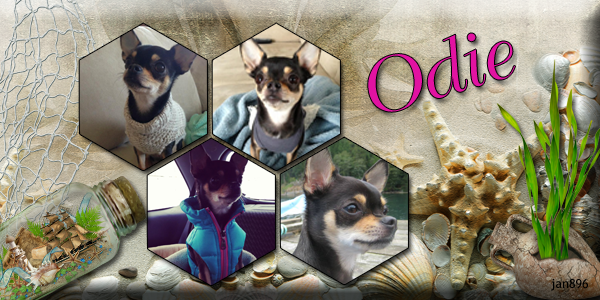 01-07-2013, 01:36 AM
chi god/godess

Join Date: Apr 2010

Posts: 3,356

Thanks: 156

Thanked 181 Times in 159 Posts
---
You are being given some good advice here, it's up to you if you want to take it or not, I hope for his sake you do because otherwise if you get rid of him that will be yet another negative situation for a dog who is less than 2?

You need to crate him or start using an Xpen, he cannot be alone for a second, if he is sneaking away he's out of your sight. You dislike pee pads, but they are a good option for indoors if he is going to have to go and you don't have the ability or miss a cue to let him out, heck I'd rather have my dog who is trained for outdoors trained to use a peepad indoors if he is going to have to go indoors, do you follow? dogs are smart, they can learn both methods very easily and use them both together.

You say he's a rescue, well it's possible this is why his previous owner abandoned him. Chihuahuas are known for being stubborn to housebreak, but you might already know this (I'm assuming) if you researched the breed before getting him.
01-07-2013, 01:41 AM
chi god/godess

Join Date: Nov 2012

Posts: 1,358

Thanks: 2

Thanked 224 Times in 211 Posts
---
I have a play pen and could maybe try that. The other thing is...when he is left alone he freaks out.

He is confined to the bathroom because of this if he needs to be left because the floor is easy to clean. I fear he might urinate out of a crate or pen on everything and just make life harder. I'd rather the occasional poop than urine or him being even more defiant.

I know they are a stubborn breed and man, he fits the bill. He is always doing bad things and he knows they are bad, he slinks as he does them, tail down and head down and creeps around. Hahaha.
01-07-2013, 01:46 AM
chi god/godess

Join Date: Mar 2011

Name: Cindy

Location: Massachusetts

Posts: 3,287

Thanks: 330

Thanked 580 Times in 565 Posts
---
I agree with Kitty.

How long have you had him?

Pee pads will at least keep his poops in one place. It doesn't have to be a permanent situation. It can be used as a transition tool. I trained Angel on a pee pad, and now he goes outside.
01-07-2013, 01:52 AM
chi god/godess

Join Date: Nov 2012

Posts: 1,358

Thanks: 2

Thanked 224 Times in 211 Posts
---
How does one train for pee pad use with a dog who has no idea what to do?

I guess laying one out couldn't hurt, I have them around.

Also I do think it is very, very unlikely this dog will actually go anywhere. Maybe to a professional if I can't train it out but we love this dog very much and I don't think we could ever part with him. He is my lovely boy and I know I won't let him go anywhere, I'd have him stay with a friend for a while if someone said he had to go.
01-07-2013, 01:54 AM
chi god/godess

Join Date: Apr 2010

Posts: 3,356

Thanks: 156

Thanked 181 Times in 159 Posts
---
My dogs are exclusively indoors for potty in the winter (but we live in canada and winters are gross) but in the warmer weather they will potty outside if we take them out.

I don't think I'd use a playpen because you cannot wash those properly if he has accidents. I think you need to find an xpen (pet smart sells them) and leave him confined to the pen with some pee pads in place, chances are he's seen a pee pad before and will know exactly what it's for, most of them are scented as well to attract the dogs.

I'm not saying you need to do this forever, but when he's not in your arms or on you.. make sure he's in the pen, he can have a bed and toys and such in there.

Another person asked you if he is being free fed as well, that makes a difference too! are you feeding him at set times? or just whenever.
Posting Rules

You may not post new threads

You may not post replies

You may not post attachments

You may not edit your posts

---

HTML code is Off

---
All times are GMT. The time now is
03:32 PM
.