| | |
| --- | --- |
| Phew, What a Week .... | |
01-27-2013, 12:48 AM
chi god/godess

Join Date: Mar 2012

Name: Dee

Posts: 2,480

Thanks: 317

Thanked 254 Times in 172 Posts
Phew, What a Week ....
---
Gaarrrgh, Queensland is being flooded again and we've even had 6 tornadoes - I've never even heard of one in this country before, let alone one causing damage, they're just unheard of over here. There's fast water rescues & houses going under from one town to the next, and they're saying we're going to get 125kph winds - no idea what that is in mph.
I'm sat here wondering how I'll manage to evacuate 6 dogs (2 x giants) in nothing but a sarong ('coz I can't wear anything across my 10" cut and can't really move all that freely either, yet) so we're all just sat here, candles at the ready - I suppose i should gather all their harnesses & leads etc. into one easy to reach spot incase the roof decides to fly away, heaven forbid.
On the other side of the coin, sad & sorry for myself being so blimmen' laid up & in pain, the little voice in the head told me to check if my breeder had any pups available - yep, 2, but neither appealed.
I gave her a call & she confirmed she'd finished breeding (crippled with arthritis) BUT there is one last litter coming thru and she THINKS there may be a tiny, a chocolate, just what I've always dreamed of. HWMNBO is, of course, throwing the obligatory tantrum, pfft, as if I'm paying attention to that - if there is a choco tiny, it's mine, all mine. Time will tell, they're 2 weeks old & I'm not going to hassle her for info or pics, she'll send when she can. Fingers & toes crossed - 5 Chi's and that'll be me done
__________________
01-27-2013, 02:33 AM
Administrator

Join Date: Mar 2012

Name: Christie

Location: Leesburg VA

Posts: 9,923

Thanks: 910

Thanked 1,650 Times in 1,521 Posts
---
poor thing! I hope the weather improves and y'all get a break. I also hope there will be a tiny chocolate
01-27-2013, 03:18 AM
chi god/godess

Join Date: Mar 2011

Name: Cindy

Location: Massachusetts

Posts: 3,287

Thanks: 330

Thanked 580 Times in 565 Posts
---
OOohh! Such extreme weather! Where we live, we have been so, so lucky! We keep talking about moving when we retire, in about 2 years, but I gotta tell ya - I'm afraid to leave here because we have been so lucky with the weather! It can have a big impact on your life! I hope it gets better soon for you! We've just been having extremely cold weather!

Dee don't be too hard on yourself! You just had surgery and it takes time to heal! I, too, put off going to the docs when I have a problem! I think we just figure, aww, it'll go away!

Take care and stay safe!
01-27-2013, 03:44 AM
chi god/godess

Join Date: Jul 2008

Name: Elaine

Location: Massachusetts

Posts: 10,017

Thanks: 404

Thanked 771 Times in 754 Posts
---
oh, i hope you will be ok and the storm wont be as bad as they say. i'm sure hwmnbo will be watchiing out for you....
that's so exciting about a new puppy !!!
i miss you and its so nice to see you on here again
hugs,
E
__________________
01-27-2013, 04:16 AM
chi god/godess

Join Date: Jun 2012

Name: Melissa

Location: Liverpool, England

Posts: 3,471

Thanks: 189

Thanked 289 Times in 271 Posts
---
Fingers crossed the weather passes you over. I hope you're recovered and feeling better soon and that your chis are taking care of you! Ooh...I hope the pup of your dreams is in that litter! You must share pics if and when she sends them! Look after yourself, we worry!
__________________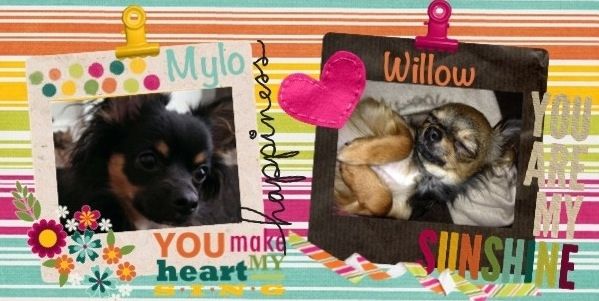 01-27-2013, 09:55 PM
chi god/godess

Join Date: Jan 2005

Location: England

Posts: 3,852

Thanks: 41

Thanked 68 Times in 67 Posts
---
I hope your ok & I really hope the puppy is perfect for you
01-27-2013, 10:26 PM
Join Date: May 2009

Posts: 0

Thanks: 177

Thanked 251 Times in 149 Posts
---
Australia is getting all the weird weather at the moment - my son went back to WA from here 3 weeks ago and has already been evacuated from the gasfields he works on twice due to cyclones or theatened cyclones!!
I'm sure you are well fed up of being laid up - but every day is a day closer to getting back to normal - and maybe that pup!!! Can't wait to hear if there is a tiny chocolate one for you
01-27-2013, 10:27 PM
chi god/godess

Join Date: Mar 2012

Name: Dee

Posts: 2,480

Thanks: 317

Thanked 254 Times in 172 Posts
---
Thanks girls. Well this brute of a storm has gone from northern australia, right down the east coast and is now throwing everything it's got at folks down south.

Every death that has happened so far has been from people trying to drive through flooded roads, bridges etc, even a young man on a motorbike for crying out loud - we folks here get super angry about fools doing that because they risk the lives of innocent emergency personnel in saving them or retrieving lifeless bodies. But then again, we don't know the victims circumstances either, perhaps trying to get to their own family to rescue them in such horror and ending up causing their family immeasurable grief, it's all so tragic.

There's been dozens & dozens of swift water rescues, ALL of them people who were in cars now clinging to the roof of their cars or trees after they've been swept off - how do they expect emergency workers to get to them in the torrents & all the choppers are off lifting people from the rooves of their houses.

At times like this all I can think of is the folks who lost everything 2 years ago, and in some places the levels are already over 3' higher than what they were then, AND the livestock - the horses, cattle & sheep being swept away is just heartbreaking.

Then, of course, there's 1,000's upon 1,000's of our deadliest snakes being swept down along the entire coastline & the newspapers just love to show pics of people up on their rooves with dozens of snakes trying to join them, or slithering up onto part submerged cars to escape, gaaaarrrgh. At least we haven't had the problem they had in Africa with 15,000 crocodiles on a croc farm being washed away!

Ah, the wee puppy, I'm not getting my hopes up, what will be, will be. I won't contact them for a while because they're in the heart of the floods, the poor souls.

And to think I moved up here to escape the vicious weather down south, what was I thinking!!!
__________________
The Following User Says Thank You to AussieLass For This Useful Post:
Posting Rules

You may not post new threads

You may not post replies

You may not post attachments

You may not edit your posts

---

HTML code is Off

---
All times are GMT. The time now is
12:12 AM
.