I went to a boot camp for the company I am now a distributor for and let me tell you it gave me even more passion for my products!
I met the Dr that is behind all of our supplements, cleansers, etc... and found out the story behind them. He has been a MD since 1981 and has dedicated his life to coming up with supplements to help cleanse the body of the crap that the pharmaseutical companies are putting in us as well as the insectisides and other chemicals we are exposed to not to mention all of the preservatives, etc... in our foods. All of our products are 100% natural and we are about to become certified organic. We have so many products that we offer for different things...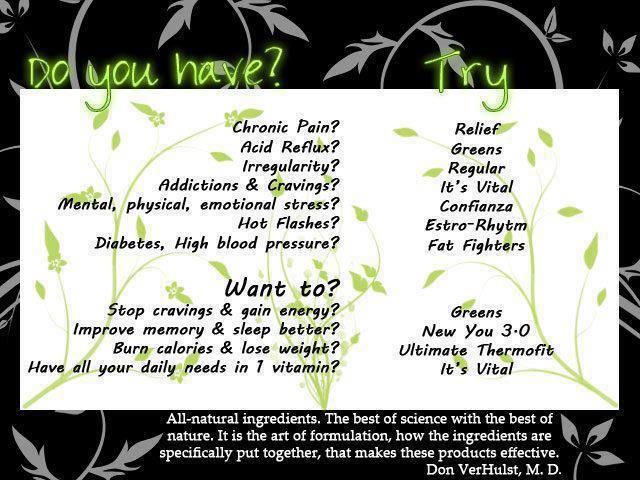 I would not be selling anything that I do not try myself so I have been personally taking... Greens, Fat fighters, Thermofit, Regular, Its Vital and Estro Rythm I cannot say enough about these products! Greens and Its Vital is basically the power duo cleansing your body and keeping sickness and disease at bay. Greens gives you your 8 servings of fruits and vegetables, balances the ph levels in your body and helps keep sickness and disease at bay as well as helps with the aging process. Some of the success stories we have heard about are people getting better sleep at night and some are even saying they are helping with migraines. Also they say that it helps suppress appetite and I talked to a man the other day that said he doesnt crave the sweets like he used to. I for one am off of my Trazadone I was having to take before bed every night to help me sleep. I am sleeping like a baby
The "Its Vital" Is our Multi-Vitamin and the pills have actually been sold on the streets of New York to help with heroine addiction as it helps with addiction.
And do not forget our slimming wraps! They tighten and tone the skin as well as reduce the appearance of cellulite, scars and stretch marks. This is a non-waterloss wrap. We actually promote drinking water!
I would love to chat personally with anyone that may be having a certain helath issue or concern about any products I feel may help. Just shoot me a private message
Also remember that there are business opportunities and I am looking for people to join my team and take this amazing journey with me to financial freedom!