Just my 2 cents worth,
theres a few things you can give a try, 1 use Horsemans Dream Fung -A- Way treat for several days works wonders on helping the hair grow back quickly and helps clean hair folicals treat skin disorders, 2 get some Avon Skin So Soft and put atlittle in your hands and rub this over the skin into the fur once or twice a week, will help with dry skin and will not harm the dog as long as shes not licking it all the time
we use to use skin so soft on alot of the rescue Shar-pies it also works wonders at detering bugs.
__________________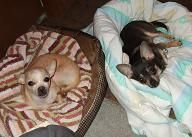 "Deja Voo" & "Muffin" My sweet little girls.
Saving one rescue at a time.