I mentioned we also have a little kitty she has been with us 2 months I would guess at this point, we were going to find her a home but after a month of round the clock medicating with several meds and the fact she is allergic to frontline and revolution flea meds, we couldn't just put her out there in the world. We also realized in short order she knew she was at her forever home before we did.
My son was walking down the street and a woman asked her if he would "snap the kitty's neck". She was covered in fleas. It took us 3 hours in the sink to pick them off with a tiny bit of dawn. She never put up a fight ~ she was just happy for relief. At one point you couldn't see her head for the fleas. We were sickened.
This pick doesn't even begin to depict the reality, but it will give you an idea.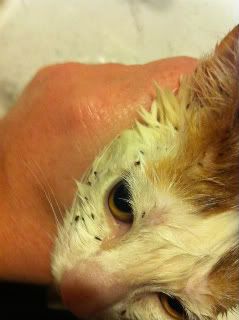 But in one evening we went from worse than above to this: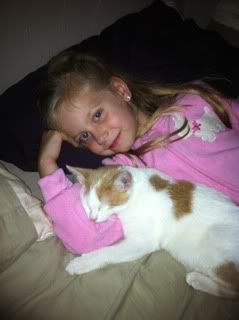 She's home now and we love her. And her and Rio are best buddies to boot.
Have Syd and Lola as well who are gorgeous and so awesome but I don't have anything recent uploaded to pb that does them justice. Just mortified pictures of them seeing Rio for the first time wondering why the hell I suddenly took a liking to what they are sure is a rodent ...