Quote:
Originally Posted by
Blondie87
It actually was easier with 2. Since we got Bella so young she had almost no bite inhibition. And she was always wanting us to play with her. When we got Izzie.. Now they just play with each other then come to us for snuggles! The only thing harder about having 2 is taking them places.. But I still do it all the time. It would just be easier with one. I couldn't imagine just having one and having to leave her home alone. I love that when we go to the grocery store or church and leave them at home .. They have each other.

LS- I know I need to post their 2 year old thread. I've just been so busy with finals.. But that's over now! Gotta take some pics of them and post a thread.
That is a good thing- the bite issue is something dogs do tend to teach each other better than we can. Having two is interesting cause I do a lot of dog sports and one does get left home alone a lot, but I would be more worried that they would be so bonded you couldn't leave them alone. In other news... and speaking of three dogs... LS seems to already suspect me but here it is-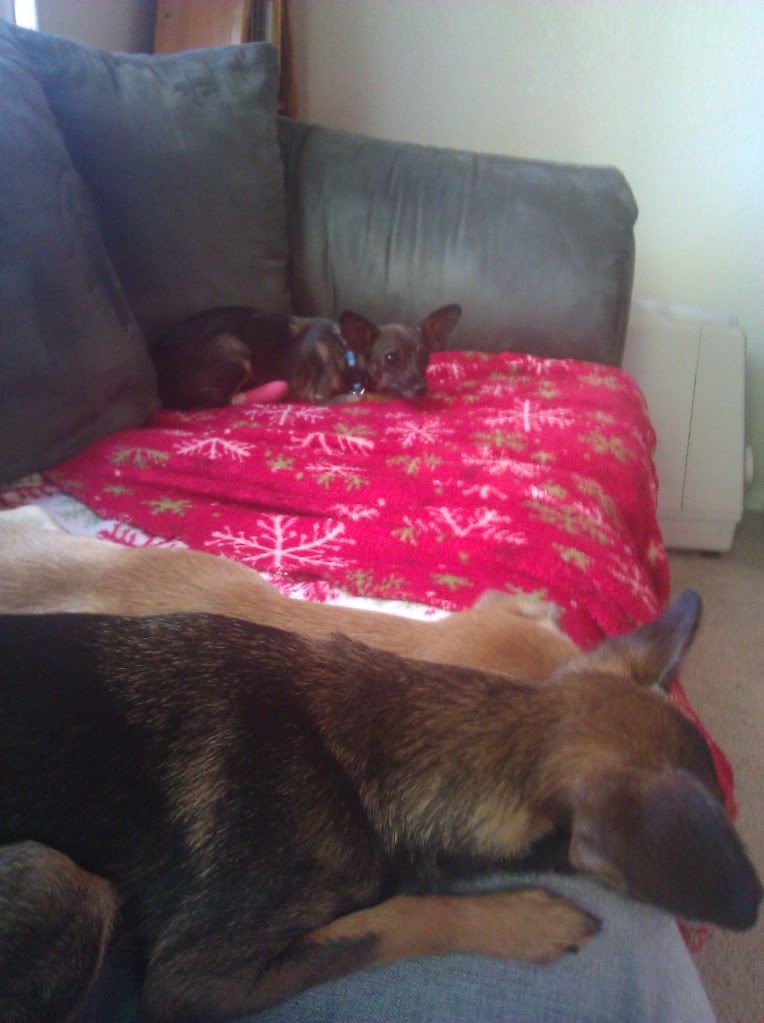 She is not mine, she is just a foster but we are considering calling the rescue and telling them we want to adopt her. She was found in the same general area as Kerrigan was- Kerri was found as a stray at 12 weeks, we have somewhat suspected that she was not actually a stray and the people who brought her to the pound just lied, but either way same area, same size and same markings down to the toes and a little tuft of white on her chest. Being that their coloring is so unique I think for sure they are related. I think this dog is shorter than Kerri, but here is the other thing- she is incredibly scared. Like paralyzed with fear about everything in the universe. I have not seen her stand up anywhere close to straight so it is hard to tell what she actually looks like. She lust slinks along the ground. It does not seem like she has ever worn a collar, or walked on a carpet. She has been at a vets office for a little over a week, they were keeping her trying to find a rescue and they spayed her and removed some torn up dew claws on her back feet. They were trying to work with her a little but they knew it was too much going on at the office to get anywhere with her. Part of me questions if she has ever been inside or if she has just been living on the street her whole life. She is scared of EVERYTHING that is normal to have in a house. The one thing she has going for her is that she is the kind of dog that gets scared and shuts down, not the kind of dog that gets scared and aggressive. She has not growled or showed any sign of that, so that is at least one battle that does not need fought.
When I posted the other day I had only seen a picture of her face and agreed to foster her, she came here this morning. It does not really matter if we are keeping her or fostering her right now because our task is the same. She needs socialized and loved and to gain a pound or so. So that's where I'm at. Oh and both Kerri and Copley have taken a liking to her- and she seems receptive to that. Copley cuddled up right next to her and it seems to be helping out a lot. Once we think about it a little longer I will make her a thread.
I was thinking about this topic anyway though, and was going to post about it- I have a friend who has a puppy/almost adult who doesn't live with but LOVES his sister.