| | |
| --- | --- |
| love and appreciation for a pet | |
05-24-2016, 01:23 PM
chi fan

Join Date: Nov 2013

Name: Fannie

Location: binghamton, ny

Posts: 75

Thanks: 25

Thanked 11 Times in 10 Posts
love and appreciation for a pet
---
Last night was the worst night I've had so far in my 6 years of steadily increasing pain. Cycles are becoming longer and medications becoming less effective with less hope for the future. The past two years I've begun to lose real hope of anything helping these cycles of nonstop pain and loss of control lasting 5 or 6 days with a few days relief then beginning again. Lolli has been through these cycles with me since the first month she was with me (that time lasting only a week a month or so). She has gotten me through them by just being a wonderful pet from the beginning; staying by my side and calming me. Slowly she became so sensitive to this time that I could start silently crying and she would immediately cling to me when I tried to hide it from disrupting anyone else. At times she was pushed aside and almost forgotten but anyone in our family understood soon after that she wouldn't give up until she was against me physically when the pain was the worst and meds were needed. These days, actually, I don't want anyone around me anymore except her so she is given top priority from my wonderful family. The details are irrelevant; there are too many debilitating and humiliating ways it's progressed but when it got to be too much, she would already seem to sense that.

Early this morning it began while we were working (luckily just finishing) and I had a complete meltdown. I couldn't take it anymore. Lolli was in her car seat in the back with my husband-we were pulled over in a country area. I actually didn't want to go through it anymore and got to crying so hard and felt real panic-just so tired of being this way. My husband came to try to help but we both had to stop when Lolli started squealing and howling while frantically clawing away from her basket in the car to get to the back where I was. She couldn't be calmed until she was in my arms and I was soothing her.

It's humiliating for me to let anyone know about this weakness and embarrassing to even write it. But I love my Lolli so much, she saves my life in every way. What that girl gives to me is beyond what I could put into words or let anyone possibly really credit. I thought the people on this forum, of anyone, can really understand how much I have to thank my chihuahua for and how much she actually gives; how special she is.

Shared experiences or stories of their own of these special babies are really welcome.
__________________
The Following User Says Thank You to EpochNia For This Useful Post:
05-24-2016, 01:57 PM
Join Date: Jul 2013

Posts: 1,784

Thanks: 774

Thanked 327 Times in 303 Posts
---
I am praying for you and sending airmail hugs. I'm so glad you have Lolli to offer some comfort. They are such amazing little creatures to know and sense when we are feeling bad. Though we are blessed with pretty good health, I do have a story for you. This winter I had some respiratory issues (nothing serious, just enough to make me miserable) and one night I woke up because breathing was difficult. Very shortly, Mickey started to cry in his crate next to our bed and hubby took him out but when he returned he continued crying. It took us a while to realized he was crying because he wanted to be next to me. (He doesn't normally cry to get in bed with us, he knows his place in his crate.) Similar things have happened when hubbies blood sugar is out of whack. They are just amazing. I'm stating to form an idea of helping others when I retire by helping them keep their dogs when their health would otherwise necessitate rehoming them. Remember, you are being prayed for! Keep us posted on how you are doing.
__________________
[URL=http://s1187
http://pdgm.pitapata.com/0wGB.png
He prayeth best, who loveth best, all creatures great and small.
05-24-2016, 05:11 PM
chi god/godess

Join Date: Mar 2011

Posts: 6,172

Thanks: 3

Thanked 1,010 Times in 954 Posts
---
so happy that Lollie is doing her 'job'! I'm so sorry that you have to live with pain. I have inflammatory osteoarthritis, so I have pain too. Not severe though. We all will pray for you and celebrate Lollie.
05-25-2016, 04:22 AM
chi-aholic

Join Date: Jun 2010

Name: April

Location: North Carolina, USA

Posts: 326

Thanks: 79

Thanked 55 Times in 55 Posts
---
I'm so sorry to hear of your struggle and pain but am so happy for you that you have little Lolli to bring you so much joy and happiness! I, like the others shall be praying for you!
__________________
05-25-2016, 04:47 AM
chi god/godess

Join Date: Nov 2012

Posts: 1,358

Thanks: 2

Thanked 224 Times in 211 Posts
---
I have endometriosis. I feel terrible pain and I absolutely know where you are coming from. It's well managed now, but at any time it could relapse to pain mode again.

I hope you can find some peace.
__________________
Douglas the chi, Alli the heeler/boston terrier, Kaira the yorkie/chi
05-26-2016, 02:04 PM
chi prince/princess

Join Date: Apr 2015

Location: Ontario

Posts: 732

Thanks: 2

Thanked 163 Times in 146 Posts
---
I'm sorry that you are in such pain and suffering. If you don't mind my asking - what is your diagnosis that brings such pain to you?

And, yes, dogs are wonderful little creatures that sense our emotions, pain, and love us unconditionally. You are so lucky to have such love in your life.
__________________
06-12-2016, 12:43 PM
chi god/godess

Join Date: Aug 2010

Name: Lisa

Location: Tennessee

Posts: 4,436

Thanks: 228

Thanked 451 Times in 420 Posts
---
Such a nice story, but yet so sad. I'm so sorry you're in such pain. I love that you let that little chi help to give you one of the special things that animals can do for us when we are in such need. A chi's love is truly amazing and I'm so glad you recognize that and accept it. I really hope you find some relief soon in your situation.
__________________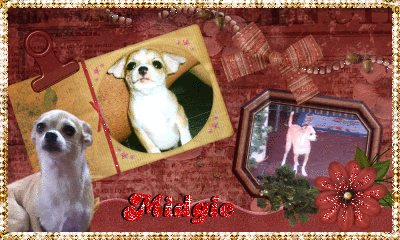 [url=http://www.TickerFactory.com/]
06-12-2016, 01:37 PM
chi god/godess

Join Date: May 2012

Name: Camille

Location: London UK

Posts: 3,306

Thanks: 823

Thanked 679 Times in 635 Posts
---
I'm so sorry to hear about your struggles, it must be very difficult to live in chronic pain like this. What do you suffer from? But you're right, chihuahuas make such great therapy dogs. I don't know what I would do without my two! I hope you get to feel better soon.
Posting Rules

You may not post new threads

You may not post replies

You may not post attachments

You may not edit your posts

---

HTML code is Off

---
All times are GMT. The time now is
11:31 PM
.