I would like to introduce my newest addition!
Monroe, she belonged to a coworker who took her at barely six weeks, she had been stepped on two different times, the second time was to her head, and that left her with some minor issues. The coworker gave her to me when she moved across the country. I have had her a couple of months now. She turned one yesterday!
She is a little sweetheart with lots of attitude, she likes to think she is the top dog around here. Harley is setting her straight on that! Otherwise Harley has taken too her better than I thought, he doesn't like many dogs; but has come around to her, most of the time! Remington adores her most of the time. The other times she is the annoying little sister and annoys him!!
Here are some pics of Monroe and my boys!!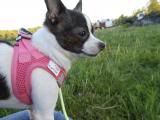 Here me ROAR!
Dog Pile!!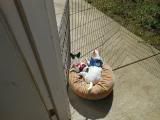 On yard patrol!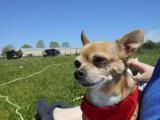 Harley!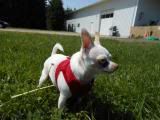 Remington!
When Chihuahua's Attack!