I bought Carl a coat from Target yesterday. He doesn't like things that pull over his head (sweaters, etc)- he tolerates them but he hates when I pull them off. So I got a coat that velcroes around his neck and belly and he likes that much better!
Doesn't he look good in red?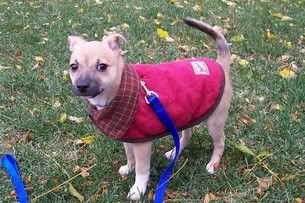 It's a little big around the belly, but he'll grow into it. At least it keeps him warm outside. He loves to play outside!!
Here's Carl's only friend. lol, since he hasn't had all his puppy shots he can't play with other dogs, so this guy is his only real friend. (Unfortunately he's been acting..."inappropriately" towards the bear lately...if you catch my drift
)
And here's Carl sun bathing!
He'll be 11 weeks old Tuesday!!