Toby got a package from his Auntie Elaine today!!! It had the RRC thermal I got him for his birthday! It's absolutely perfect! I tried it on him to check the fit and he liked it so much that I couldn't take it off. So I guess he got one of his presents a couple weeks before his birthday!
Elaine, Toby must be just about exactly Minnie size, because the fit is exactly as you described. Loose but comfortable. It's a bit loose in the chest, but the length is good. He actually likes things a bit loose, so it's a great fit. And it's cut short enough underneath that he won't pee on it (which is a problem for him lol). I'm actually considering getting another one. That's how much I love it. Thanks!!
I'm a stud, chi peeps. Look how cute I look! (Excuse the messy sheets, I'm babysitting Lilly today which means the bed must be protected against shedding!)
Attachment 34217
Going on a walk wif my new shirt! I couldn't wait to get on da trail in it!
Attachment 34225
Got my blankie, my bone, and my shirt. Happy boy!
[IMG]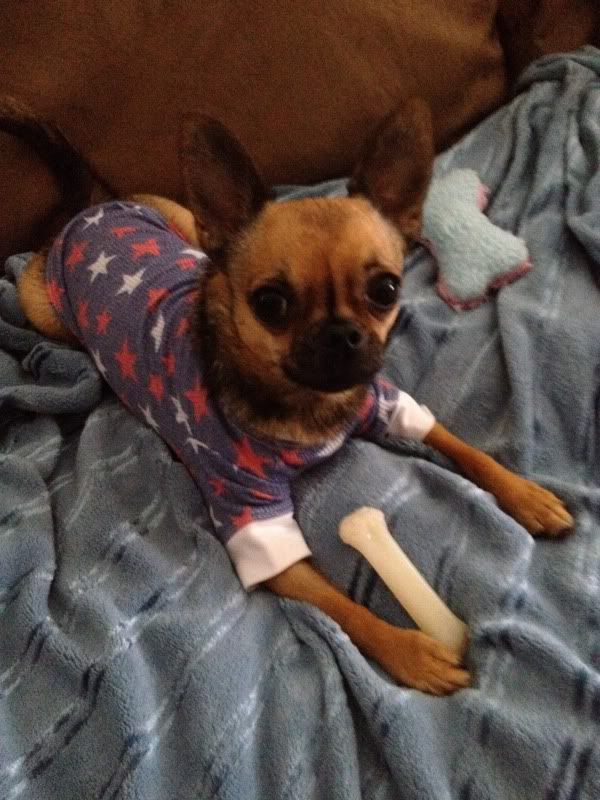 [/IMG]
Sent from
Petguide.com App