This is going to be a novel FYI. lol
We didn't mean to get a tiny chi, we were told by the breeder she would be 3lbs but thought she would get to 4lbs as a lot of them say 3 lbs and both of her parents were 4lbs. Maiya came from a show breeder both of her parents are canadian championed. We did not get her until the middle of august when she was already 5 months old and just 2.2 lbs.
Maiya was a completely normal dog for the first month she ate, played, got into everything etc.
and then things turned.
One night maiya had ate a little bit of cottage cheese we had in a bowl that we gave her as I have heard many people giving their dogs this with no issues. about 10 minutes after she consumed it she turned lethargic, weak and was wobbly and not able to sit straight without swaying. We went to the emergency vet and $200 later they told us she ate too much and it was like going to a buffet and that she just needed to sleep it off her sugar was on the high end of normal.
4 days later she had another episode where she was wobbling, lethargic, laying on her side not able to move this time no clear reason why, we took her to the emergency vet and $200 later they told us her sugar was on the low end of normal but we had pumped her full of sugar on the way. They told us they were worried about a liver shunt and we would need to spend $300 on blood work. By then she had snapped out of it as we waited an hour before going the ride was 25 mins and then waited an hour to see the vet. So we decided to skip the blood work and went home and called the breeder.
2 days later she had an almost fatal attack where she went unresponsive but breathing still her gums were white and we were sure she was dying. We called the breeder and drove 45 mins to her vet pumping her full of sugar the entire time by the time we got to the vet she had snapped out of it but still wasn't normal. The breeder kept her for 3 days and syringe fed her every 2 hours and then gradually up to every 4 hours.
we took her home and after that she no longer ate on her own completely refused we spent over a month syringe feeding her every 2-4 hours depending on her condition.
fast forward, she had another near death episode and took her to a brand new vet who told us she was a lemon and to return her with no testing at all. We told them we refused to take that as an answer without testing and had some blood work done.
she had some crazzzzyyyy insane results indicating pancreatitis but the results are NEVER seen in young dogs. The vet who was a different one at this new place told us she was a lemon and to return her and that one day she would just die on us as she believed Maiya has an under developed pancreas. We went home with antibiotics, pain meds and low fat vet food for the pancreatitis.
1 full day of antibiotics later and she was already romping around like a normal dog, completely eating on her own, barking at everything and getting into everything in the house.
we spoke to the breeder faxed all of the blood results and her vet called me and told me she has maiya's sister who is only 1.1 lbs and asked us to come to her practice and performed an ultrasound for free (lucky us) we did the ultrasound today and all of her organs are there, functioning and normal shape and size with no abnormalities. The vet specializes in tiny chihuahuas and is very knowledgable.
Maiya and her siblings were all born by c-section and all 3 ended up tiny her sister who the vet owns just 1.1lbs then Maiya was weighed at the vet today on an accurate scale and was 2.64 lbs and then her sister is a bit larger. Her mom was spayed and petted out and this was her only litter.
We are thankful we spent the time energy and did not give up.
There are many tinies who are completely healthy Maiya was for 6 months. We still have to go for follow up blood work once the antibiotics are done but she has not been syringe fed since friday eve which is an amazing transformation for everyone who knows what we have been through with her.
We were offered several times to return her and get another pup but we never gave up.
We are not completely in the clear yet but do have a high hope for her. Thankfully we got pet insurance for her as soon as we got her and all of this is covered 100%.
My fiance had to work from home during all of this to take care of Maiya as she cannot be left alone at all. we never know when her attacks will happen or if they will happen again but hopefully it is just a bad infection and she will make a full recovery.
here are some photos taken over the past couple of days.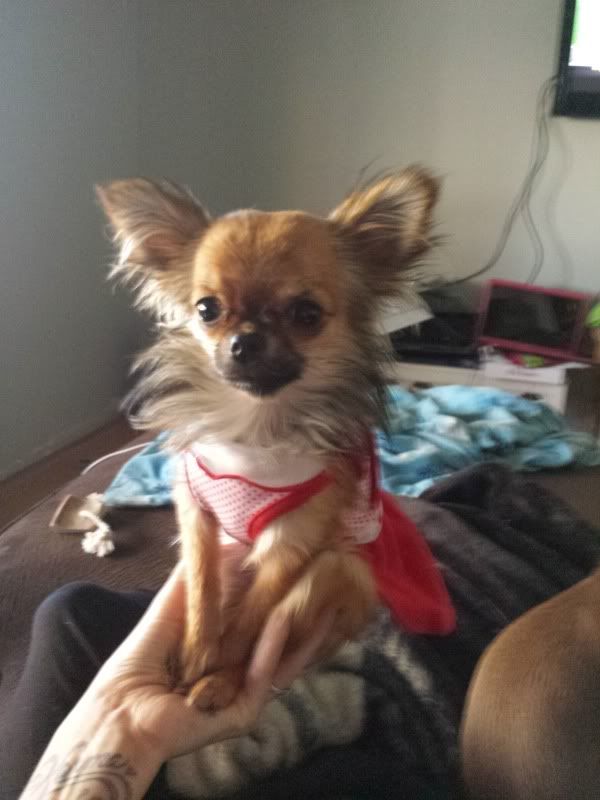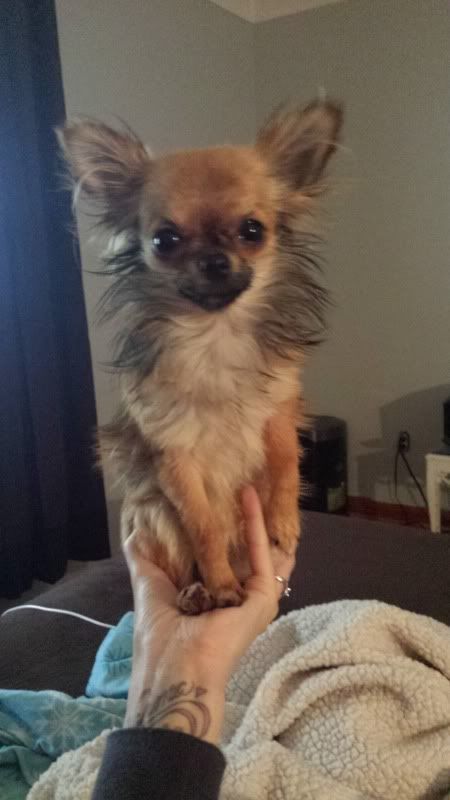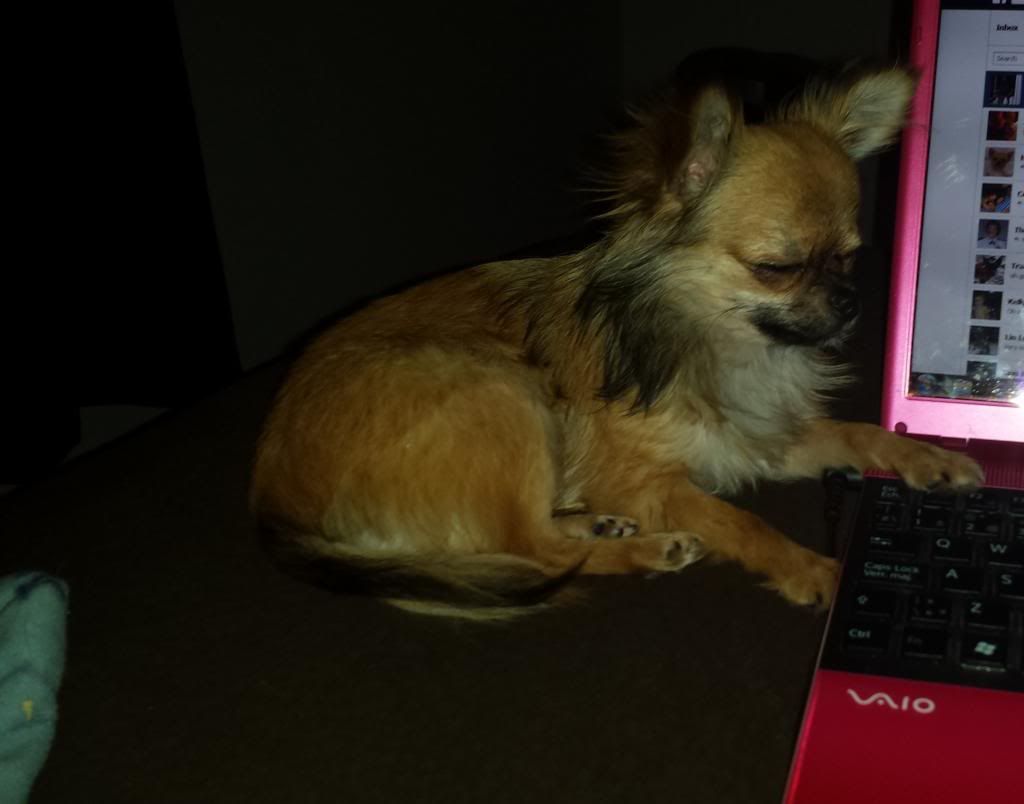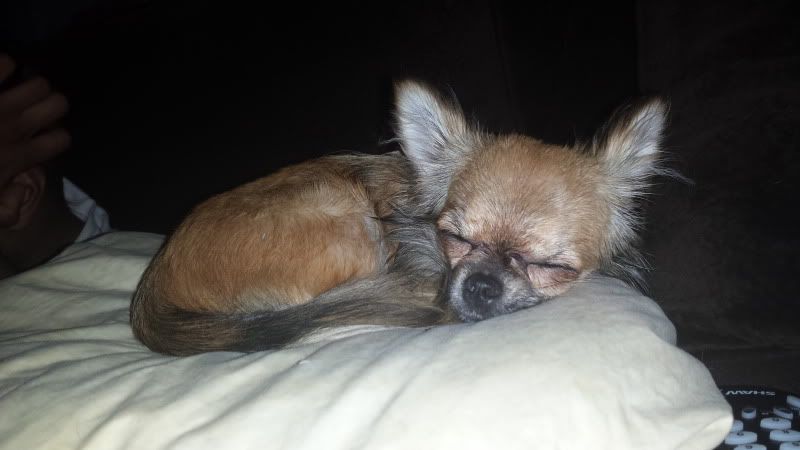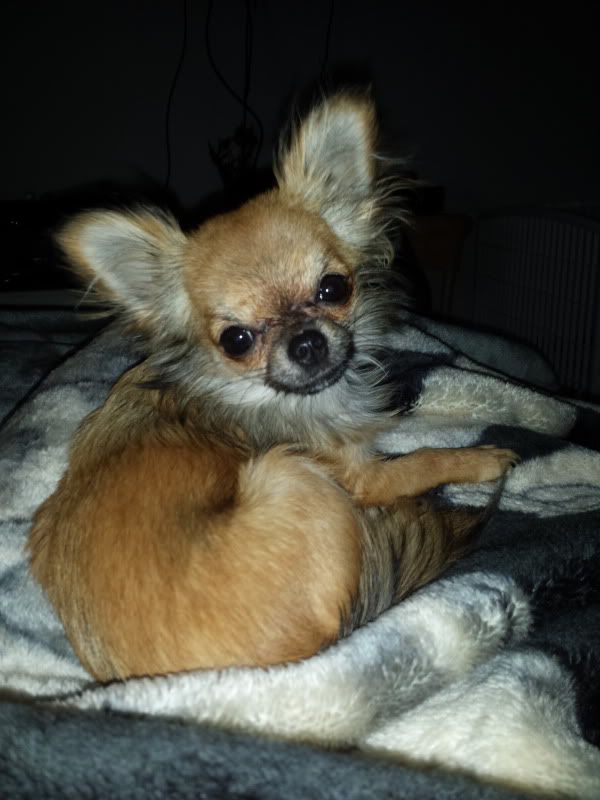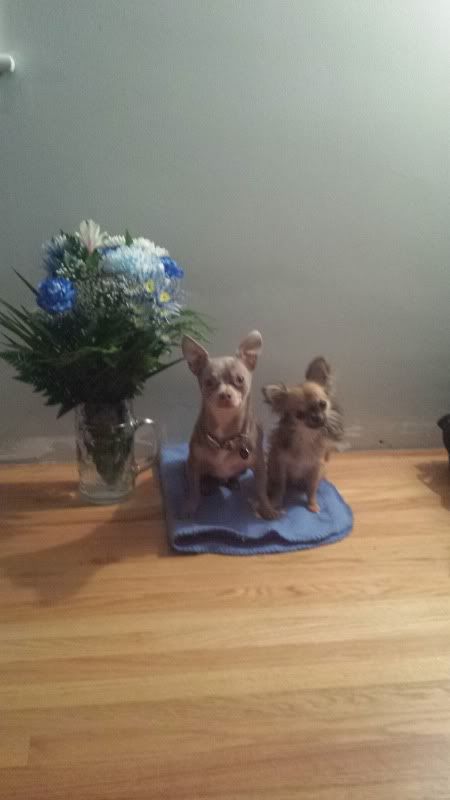 oh ninja wanted some attention too lol