---
Those are stunning pics and thats great with there progress in the snow. We are also tierd of the snow no where left to shovel or plow it to. Ive shoveld the dogs potty area to no ends LOL!! its mounded so high up all along there potty area it looks like mountains i cant fling it up there high enough anymore have to get hubby to wing it for awhile and we got along way to go befour all this white crap is gone.
__________________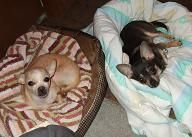 "Deja Voo" & "Muffin" My sweet little girls.
Saving one rescue at a time.