Cocoa
, female, 5 years old
The Boss Dog
Got her when she was just a fur ball. Now she's a grown sweet, and loving dog Unfortuanetly she's got a hear murmur, common among her breed. When she was just 3 months old, the cardiologist said she'd only live a year. Fortunately she's still with us
Curiously enough, Cocoa and Roxy were born from the same parents, but different litters. It blows my mind that Cocoa was born a long hair when the parents and those before them were all born short haired like Roxy. Biology sure is strange
but amazing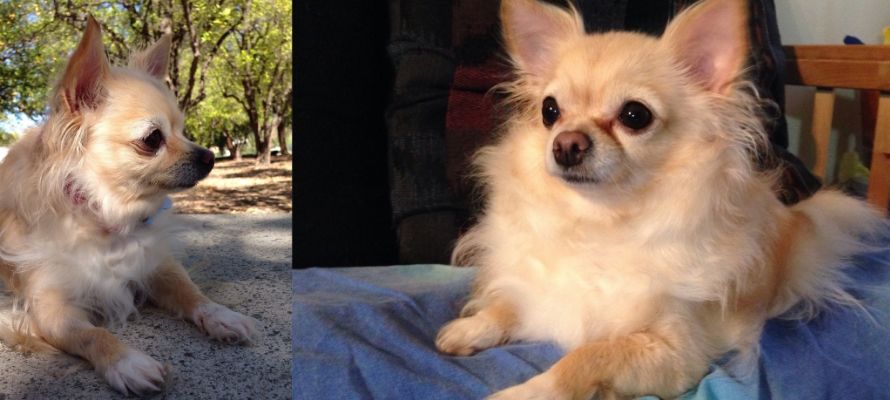 Milly
, female, 2 years old
The Happy Go Lucky Dog
Came home from work at 2 AM one day and found a small, tiny Milly at the house. Someone abandoned her on our front step, between the front door and screen. Thankfully Cocoa heard noises and alerted my dad, otherwise she would have ran out to the street. We temporarily gave her our home. After weeks of looking around for someone that would welcome her, we fell in love with her. We went out, bought her her tag and she officially became part of the family. Till this day, we're still not sure of her exact breed. We get all sorts of guesses. We just say she's a Chihuahua/Mini Pin mix as she does demonstrate the temperament of a Mini Pin and Chihuahua.
And Finally…
Roxy
,female, 3 years old
The Pitbull
Although I love all my dogs, Roxy is special to me. We got her when she was also a pup becoming our second dog. At the beginning I regretted bringing Roxy to our house because I was scared that Cocoa would lose our love and attention. I tried to prevent Roxy from becoming attached to me. Somehow she persisted and decided that I would be "her person". Today Roxy and I are inseparable. She goes where I go. She sits at my feet wherever I sit. She has demonstrated to me just how loyal a dog can be, no matter the size. She is my shadow. She may be small, but she's a brave and tough dog with a big heart.