I got my bag and bed from pige a little bit ago but my phones been freaking out at photobucket and I am just now getting around to posting pictures! Everything is so great, I LOVE the sling bag, it is very secure and comfortable for me and Kerri. As I walk the dog doesn't bounce around at all and I like that. Here is a shot of us modeling
-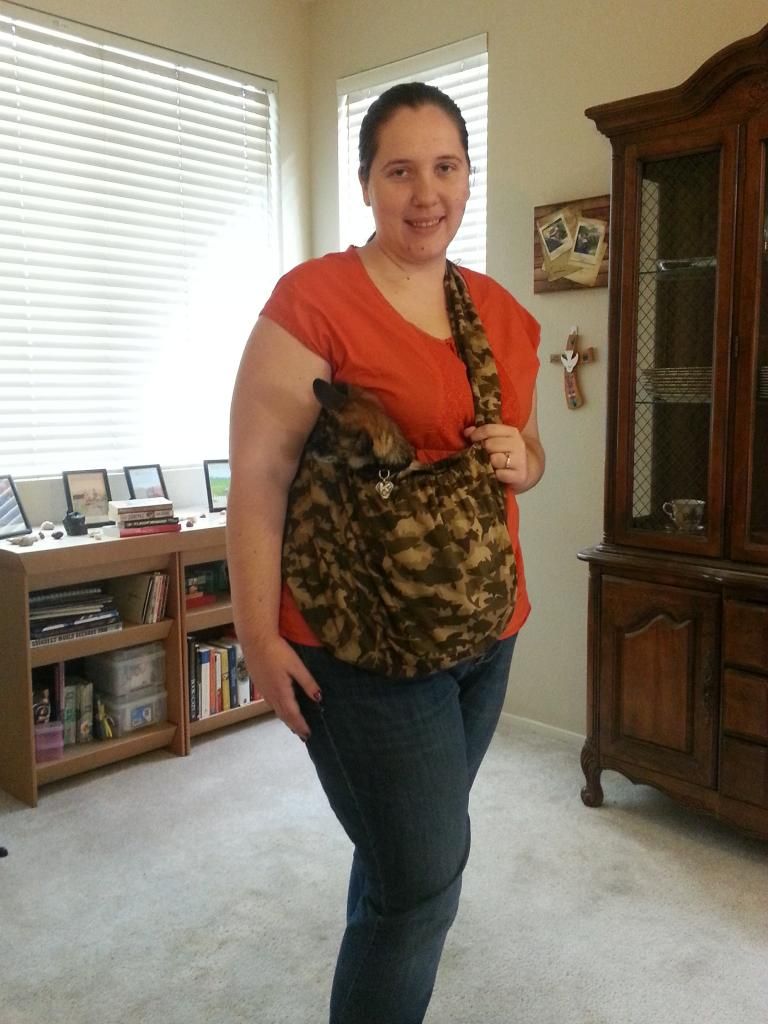 We also got a bad, that belongs to Copley now. He claimed it as soon as I set it on the ground even though it is just barely too small for him-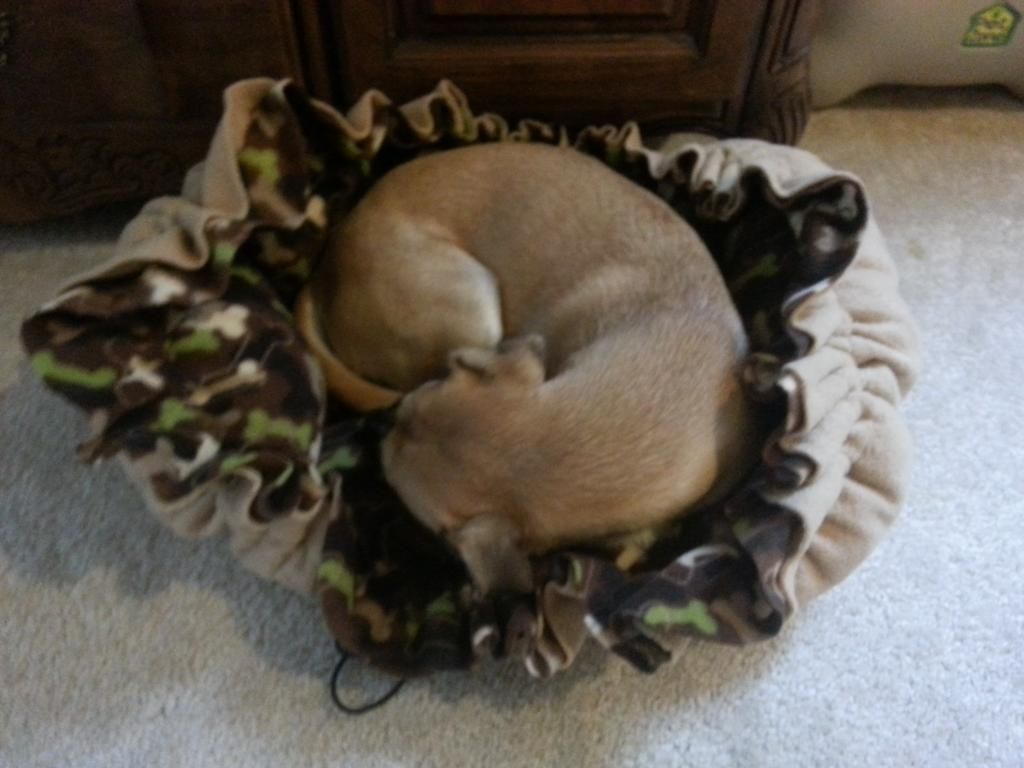 I love that it has a drawstring so you can make it into more of a cuddle cup, Nova LOVES that so I thought I would put it in the chihuahuas crate (mostly it is just Nova's hangout spot in the living room that crate) but Copley decided he wanted to lay in it out in the open so he dragged it to the middle of the living room- sigh.
Also on our first trip out with the bag we had a pit of an adventure. We were headed for a picnic with a bunch of friends, Copley and Kerri, kids, and three other big dogs. We had several cars and were meeting people up at the top of a mountain. Well first our car broke down. It is only 18 months old- so we called Hyundai and they have great roadside assistance that tows it to the nearest dealiership and you get a loaner car and its great. So we decide hubbie will stay with the car, get it towed, and meet us at the picnic later once he got a rental car. I pile everything in our car into one of the other cars and we head along our way. About two miles. Then that car breaks down (it was also JUST bought, they got it used for their teenage daughter so she was pretty bummed her car broke down) but also now we had more people than fit in cars plus my dogs. The unfortunate thing is also we are still at the bottom of the mountain we were heading up and it is 111 degrees out. We can't get ahold of the people already at the picnic- so I drive up there with some other people and the remaining car to tell them this picnic was a bust and we all just needed to go home. We got up there and it was beautiful and the people who made it and dogs were having a great time. Our friends offered to keep Copley (we dog sit for each other all the time and he LOVES their dogs) so he wouldn't be a pain for whatever we were doing with cars (a chi in a purse is a lot easier to deal with than a full sized dog as you guys know!) It was so funny because he was already playing by the time I left and didn't even notice me walking away. One of them gives me and Kerri a ride to my husband who is still waiting on a tow and Kerri got to take her first ride in a tow truck! LOL At least the tow truck driver was friendly and also had a chi at home, and at the car dealer she was a big hit. They brought her water and were so nice. Also everything was covered by warranty and we drove away in a working car in about an hour and a half. But it was quite the ordeal. Also the only one of us that had a great picnic was Copley- who I picked up later at our friends house still wrestling with his friends.
Here are some shots of the bag being very useful at the car dealer!