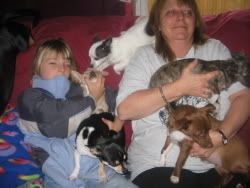 TRYING TO GET A PICTURE WITH MY MOM AND DAUGHTER OF ALL CHI'S!!
STILL TRYING...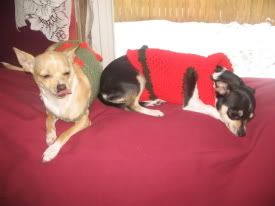 TINKERBELL AND PRINCESS IN THEIR CHRISTMAS SWEATERS I CROCHETED
TRIED GIVING THEM TREATS
CLOSE AS I COULD GET...I HAVE 3 CHIHUAHUAS AND TWO DACHSHUNDS PLUS A DACHSHUND PUPPY I JUST GOT BACK FROM MY LAST LITTER, THEN MY MOM CAME TO GET HER 2 CHIHUAHUAS NAILES CLIPPED THIS MORNING, WE HAD QUITE A HOUSEHOLD!!!!