Iz me, Chopper. I beez gone for a widdle bit az we had sumpin weally sad happen. My mommy haz been so upset, her haz cried awot. I jus cuddlez up to her to makes her feel all bedder.
I jus wanted to showz u my nu duds dat I gotted in da mail today from one of my fwends, Joey. Hiz mommy buyed dem for him but he iz way to smallz so her gibed dem to me. I finks I wook perdy spiffy.
Here me iz pozin wiff all my nu stuffs. Duz u seez my smile?
Mmmmmmm, mommy I finks I smellz sum kookiez in dere.
Chekz out my nu shirt. I wook weally smartz in it.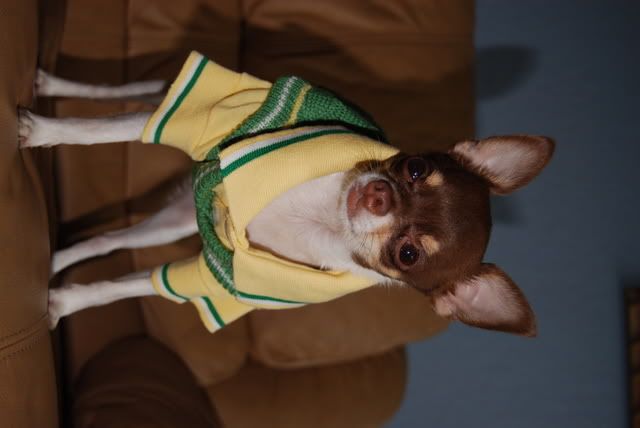 Here me iz giben mommy da ebil eye cuz her wud not gibs me da kookie!
I eben gotted jamas!
What duz u mean mommy I cantz wear dem today!!
K, dats all, Lubs Chopper