I've been trying sift through the pictures I have of Lina (there are probably thousands). When I was transferring my pics to this computer when I moved out of my granparents house they all duplicated. Which I don't know why..so I'm trying to go through them and get the duplicates out and not delete any singles. It's time consuming. But anyway- because Way (Bella and Lina's Mom) and her husband missed Lina's puppy-hood I thought I would post a few of my favorites here. Be glad ya'll aren't here watching me go through them and sort because I'm all teary eyed.
1 of the pics that the "breeder" sent me after I found her online. She looks almost white huh? And SO tiny next to that doll
.
The day we brought her home. I had to change my shirt once we got back because she pee'd on me 3 times lol. (I'm sorry the quality is so bad, I didn't have a camera all I had was the webcam.)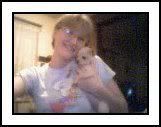 Check out that HUGE collar lmao. (still the day we brought her home)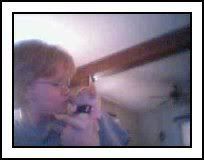 One of her favorite places when she was a baby. I put a blanket up on the desk and she would lay there with her piggie and sleep while I was online.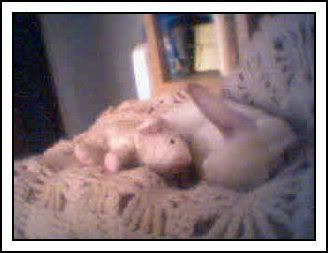 She wasn't quite a year in this pic I don't think. She was out in the back yard and wouldn't come in when I was calling her. So I went out there with my camera and she did a little photoshoot lol.