I have never given them these before. Moni was nice enough to tell me about them. Thanks Moni!
They are the Moo Free Range brand, and they don't smell which is great!
I bought two 12" sticks & two 6" sticks. The smaller chi's got the smaller sticks. Well, that was how it was supposed to be. Lily & Maxx ran away from the 12" sticks and my greedy little Lola took off with the 12" stick
. Lol!
Now they all are use to the big bully stick, but prefer the smaller one. Except for Lola, she wants ONLY the big one!!
Question, how long do I let them chew on it before I take it away?
What you can't tell from this pic, is that Lola is "telling off" the Dachshund.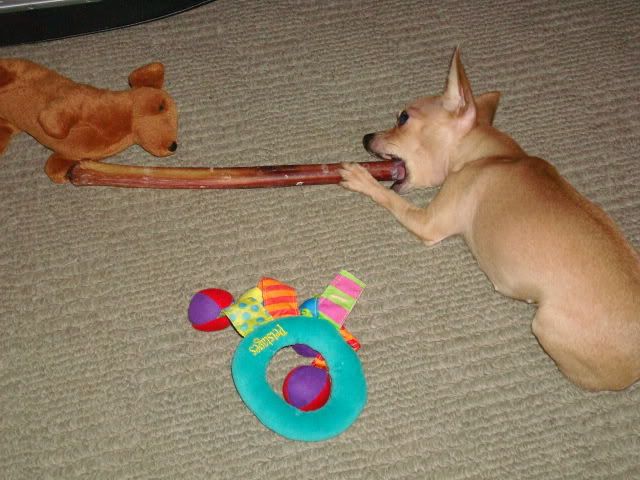 Maxx dragged his stick on my sons bed.
Lily also on my sons bed. Their favorite spot in the whole house. That pillowcase will have to be washed now.Lol! That's my son Jordan sleeping in the background. How he slept through all this I don't know.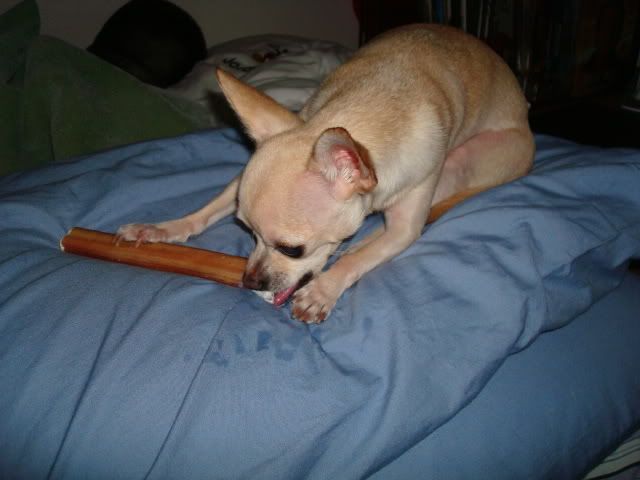 And finally Lila. She went into her new crate/bedroom with hers. She likes to be away from the other chi's when she gets something special. I can't blame her. They always steal her treats.